About this Event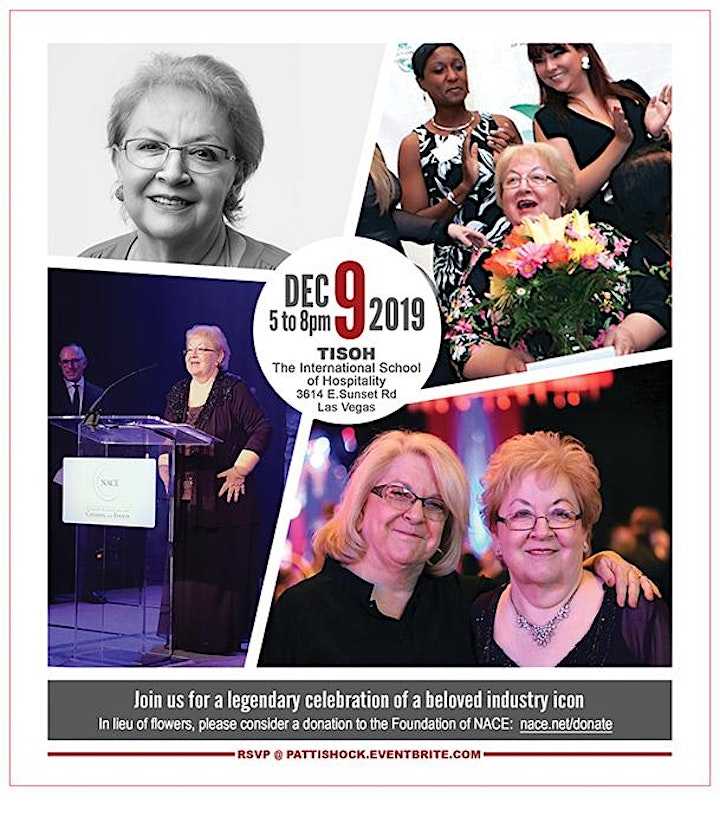 Celebration of Life for Patti J. Shock, CPCE, CHT, CGSP
Date: December 9th, 2019 - Monday
Time: 5:00PM - 8:00PM
Location: The International School of Hospitality (TISOH)
Address: 3614 East Sunset Road, Suite 110, Las Vegas, NV 89120
Complimentary parking available onsite.
As we celebrate her life, we will do so in typical Patti fashion. Which means, expect to share a laugh, connect with old friends, and meet new ones.
Hors d'oeuvres and beverages will be served.
Patti J. Shock (b. October 29, 1941) passed away on November 22, 2019. She was a teacher, mentor, abiding professional presence, and a friend to many of us. Join us for a legendary celebration of a beloved industry icon.
In lieu of flowers, please consider a donation to the Foundation of NACE: nace.net/donate