Alice A. Butler- Short Celebration of Life, Thursday 10 June, 2 to 5 PM
About this event
2PM-5PM EST with Celebration from 3PM to 4PM
at 
Home of Alice & Al
9103 Wood Spice Lane, Lorton, VA 22079
-------------------------------------------
Following Alice's burial at Arlington Cemetery on 10AM Thursday, June 10th, a Celebration of Life will be held at the home --- 9103 Wood Spice Lane, Lorton VA 22079 from 2PM until 5PM.
Home Map link: https://tinyurl.com/h2pcp392
Program Outline:
2PM- 3PM: Guests arrive & mingle, bar open.
3PM - 4PM: Alice celebration of Life, bar closed.
4PM- 5PM (or earlier if celebration finishes before 4] Buffet food, bar open
5:00 PM bar closes, guests depart
Notes:
Guests are encouraged to sign up on Eventbrite, however it is just to get a number on food and drink requirements. No restriction if people show up who are not registered.
The Celebration video will be on Facebook live and later posted on YouTube and other social media.
Live Streaming: Facebook link: https://www.facebook.com/alice.butlershort
Parking: on street parking will be available. But with 200+ attendees, arrangements have been made to supplement parking at the nearby Shops of Lorton Valley.
The Shops of Lorton Valley parking lot is on Route 123, 8971 Ox Road, Lorton VA 22079, and park next to the highway. See map and link below.
A shuttle bus will run from the parking lot from 130 to 300 PM to the home.
A return shuttle will run from the home to the parking lot from 430 to 530 PM.
Map link for directions to the Shops of Lorton Valley parking lot: https://www.google.com/maps/@38.7153897,-77.2624894,16z
Additional parking is available at the nearby Halley Elementary School parking lot, 8850 Cross Chase Circle, Fairfax Station CA 22039, Approx. 9-minute walk to Short home. 
Map Link: https://tinyurl.com/8ntja9rw
---------------------------------
RSVP: For those attending please register at this EventBrite page.
Hotel Recommendation: For those in need of accommodations please use this link to make room reservation at the nearby Holiday Inn. Group Code: SHO or call the hotel at 703-643-3100 for reservations. Map Link: https://tinyurl.com/24bucy43
Alice's Obituary: Please visit this link to Alice's obituary on CaringBridge: https://www.caringbridge.org/visit/alicebutler-short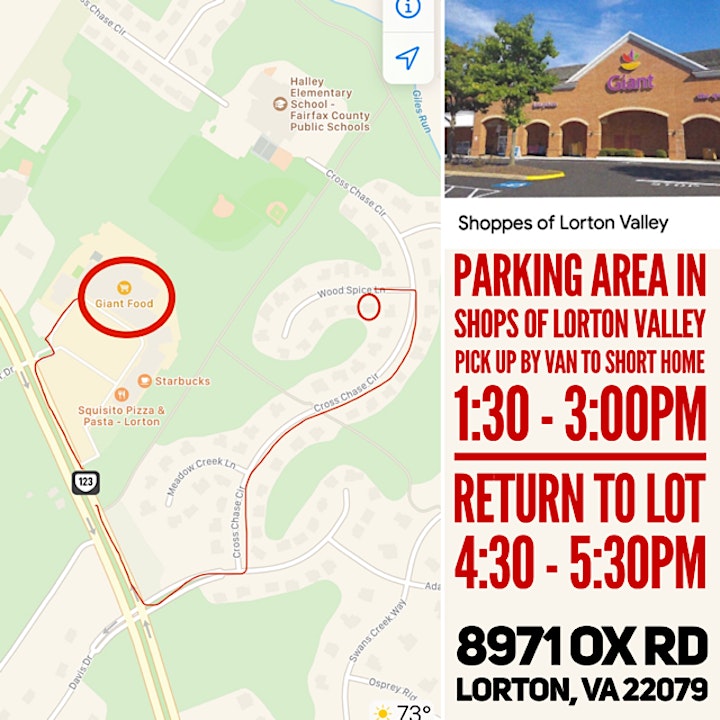 Organizer of Celebration of Life - Alice Anne Butler-Short
Alice Butler-Short is the Founder and President of Virginia Women For Trump, established in October 2015 to bring together strong grassroots women supporters of Trump. The organization quickly took on a life of its own and grew from 22 women in Alice's living room to thousands across the Commonwealth and the country and now has affiliated groups in many states. The founding objectives of VWT were to debunk the media myth that women disliked Trump, to bring women of all ethnic backgrounds together, and to align our politics with our spirituality, keeping in mind our desire to keep our country One Nation Under God.
Alice is an Irish immigrant who has lived in seven countries from Asia to Africa to Europe. She is a proud citizen and of the United States and a passionate and vocal patriot with a long history of supporting Republican candidates. She is an Army Arlington Lady, a recipient of the DAR Distinguished Citizens Medal and is well known for her support of the military and our veterans. She has been married for 37years to Colonel Albert Short, USA Ret, a Vietnam Veteran and former U.S. Diplomat.