Description
We know theocracy doesn't work, look at Saudi Arabia and Iran as an example. So why then is America creeping toward it despite our constitutional separation of religion and state? At this year's event, on February 10, 2019, in Los Angeles, in an afternoon infused with music and poetry, we will be honoring – Iranian Masih Alinejad, 16 Saudi women in jail, and Sudanese Mahmoud Mohammed Taha. In addition, we will be honoring Tunisian President Essebsi in his revolutionary initiative for equal inheritance for women and men, and KCET for its community based programming.
We welcome everyone to Celebration of Life, our signature and transformative event in Los Angeles, California, to highlight the achievements of human rights defenders in the U.S. and around the globe. An afternoon of music, poetry, and appearances by prominent human rights advocates, with a mission to draw attention to pervasive threats to human rights, which can only be thwarted through education and the freedom to think critically. We promise you will leave this event with a heart full of love and hope.
Join Host Committee Members Nahil Sharkasi-Wang, Kevin Jennings, Momal Iqbal and Ansari Family Foundation, sponsors Nasreen Haroon, Marilyn Wyatt, Equality for HER, JJ Suspenders, Mariam Raj Artistry, Human Rights Campaign, and Harmony Gold, and community partner Women's March Los Angeles Foundation, in saluting our honorees.
HONORING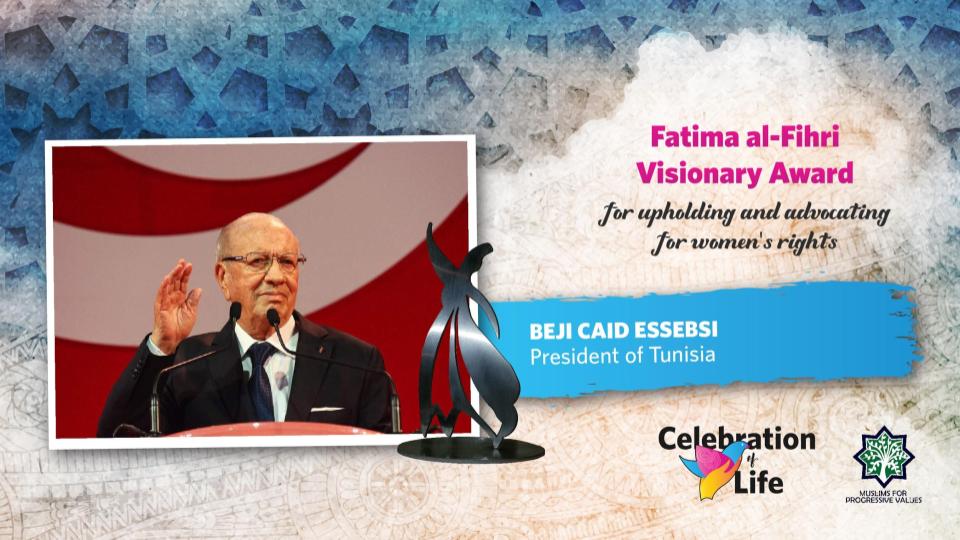 Fatima al-Fihri Visionary Award: President of Tunisia, Beji Caid Essebsi

MPV Media Awards: KCET
Human Rights Defenders from the Muslim World
Masih Alinejad: Iranian journalist and author who launched #MyStealthyFreedom, a Facebook page that invites Iranian women to post pictures of themselves without a hijab. The page garnered over 100,000 likes and sparked the current protests of Iranian women taking their hijabs off in public. Alinejad fled Iran at risk of being jailed or killed for her activism and now cannot leave the US due to Trump's travel ban.
Saudi Women Activists: At least 16 feminist activists have been jailed in Saudi Arabia for their women's rights advocacy including the right to drive. We will be honoring all of these women as they currently sit in jail, one even awaiting the death penalty, while the Saudi government is praised for recently allowing women to drive.
Mahmoud Mohammed Taha:  Sudanese engineer, author, and reformer. Taha advocated for an egalitarian practice of Islam – including women's rights, freedom of and from religion, and secular governments. He founded the Republican Brotherhood, a small but influential political party, which openly opposed Sharia law. He was executed by the Sudanese government in 1985 under charges of apostasy.
Special guests: Mr. Frej Fenniche (UN Chief for Africa, Asia and MENA-retired and Alliance of Inclusive Muslims Board Member), Sholem Community Singers, Bayadir Mohamed-Osman (poet), Kevin Jennings (GLSEN-founder, Tenement Museum-President, MPV-Co-chair), Maliha Khan (MPV-Co-chair), Irmina Sultana Haq (poet), Nikohl Boosheri (TV show "Bold Type"), Blair Imani (author, MPV-Ambassador), and a surprise!
Watch a recap of our Celebration of Life 2016 here.
For more information please email us at events@mpvusa.org
Attire: Business casual
To request a media pass, please email events@mpvusa.org and include your credentials.
---
PROGRAM
2:45 pm: Doors open
3:30 to 5:00 pm: the Celebration begins
5:00 to 6:00: Reception