Celebration of Jarol Manheim's Publication

Wednesday, April 20, 2011 from 6:30 PM to 8:00 PM (EDT)
Event Details
  Please join us for a private reception, lecture, and book signing
in celebration of Jarol Manheim's latest book publication 

 Strategy in Information and Influence Campaigns

April 20, 2011
6:30 p.m.-8:00 p.m.
Alumni House
1918 F Street, NW

Washington DC 20052
---
  Jarol B. Manheim is Professor of Media and Public Affairs, and of Political Science at The George Washington University. He is the author of many books and other publications related to strategic political communication and his new book explains how information and influence campaigns seek to achieve a stated objective based on the science of individual, organizational, and governmental decision-making. He was the Founding Director of GW's School of Media and Public Affairs.
  
Book Description
Three guys walk into a bar – Sun Tzu, Niccolo Machiavelli, and Saul Alinsky. It sounds like the starting point of a bad joke, but, aside from the setting, it is actually the starting point for understanding a ubiquitous element of contemporary politics and political communication. Take the vision and discipline of the best-known military thinker of all time. Supplement that with the hard-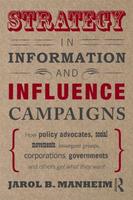 nosed pragmatism, dedication and insight of the legendary sixteenth-century political advisor to the Medici. Then add the imagination, street smarts, and sheer audacity of the dean of twentieth-century community organizers. Throw in the last hundred years or so of knowledge gain in the social sciences, sprinkle with the latest information and communication technologies and techniques, and the mix is complete. Welcome to the exciting world of twenty-first-century information and influence campaigns.
Strategy in Information and Influence Campaigns explores the underlying assumptions, unifying strategy, and panoply of tactics of the IIC, both from the perspective of the protagonist who initiates the action and from that of the target who must defend against it. Jarol Manheim's forward-looking, broad, and systematic analysis is a must-have resource for scholars and students of political and strategic communication, as well as practitioners in both the public and private sectors.


Reviews have been very positive:
"This is a masterful analysis of how influence campaigns and strategic communications work. No other book comes close in terms of scope, insights, and readability. Manheim has written a classic."
-Lance Bennett, University of Washington


"Manheim is one academic who truly understands the real world, the tough world of business and the rougher world of advocacy. He brings an academic's disciplined thinking to the chaos of our world. Becoming smarter about why we do things and how we do them better is the rich reward this book offers."
-John Ashford, Chairman and CEO, The Hawthorn Group
---
When & Where

Alumni House
1918 F Street, NW
Washington, DC 20052


Wednesday, April 20, 2011 from 6:30 PM to 8:00 PM (EDT)
Add to my calendar
Organizer
The School of Media and Public Affairs
The School of Media and Public Affairs is an established thought leader for teaching and research in the areas of political communication, journalism, global communication and documentary filmmaking. We have pioneered two of those fields, offering Journalism classes since 1938 and establishing the world's first Political Communication major in 1982.  Our classes are taught by full-time professors and successful adjunct professionals with recognized reputations in their field and a dedication to publishing with and mentoring our student body.
The only communication school in the center of the world's politics and media capital, the School of Media and Public Affairs brings Washington D.C. into our classrooms and our students out into the city. 

Join our Events List to receive exclusive invites for future events at http://conta.cc/SMPAGWU
Celebration of Jarol Manheim's Publication