Description
Open House
The Trinity Jubilee Center is celebrating 25 years of feeding, sheltering, and empowering those in need in the Lewiston/Auburn area with an open house at The Trinity Jubilee Center on December 1 from 5:00pm to 7:00pm.
The celebration will honor donors and volunteers as well as clients whose lives have been transformed by the programs offered by the center. "The Open House is an opportunity for Trinity Jubilee Center and the supporting community to celebrate the positive impact that we have made together over the past 25 years," said Executive Director Erin Reed.
Lite fair will be provided. Street parking is available. The Jubilee Center's entrance is at 53 Spruce Street.
25 for 25 Challenge
As part of the celebration, community members are invited to participate in the 25 for 25 Challenge, donating one item for each year the Jubilee Center has been open. Participants have already signed up to donate 25 pairs of warm socks and 25 packages of coffee. More socks and coffee are needed, as well as diapers, Styrofoam plates, napkins, and winter gloves.
Each group participating in the 25 for 25 Challenge is invited to create a display at the open house (a Tree of Gloves? Pyramid of napkins? We welcome your creativity!) If your family, business, civic organization, or other group would like to bring your 25 for 25 Challenge donations to the open house, email us to reserve your spot!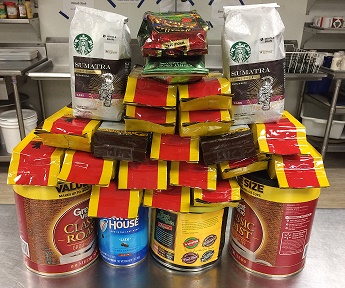 25 packages of coffee to celebrate 25 years!