Description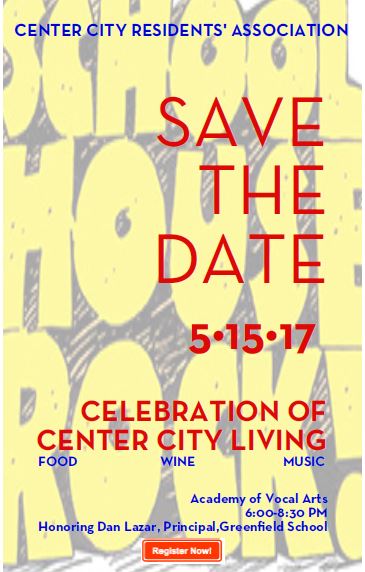 Celebrate the joys of Center City Living with your friends and neighbors; honor our local Greenfield Elementary School and its Principal, Dan Lazar, our 2017 Lenora Berson Community Service Award winner; and help raise some money for CCRA at our beautiful neighborhood opera house and generous host, the Academy of Vocal Arts, 1920 Spruce Street.
Complementing our Award winner, this year's theme will be "School House Rock," and many of the decorations (e.g., notebooks, pencils, crayons, etc.), and part of the evening's proceeds, will be donated to the Greenfield School. There will be hors d'oeuvres and desserts (courtesy of Di Bruno Bros.), wine pourings (courtesy of Moore Brothers Wine Company), games, lively music, and fine conversation, as well as a silent auction and a few live auction items. Gold Level Sponsor: AT&T. Tickets start at $75 per person ($40 for those under 40) or by calling 215-546-6719.
Ticket prices:
General: $75
Under 40: $40 (incl 6-mos. CCRA membership)
Celebration Angel:* $500 (incl 2 tkts)
Celebration Benefactor:* $300 (incl 2 tkts)
Celebration Patron:* $125 (incl 1 tkt)
Ticket price, less $35/ticket, is tax deductible.
*Purchasers at these levels will be recognized in the event program and theCenter City Quarterly, unless they choose to remain anonymous during the registration process.