CELEBRATION! Munich Campus Reunion
By Munich Campus - The University of Maryland & UMUC
Location
October 3 - 6 2013 Baltimore, Washington DC & College Park, Maryland
Description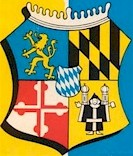 CELEBRATION!!
Thursday 03 October - Sunday 06 October 2013
College Park, Baltimore and Washington DC
Hosted By the Munich Class of 1964-1966
and UMUC - University of Maryland University College
Greetings Munich Alumni of the 1950's ,1960's, 1970's, 1980's (And all Classes)
You are invited to a gathering of ALL who attended the University of Maryland, Munich Campus The event is destined to be THE party of the 21st Century and can be both a family destination and vacation anchor. Plan to spend the weekend renewing old friendships while enjoying the many varied events and venues in the Washington / Baltimore area .Here is a quick preview of some of the events and sponsors we anticipate.
Headquarters Hotel
Hampton Inn and Suites Arundel Mills- Maryland
Special Rates and Discounts
Complimentary Shuttles to /from BWI Airport
Complimentary Shuttles to /from Amtrak Rail / Marc Commuter / Light Rail Stations
Free Breakfast Each Morning
Each Reservation Includes:
Comp Package of-$15.00 in coin / Drink Vouchers for Maryland Live Casino
$400.00 Value Coupon Book for Arundel Mills Shops & Restaurants
$20.00 In Dave & Buster's Game Tokens
Special Surprise Welcome Package at check-in.
Reservations can be made by choosing one of the following methods:
Follow this link:
http://hamptoninn.hilton.com/en/hp/groups/personalized/B/BALAMHX-CRS-20131003/index.jhtml?WT.mc_id=POG
OR:
Calling the Property directly at 410.540.9225 or toll-free reservation system (800-HAMPTON) and mention: Group code: Celebration The 50's & 60's
Room Rates 129.00 Double 139.00 Suite
UMUC President's Reception
UMUC supports all of the worldwide campuses of the University of Maryland. A President's reception will be held at the College Park Conference Center honoring our graduates. Also a walking tour of the University of Maryland, College Park.
Golf Tournament
Following the reception and Afternoon tournament at the University of Maryland championship course.
Foosball Championships & Bridge Tournaments, Door Prizes and Give-Aways.
Many of us who did not study and skipped classes nevertheless became scholars in the non-pursuits of Bridge, Gin Rummy and Foosball. A highlight of our past reunions has been the Chuck Allard (64-66) Foosball Championships.
Don't forget to register ...all skill levels invited
Cat's Eye Pub and Fells Point Bar Crawl
Ana Marie & Tony Cushing Jr (Little Tony) owners of the best bar in Baltimore will be open for the annual Fells Point Festival and have special deals for all Celebration attendees. Live Music & all your favorite German beers.
Also explore the "real" inner harbor of Baltimore. (Bus Transportation is included in your $125.00 registration fee)
Oktoberfest
Reception Dinner Banquet and Dancing at Blobs Park - The 1st authentic German Beer Hall established in the US. All your favorites - Weiner Schnitzel, OOmpah Band - Polka Dancing and General Hilarity. Indoor and outdoor beer tents.
Sunday Brunch
An elegant farewell brunch, class mate presentations and farewell toast
House Parties
Many of your Munich Campus classmates reside in the greater Baltimore / Washington area and will be hosting events and having house guests throughout the week.
Arundel Mills Shopping
One of the largest outlet malls in the US is adjacent to our HQ hotel. Free Shuttle service and free $400.00 discount coupon book available at Hotel registration.
Casino
Maryland Live! Casino adjacent to HQ hotel- Table Games and Slots Open 24 Hours. $15.00 in coins and vouchers are included with your hotel room registration.
Munich Campus Store and Gift Shop
Among our Munich classmates, we are lucky to have many talented authors, musicians, artists and craftsmen. Our gift shop will be featuring signed copies and special items for your collections.
Also we have a full complement of Munich Campus apparel: sweatshirts, hoodies, t-shirts, hats and travel gear.
Sons + Daughters / Grandchildren Special Events
The Baltimore / DC area is a vast area for free events, museums and activities. Plan to extend your stay and make The 50's & 60's CELEBRATION & REUNION an event for your entire family.
EVENTBRITE
www.eventbrite.com
We will be using Eventbrite to collect registration fees, record attendees and sell Munich apparel and memorabilia.
You may use all major credit cards Pay Pal and Google Pay. This site is great for keeping a running total of who will be attending. The Munich Campus eventbrite.com site will be going live around 8 July 2013...plenty of time to get registered!
To save additional registration fees you may also register by personal check payable to:
Munich6466 Celebration
Post Office Box 44
White Hall, Maryland 21161.0044
TENATIVE SCHEDULE HIGHLIGHTS
Thursday 3 October
1 -5 PM Arrival at Hotel, Registration Open
1 -5 PM Munich Campus SWAG Store Open
1 –5 PM Registration for Foosball, Duplicate Bridge and Trivia Tournaments
5- 7 PM Welcoming Reception – Open Bar – German Biers & Wine, Light Refreshments
7-12 AM Hospitality Suite / Registration Desk Remain Open
Friday 4 October
7-10 AM Hot Buffet Breakfast (Included with Hotel Registration) or Local Restaurants
10 AM Buses Depart for College Park Maryland, UMUC President's Brunch and Reception
11 -1 PM UMUC & University Maryland Munich Campus Reception – Presentation of Munich Campus Scholarship
1PM Munich Campus Golf Tournament ( Players should bring golf attire and clubs to Reception)
Or Walking Tour of University of Maryland, College Park
2PM Buses Return to Hotel
3PM Buses depart for Inner Harbor and Fells Point
9 PM Early Bus Returns to Hotel
11 PM Last Bus Returns to Hotel
All Day Registration and Hospitality Room Open
Saturday 5 October
7-10 AM Hot Buffet Breakfast (Included with Hotel Registration) or Local Restaurants
10 – 5PM Munich Campus Store Open
9 – 12 PM Hospitality Suite Open
12 – 1 PM Luncheon at Hotel
2PM Buses Depart for Blobs Park Oktoberfest
2PM – 10PM Blobs Park Oktoberfest
10 PM Early Bus Returns To Hotel
12 PM Last Bus Returns To Hotel
Sunday 6 October
7-10 AM Early Bird Hot Buffet Breakfast (Included with Hotel Registration) or Local Restaurants
10 -1PM Farewell Brunch and Toast – Local Restaurant
1PM Close / Depart for Home
Much more to follow! - Save the dates
Philip Callahan
U or M Munich 64-66
Class Representative / CELEBRATION The 50's & 60's !...
Committee Chair
Please contact anyone on our committee with any questions you may have about our CELEBRATION.
Danielle Wemer Director of Alumni Programs UMUC danielle.werner@umuc.edu
Mary & Bill Bradford Communications -Face book mary.bradford@yahoo.com
Nancy & Bill Caldwell Golf Tournament Co Chair Bob Caldwell@msn.com
Bill Barger Yearbooks and IT barger@ olg.com
Anne Hoover Historian atroxhoo@aol.com
Al Northrop - Golf Tournament pagosacowboy@gmail.com
Chuck Allard Foosball Tournament Chair callard@erols.com
Art & Diane Gallow Logistics & Catering ag99@aol.com
Paul Cahill Event Coordination paul.cahill@comcast.net
Robert O'Neill IT and Communications zodie10@comcast.net
Carlton Woodell Munich Alumni Site & Comptroller cwoodell@comcast.net
Jim Johnson Transportation & Apparel jim.hdbiker@gmail.com