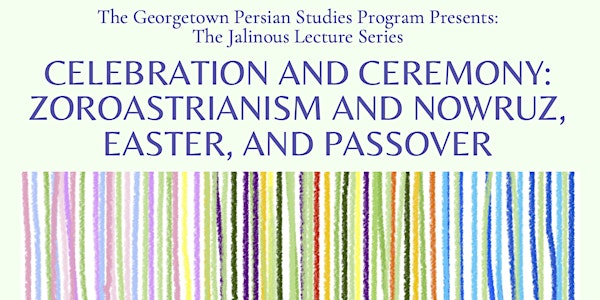 Celebration and Ceremony: Zoroastrianism and Nowruz, Easter, and Passover
A panel discussion about Celebration and Ceremony: Zoroastrianism and Nowruz, Easter, and Passover.
About this event
Featuring a panel discussion by:
Dr. Jamsheed Choksy, Distinguished Professor, Department of Central Eurasian Studies, Hamilton Lugar School of Global and International Studies, Indiana University
Jamsheed K. Choksy (BA, Columbia University; PhD, Harvard University) is Distinguished Professor and former Chairperson of the Department of Central Eurasian Studies and of the Department of Near Eastern Languages and Cultures and former Director of the Middle Eastern Studies Program at Indiana University, Bloomington. He is an authority on Iran (Persia), the Middle East, Central Asia, South Asia, Zoroastrianism, Manichaeism, and Islam, and of religious minorities in the Middle East and Central and South Asia. He was nominated by the US President and confirmed by the US Senate as a member of the Council overseeing the National Endowment for the Humanities. Choksy has held fellowships from the Harvard Society of Fellows (Junior Fellow), Institute for Advanced Study at Princeton, NEH, Guggenheim Foundation, Center for Advanced Study in the Behavioral Sciences, American Philosophical Society, and American Academy of Religion. He has been a Phi Beta Kappa Visiting Scholar. Choksy is a consulting editor for the Encyclopedia Iranica. He is the author of Purity and Pollution in Zoroastrianism Evil (1989), Conflict and Cooperation in Medieval Iranian Society (1997), and Evil, Good, and Gender in Zoroastrian Religious History (2002). His analyses have appeared in news media around the world including Foreign Affairs, Foreign Policy, World Politics Review, Real Clear World, Wall Street Journal, Forbes, CNN, LA Times, National Review, NPR, PBS Frontline, Agence France-Presse, Australian Broadcasting Corporation, Small Wars Journal, and Times of India.
Dr. Jason Sion Mokhtarian, Associate Professor, Department of Near Eastern Studies, Cornell University
Jason Sion Mokhtarian is an Associate Professor and holder of the Herbert and Stephanie Neuman Chair in Hebrew and Jewish Literature in the Department of Near Eastern Studies at Cornell University. An expert in Persian-Jewish history, and in particular the study of the Babylonian Talmud in its Zoroastrian and Sasanian contexts, he is the author of two books: The Culture of the Talmud in Ancient Iran and Medicine in the Talmud.
Dr. Maria Doerfler, Assistant Professor of Late Antiquity, Department of Religious Studies, Yale University
Maria E. Doerfler serves as Assistant Professor of Eastern Christianity in Yale's Department of Religious Studies. Her work focuses on the exposition of authoritative texts, whether Scripture, law, or philosophical writings, by individuals and communities in times of crisis. Her recent monograph, Jephthah's Daughter, Sarah's Son: The Death of Children in Late Antiquity (University of California Press, 2020), received the American Academy of Religion's best first book in the History of Religions Prize. She has recently completed a manuscript on the intersection of writing law and the creation of sacred histories, and is working on a book on Syriac funerary hymnography.
Moderated by:
Dr. Neda Bolourchi, Associate Director and Postdoctoral Associate, Middle Eastern Studies Program, Rutgers University
Dr. Neda Bolourchi is Associate Director of the Middle Eastern Studies Program and Post-Doctoral Assistant Professor at Rutgers University-New Brunswick. Dr. Bolourchi's work engages political theology and focuses on the roles of religion, race, and secularism in the formation of Middle Eastern societies. Her forthcoming book manuscript, Contending Visions of Iran, examines the transformative discourse on Iran as sacred across the political and religious spectra during the twentieth century. Dr. Bolourchi is also working on a second project at the intersection of anthropology, history, and political science that examines narratives about Iranian-Jewish participation in the Iran-Iraq War. In the interim, she has published in the newly released volume Losing Our Minds, Coming to Our Senses (University of Chicago, 2022), the Journal of the American Academy of Religion, Iranian Studies Journal, and Politics and Religion.
Q&A to follow with questions from the audience
Attendees may submit questions ahead of time by emailing them to Persian@georgetown.edu
Please RSVP to Receive the Zoom link via email & the Online Event Page