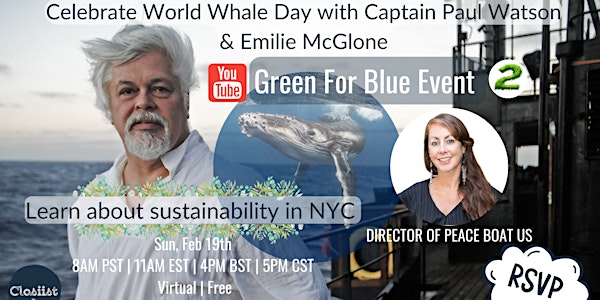 Celebrating World Whale Day: A Virtual Exploration of Sustainability in NY
"Celebrating World Whale Day: A Virtual Exploration of Sustainability in NYC"
By Green for the Blue by Closiist
Date and time
Sunday, February 19 · 8 - 9:30am PST
Refund Policy
Contact the organizer to request a refund.
Eventbrite's fee is nonrefundable.
About this event
Join us on February 19th, 2023 for the second event of Green For Blue as we celebrate World Whale Day with Captain Paul Watson & Emilie McGlone with a virtual exploration of sustainability in NYC!
The event will be held virtually, so you can participate from the comfort of your own home.
Don't miss this opportunity to gain valuable knowledge and inspiration while supporting the conservation of our planet. Register now to secure your spot!
CAPTAIN PAUL WATSON is a marine wildlife conservation and environmental activist. Watson was one of the founding members and directors of Greenpeace. In 1977, he left Greenpeace and founded the Sea Shepherd Conservation Society.
"We go where others fear to go, no matter how hostile or remote the seas, no matter how formidable the opposition because if we don't, life in the seas dies and if the ocean dies, we die."
EMILIE MCGLONE has been working with Peace Boat since 2004, and currently is the United Nations liaison and Director of the New York-based office of Peace Boat US, a non-profit organization working to promote peace, sustainable development, and respect for the environment through educational programs organized onboard the Peace Boat, a chartered passenger ship that travels the world on peace voyages. Peace Boat holds Special Consultative Status with the Economic and Social Council of the United Nations and works in partnership with UN representatives, Nobel Peace Laureates, and community leaders from around the world to create opportunities for international cooperation focused on environmental sustainability, cultural awareness, and peace education. Emilie works to foster youth education and develops specific programs to learn about important global issues onboard the Peace Boat. Founded in 1983 and nominated for the Nobel Peace Prize in 2008, Peace Boat has sailed on over 100 global voyages, carrying more than 60,000 people to more than 100 countries. Peace Boat has recently launched a new initiative to build an Ecoship to sail around the world, showcasing green technology and design, while inspiring positive change to radically reduce our carbon footprint. Peace Boat is a committed campaigner for the UN Sustainable Development Goals, sailing with the Global Goals Logo on the hull of the ship. Peace Boat US Ecoship Project will build the world's most sustainable passenger ship. A flagship for the SDGs, Ecoship seeks to address ocean acidification with reduced carbon emissions and significantly reduce marine pollution.
Date: February 19th, 2023
Time: 11AM EST
Location: Virtual
For more information: Blog
Blog: YouTube Channel GREEN FOR BLUE
We look forward to connecting with you on World Whale Day and discussing how we can work together to make our planet a more sustainable place.
Email us for sponsorship opportunities: greenforblue @ closiist . com
Agenda
11:00 AM - 12:30 PM
"Celebrating World Whale Day: A Virtual Exploration of Sustainability in NYC"
About the organizer
Green for Blue is a YouTube channel that serves as a guide to help people in New York City and around the world learn more about sustainability in big cities.
In addition to their informative videos, they also host two events every month - one online and one in-person in New York City. The events are focused on bringing together experts in the sustainability field to discuss important topics and share their insights.
Follow us for updates
Green for the blue is an org by Closiist, the sustainable marketplace.