Celebrate Women in Business with the Central San Diego Black Chamber of Commerce
About this event
October is National Women's Small Business Month. We recognize the achievements of female entrepreneurs and the positive impact they are making in the workforce and the economy.
To celebrate, the Central San Diego Black Chamber of Commerce (CSDBCC) presents Celebrating Women in Business awards reception to honor San Diego County's women entrepreneurs. CSDBCC provides financial assistance, business resources, and networking opportunities to connect women-owned businesses to growth opportunities. Your sponsorship will ensure we continue our mission and provide women entrepreneurs have a platform the grow, thrive, and continue to be stewards of their community.
The health and safety of our attendees is priority and this event will take place in accordance with Center for Disease Control guidelines (CDC). This event will be held outdoors and masks are mandatory during the event (with the exception of eating and drinking).
For additional information, contact Cassandra Schaeg, Director of Operations at cassandra@sdblackchamber.org.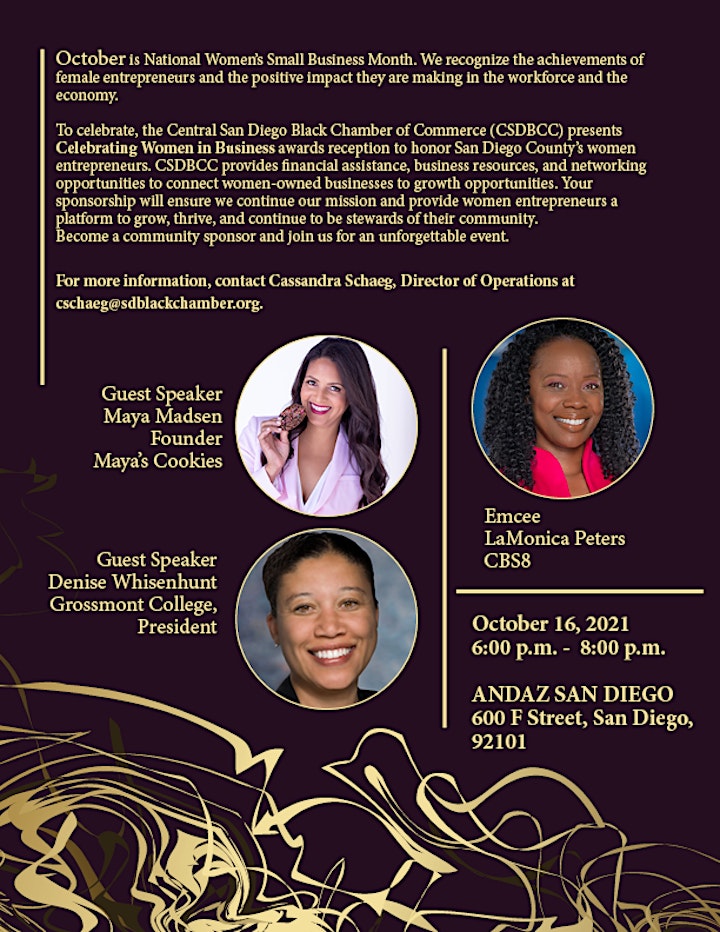 Organizer of Celebrating Women in Business