Description
Join us on March 31, Trans Day of Visibility, for a powerful event lifting up the trans community of Colorado.
Youth Celebrate Diversity, One Colorado, the ACLU of Colorado, The GLBT Community Center of Colorado and the University of Denver are coming together to host Celebrating Trans Voices: Narratives, Reflections and Building Alliances.
The afternoon event will feature three distinct and compelling conversations that educate and inspire:
Listen to a panel of high school, college and graduate trans students share their experiences in school and college
Hear from Laila Ireland, transgender veteran and activist who served for 12 years in the US Army
Join Rep. Brianna Titone, the first trans legislator elected in Colorado's history, in identifying a

ctions allies can take to support trans people

Witness a powerful performance by Phoenix, Colorado's trans community choir
This event is designed for people from all walks of life to join us, hear about the challenges faced and successes won by the transgender community in Colorado, and learn how you can become an ally for trans people today.
This event is open to the public and welcomes everyone. A portion of all proceeds will be donated to the newly-formed Transgender Center of the Rockies at Mile High Behavioral Health.


About Trans Day of Visibility
Trans Day of Visibility (TDOV) is a day to show your support for the trans community. It aims to bring attention to the accomplishments of trans people around the globe while fighting cissexism and transphobia by spreading knowledge of the trans community. Unlike Transgender Day of Remembrance, this is not a day for mourning: this is a day of empowerment and getting the recognition the trans community deserves. TDOV is celebrated on March 31 every year.
Speakers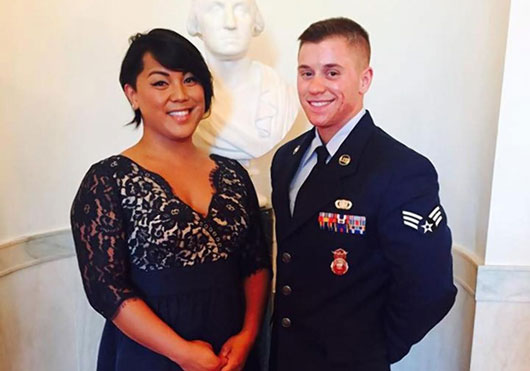 Veteran Laila Ireland is a retired Healthcare Management Administration Specialist and served for 12 years in the United States Army. She served two combat tours in Iraq and her final duty station was at Tripler Army Medical Center, Hawaii where she was honorably discharged and medically retired in November 2015. On June 4, 2015 Laila and her then fiancé, SSgt Logan Ireland, courageously came out as transgender service members by sharing their story in the Emmy-nominated New York Times short film "Transgender, at War and in Love." The American Military Partners Association presented Laila with their "Military Spouse Leadership Award" in 2016 and she was the 2017 Military Spouse of the Year on Peterson Air Force Base, Colorado. The feature documentary, "TransMilitary," which shares more of her story and work to end the ban on transgender service members premiered at South by Southwest (SXSW) 2018 and won Best Feature Documentary Audience Award.
Rep. Brianna Titone was elected in November 2018 to represent State House District 27 in Arvada, becoming the first transgender legislator ever elected in Colorado's history. Brianna grew up in the Hudson Valley of New York before attending the State University of New York at New Paltz where she earned her BA in Physics and BS in Geology. She went to Stony Brook University to earn her MS in Geochemistry. Her interest in local politics started in 2016 where she began talking to her state leaders on issues that were important to her. She was elected as a Delegate at the County Assembly in the 2016 for Candidate Bernie Sanders, joined the Jefferson County LGBTQ+ Caucus in February 2017 and was elected as Secretary/Treasurer in August. She was more recently appointed as Captain at Large for the Jefferson County Democratic Party in October 2017. Brianna believes that there are many things that we can find in common with each other, and around that intersectionality we will come together and build a better sense of community. Instead of isolating ourselves, we will become better neighbors and friends.
Henry Seaton is a sophomore at the University of Denver. A native of Tennessee, he met one-on-one with state legislators, testified in front of a legislative committee, and delivered more than 67,000 petition signatures opposing Tennessee's "bathroom bill" that would have forced transgender citizens to use the bathroom on their birth certificate, not the bathroom that matches their gender identity. Through Henry's activism and hard work with other advocacy groups, the bill was defeated.
Performances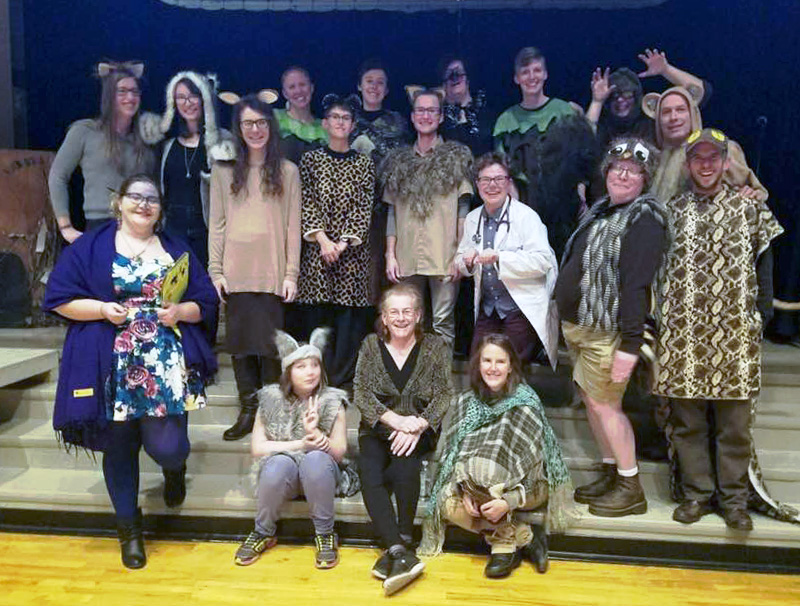 We'll be joined at the event by Phoenix, Colorado's Trans Community Choir, who will sing as part of the celebration. Phoenix was founded in 2015 as a fully collaborative grassroots community of individuals who believe in the transformative potential of the arts for personal empowerment and societal change. Not exactly a traditional chorus, Phoenix is more of a safe space to take risks of self-exploration—whether around gender and identity, creativity and voice, or leadership and community building. Although many of its members are trans-identified, the choir is home for anyone who does not fit neatly into the gender binary, as well as all those touched by trans issues, including partners, parents, friends, and allies. This non-audition intergenerational social justice chorus is based in Broomfield, with singers from all over the Front Range, and performs frequently at community events, often material composed by choir members, including performing its original play, Raven's True Self, at various elementary schools in the Boulder Valley School District.


Parking
Parking will be available for the first 150 vehicles purchasing full-price tickets, using Parking Lot L at the University of Denver. This parking structure is accessible from Asbury Avenue and Gaylord Street. An event volunteer will be stationed at the entrance of the parking lot to assist event attendees starting at 3:00pm until the event starts. We encourage attendees to carpool where possible, as we anticipate a large audience for the event.
Free street parking is also available to the west of the University of Denver campus. Please note posted time limits, as most spaces are limited to 1 or 2 hours.
Paid parking spaces will also be available at Parking Lot E, which is accessible from High Street and Evans Avenue.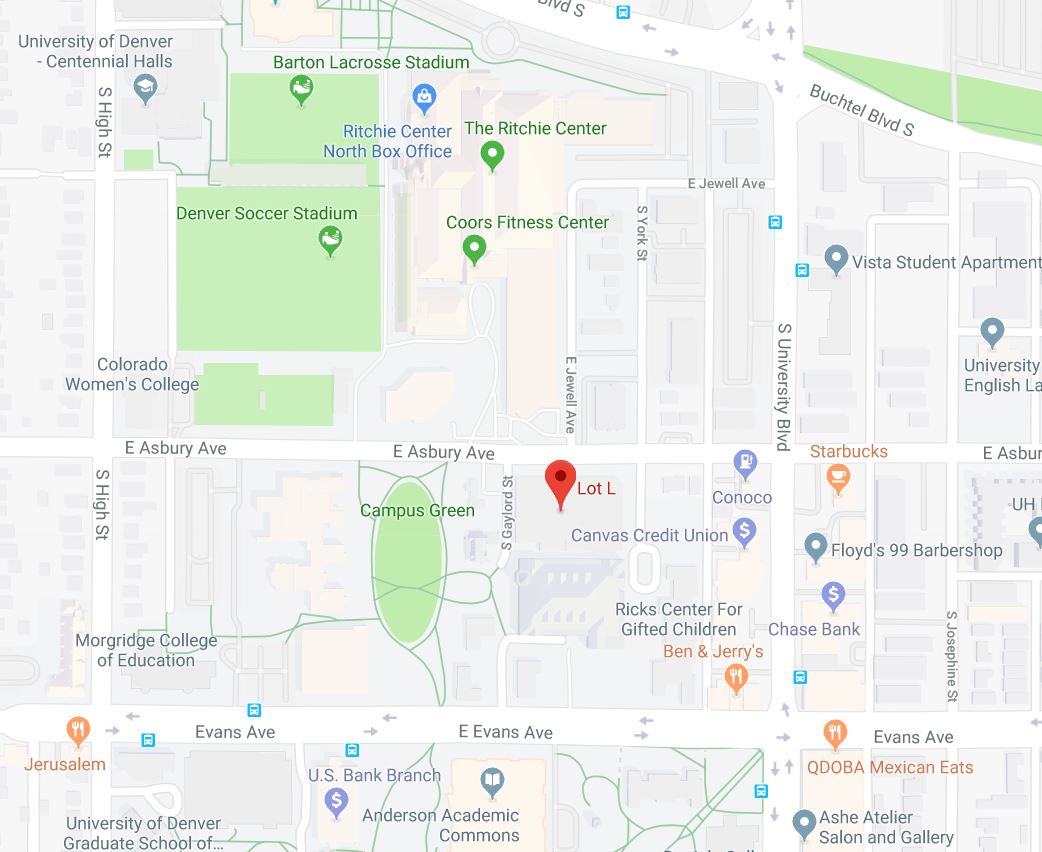 Public Transportation
Public transportation is available through RTD lightrail. The closest lightrail stop is University; the event space in Sturm Hall is an approximate 10 minute walk from the station south along High Street, and then east along Asbury Street. For more information or to plan your route, visit http://www.rtd-denver.com/lightrail.shtml.
Accessibility
This event will be made accessible to everyone. ASL sign language interpreters will be present throughout the event. Ticket scholarships and discounts are available for those unable to pay the ticket price. If you have an accessibility question or need, please contact Caleb Munro at (720) 507-0746 or cmunro@ycdiversity.org.
Event Partners