Celebrating the Jewish Partisans - Teaching and Preserving Their Legacies
Description
Join us as we celebrate the legacies of the Jewish partisans and their resistance to discrimination and oppression.
---
On November 5th we gather to honor the remarkable contributions of partisans who have passed away, and recognize the second and third generations, who continue to inspire others by sharing their families' stories.
Sunday, November 5, 2017
Guastavinos
409 East 49th Street, New York
5:00 PM Cocktail Reception
6:00 PM Dinner
Keynote Speaker
Jon Avnet
Award winning director, producer and writer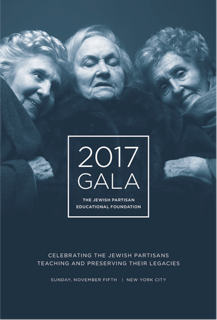 Visit our Jewish Partisan Community website to upload your family's Jewish partisan story, photographs. videos and more.
To add someone to the Gala invitation list, or for more information, please contact Sheri Rosenblum, Director of Development and Outreach at 415-563-2244 or by email.
Photo credit: Edward Zwick
Organizer of Celebrating the Jewish Partisans - Teaching and Preserving Their Legacies
Founded in 2000, the Jewish Partisan Educational Foundation is dedicated to bringing the celebration of the heroic resistance of the Jewish partisans to the world. Already, JPEF has empowered millions of young people to stand up to antisemitism, discrimination and oppression, using innovative educational materials that highlight the courage and perseverance of the Jewish partisans. As the only organization dedicated solely to teaching the Jewish partisan legacy, nearly every major Holocaust organization in the world relies on JPEF to bring the empowering lessons of the partisans to their students.