Celebrating the Family Table

Sunday, June 9, 2013 at 6:00 PM (PDT)
Event Details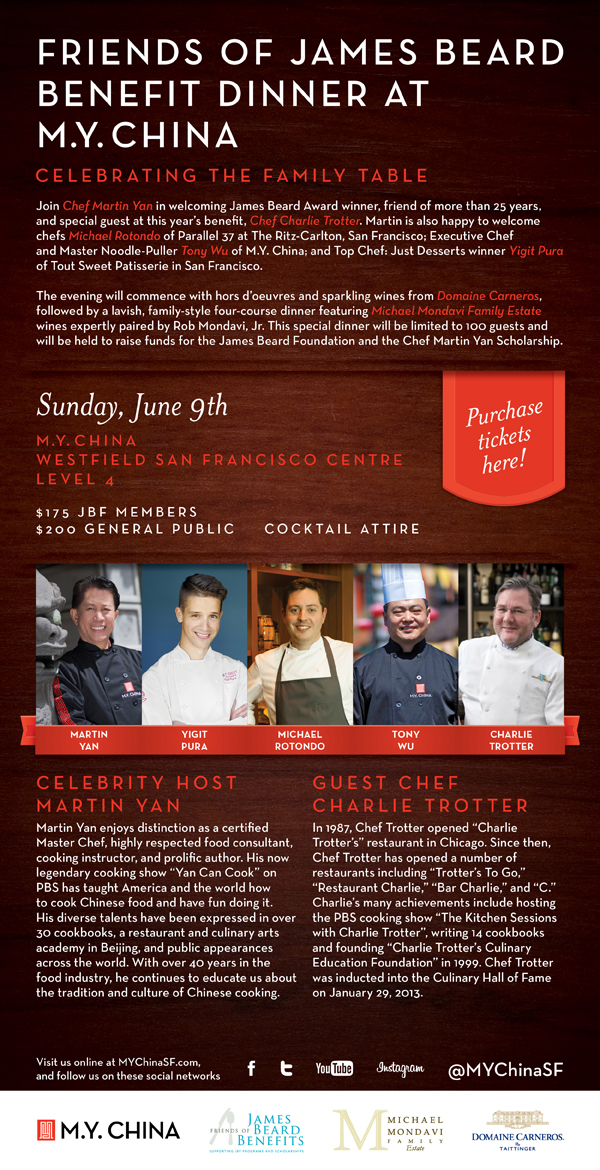 ---
-RECEPTION-
Chef Michael Rotondo – Parallel 37
Crispy Chicken Feet, Steam Bun, Oroblanco
Heirloom Tomato Shui Jiao, Sesame Essence
Chilled Duck Consommé, Beginning of Summer Vegetables
Chef Tony Wu – M.Y.China
Scallops on Lotus Root, X.O. Sauce
Hand-pulled Spinach Noodles, Mendocino Uni, Mustard, Citrus & Soy Dressing
Beggars' Purses with Wild Mushrooms & Kabocha

Wine Pairings
Domaine Carneros Brut Vintage 2009
Isabel Mondavi Deep Rose of Cabernet Sauvignon 2012
Cocktail Pairing
Southwest of Eden by Alan Chen
-DINNER-
First Course
Chef Trotter, Plated
Roasted Beet, Asparagus, & Goat Cheese Terrine
Oberon Sauvignon Blanc 2012
Second Course
Chef Yan, Plated
Lantern Shadow Beef, Chinese Broccoli Shoots, Taro
Emblem Napa Valley Cabernet Sauvignon 2010
Third Course
Isabel Mondavi Chardonnay 2011
Chef Trotter, Family Style
Cold Poached Halibut, Teardrop Tomato, Mint, Red Jalapeño Vinaigrette
Chef Yan, Family Style
The Abalone Farm Whole Abalone, Bàoyú Sauce
Fourth Course
M by Michael Mondavi 2009
Chef Trotter, Family Style
Lamb with Stir-Fried Tatsoi, Mizuna, Julienned Vegetables, Spicy Peanut Sauce
Chef Yan, Family Style
Iron Goddess Tea Smoked Duck with Kumquat Hoisin Sauce, Steamed Buns
-DESSERT-
Chef Yigit Pura – Tout Sweet Pâtisserie
Maui Vacherin
Passion Fruit-Banana Sorbet, Manilla Mango & Fresh Liliquoi Compote, Thai Basil Ice Cream, Sweet Meyer Lemon Kisses
---
The James Beard Foundation offers a variety of events and programs designed to educate, inspire, entertain, and foster a deeper understanding of America's culinary culture. These innovative programs include educational initiatives, food industry awards, an annual national food conference, Leadership Award programs, culinary scholarships, and publications. In addition to maintaining the historic James Beard House in New York City's Greenwich Village as a "performance space" for visiting chefs, the Foundation has created a prosperous online community, as well as host tastings, lectures, workshops, and food-related art exhibits in New York City and across the country.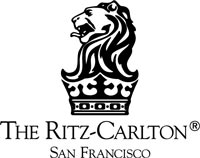 The Ritz-Carlton, San Francisco is the official hotel sponsor of the benefit and has generously extended special rates for attendees for June 7, 8, 9, 2013. To learn more about the special rate or to make reservations:
Call (800) 241-3333 and reference "James Beard Benefit" for June 7, 8, 9, 2013.

Visit www.ritzcarlton.com/sanfrancisco, enter dates (June 7, 8, or 9, 2013) and JBFJBFA under "Corporate, Promo or Group Code".

When & Where

M.Y.China
Westfield Centre San Francisco
865 Market St.
San Francisco, CA 94103


Sunday, June 9, 2013 at 6:00 PM (PDT)
Add to my calendar
Organizer
About M.Y. China
M.Y. China offers authentic Chinese cuisine in a playfully modern experience. Inspired by Chef Martin Yan and his years of teaching the art of Chinese cuisine to everyday people, a full exhibition kitchen brings the ancient arts of the wok, hand-pulled noodles and dim sum to light. With over 3,500 cooking shows broadcast worldwide, Martin Yan enjoys distinction as a certified Master Chef, highly respected food consultant, cooking instructor and prolific author. His now legendary cooking show "Yan Can Cook" on PBS, taught Americans and the rest of the world to cook Chinese food. Since then, his diverse talents have found expression in 30 cookbooks, a restaurant and culinary arts academy in Beijing, China and public appearances. With over 40 years in the food industry, he continues to educate us about the tradition and culture of Chinese cooking. More information is available at mychinasf.com and you can find us on Facebook and Twitter. M.Y. China is located at 865 Market Street, San Francisco, CA 94103 at the Westfield San Francisco Centre, Restaurant Collection Under the Dome, Level 4, (415) 580-3001.