The 42nd Anniversary Celebrations Committee invites you to celebrate the anniversary of this wonderful event
About this Event
Dear Friends and Comrades,
THE GRENADA REVO' AT 42
You are kindly invited to SAVE THE DATE of March 13, 2021, on which a virtual celebration of its 42nd anniversary will be hosted by the Grenada Revolution 42nd Anniversary Committee.
The theme for this year's event is: -
"Celebrating the Grenada Revolution in the times of Covid: Focusing on the economy, education, health and people's power"
The celebration will start at 4:30 pm Grenada time and involve speakers from across the globe. Pre-recorded and live presentations will take place including items of Grenadian culture such as pan, poetry, calypso, etc. and a virtual exhibition on key achievements of the Revo'.
This is intended to showcase the huge potential of the Grenadian people, whose ability to plan, carry out, overcome and complete huge challenges was demonstrated during the Revo'.
Organised by the the Grenada Revolution 42nd Anniversary Committee in conjunction with the Grenada Revolution Memorial Foundation (GREMFO).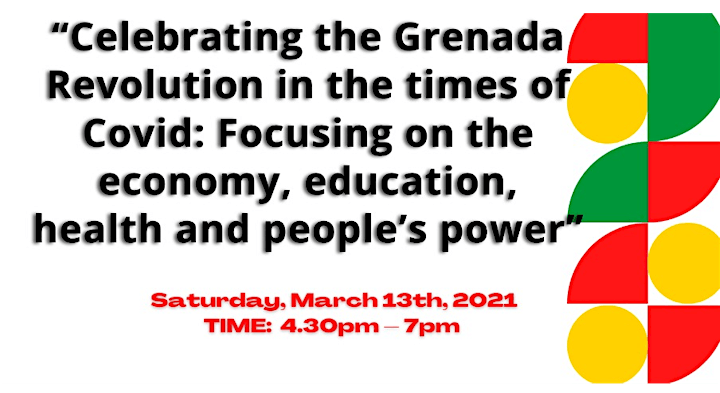 Grenada Revolution Celebrations Committee
Celebrating the 42nd anniversary of the Grenada Revolution on 13 March from 4:30pm to 7pm (Grenada Time)
Forty-two years ago, March 13, 1979, the people of Grenada rose up from under the brutal Gairy dictatorship and seized power. In the four and a half short years of the Revo' Grenadians brought about maternity rights laws, free education, free health care, economic reform, an increase in democratic control, a huge increase in free university education, infrastructure development including the building of an international airport, expanded social housing, a significant increase in employment, a teacher education programme, a huge literacy programme and much more.
These events will be electronically celebrated across Grenada and beamed internationally to many. The organisers, Grenada Revolution Celebrations Committee, have made it clear that this is not going to be a historical seminar but a programme designed to contribute to overcoming current challenges.
Please join in the festivities through the various channels below.
The activities include: -
Music videos, drumming, National Anthem, the Revolutionary Anthem (Forward March), poetry, pan rendition and a display of art .
Dedication of event to all those who contributed to making and building the Revo' who are no longer with us.
This will intersperse or be followed with
A visual depiction of achievements of the Revo' in the field of health with a presentation by Dr. Sonia Nixon, Public Health Specialist.
A visual depiction of achievements of the Revo' in the field of education followed by a presentation from Professor Anne Hickling-Hudson, one of the creators of the education system developed by the Revo'..
A visual depiction of achievements of the Revo' in the field of the economy with a Presentation by Dr. Brian Francis, a leading Caribbean economist.
Join us at: -
Zoom: Meeting ID: 666 764 2230 - Passcode: 9qUFpD
Listen live:
BIG Drum Nation: https://www.bigdrumnation.com/.
BIG Drum Nation: YouTube https://www.youtube.com/channel/UCtyGz-VrgOBY3seBsB8F1XA.
GMRFM at TuneIN: https://tunein.com/radio/GMRFM-s262392/.