Join us for our live webinar Solstice Party, celebrating this season through pleasure and magic!
About this event
Solstice - also known as Litha, or Midsummer, has traditionally been one of the most important sabbats for witches and magical practitioners. The sun shines high for the longest day of the year, offering extended time to learn and burn in the beauty and magic of our world.
We invite you to join us for our second annual live webinar Solstice Party and BIPOC care package fundraiser! This live digital gathering offers participants a chance to hear from a fantastic lineup of presenters, each passionate and driven to share their insight and wisdom around the subjects of pleasure and summer solstice magic while also supporting Seagrape in offering specialized summer care packages for the BIPOC community. Participants will have the chance learn in real time, engage in dialogue, have questions answered and thoughts mused upon.
100% of proceeds from this event will go towards BIPOC care packages.
BIPOC folks attendance by chosen donation (found through tickets button)
This event will serve as an intersection of classic and contemporary traditions around solstice, support us in brand new interpretations as moments and collective understanding continue to unfold, and offer seasoned practitioners the chance to grow in community! If you're new to Seagrape, this is a wonderful way to get to know us and our values, as well as say hello to some magical members of our community.
In the last year, our vision of community has changed and grown. Necessity has called on us to expand our scope of gathering, sacred space, and intentional togetherness. We wish to offer this opportunity to all, as we have with each of our digital workshops. This gathering will take place on Sunday June 20th, the day of the Summer Solstice, from 11am to 2pm. We hope to see you there!
Free replay of event for members of Seagrape Babes! Our growing online community can be found and joined through the link here
SPEAKER SCHEDULE:
11am - Angela Mary Magick: Summer Solstice Nectar Power Spell
11:30am Ylva Mara Radziszewski: Queer Magical Eroticism
12:00pm - Ericka Gail: The Essential Healing of Softness + Rest
*15 minute break*
12:45pm - Sara M Lyons: The Art of Lenormand & Crafting a Deck for Pleasure
1:15pm - Fruiting Bodies: The Healing Power of Psilocybin Mushrooms
___________________________________________________
SUMMER SOLSTICE NECTAR POWER SPELL : Angela Mary Magick
Fire up your HOT WITCH SUMMER! Join Angela Mary Magick in this deliciously fast paced ritual workshop to quicken your Magick by blessing the nectars of your body. Bring a natural vessel of local honey (or a plant based nectar like agave nectar or monk fruit syrup) sunflower petals, a wooden spoon,  Book of Shadows and/or Sex Magick Journal. Our Coven will create our individual Spell intentions and share with each other at the end of the workshop. The moon is in Scorpio setting the stage for a divinely sensuous ritual.
QUEER MAGICAL EROTICISM : Ylva Mara Radziszewski
Magic is inherently sensual. The power of the Witch is sourced from the undulation of the elements, pulsing through our lives. Harnessing this energy is a foundational technique, useful in fueling and empowering any ritual and spell… particularly those centering healing, manifestation, growth, protection, boundaries, and empowerment. Accessing the pulse of the elements within the body allows the Witch to draw and focus Universal energy into their altars with more potency. Join us for a non-sexual, non-play centered exploration of foundational principles of Queer Eroticism as a conduit for raising, focusing, and casting magical energy.
THE ESSENTIAL HEALING OF SOFTNESS + REST : Ericka Gail
Living in an individualistic, capitalist, colonized culture means many of us are often always on the "go," whether in our work, communities, or our personal lives. We're asked to participate in "grind culture," bodies are likened to machines, hobbies are turned into hustles, and rest is seen as 'laziness.' What if I told you rest is not laziness, but sacred? That rest has to be made a priority, done intentionally, and that to get there means showing ourselves more grace, compassion, and softness to ourselves and each other? In this workshop, learn tips on how to make more space for rest, how to practice it with intentionality and as an internal decolonization process.
THE ART OF LENORMAND + CRAFTING A DECK FOR PLEASURE : Sara M Lyons
Explore the easy, intuitive art of Lenormand, and fold it into your creative practice by learning how to craft your own 36-card deck! Artist and illustrator Sara M. Lyons, the creator of Cute Little Lenormand, will walk you through the basics of this charmingly simple but surprisingly potent form of cartomancy that dates back to the 18th century. In this talk, you'll learn to interpret Lenormand's classic archetypes in three-card vignettes - then you'll discover how to create your own personal, unique Lenormand deck. If you have a Lenormand deck already, you'll want to have it handy - but if you don't, no need to worry! With any deck of traditional playing cards and your own special artistic magic, by the end of this short workshop, you'll have all the tools you need to both craft and work with a deck that truly resonates for you.
THE HEALING POWER OF PSILOCYBIN MUSHROOMS : Fruiting Bodies
This talk is an introduction to the therapeutic use of psilocybin mushrooms and Oregon's newly approved legal framework. We will cover: How psychedelic mushrooms work in the brain, research on the therapeutic potential for a broad range of mental health conditions, how Oregon is leading the way with its hybrid therapeutic model, and equity and access concerns we seek to address.
_________________________

NOTE:

Buying this as a gift? Please include recipient's email address during checkout.
Enrollment is accepted up until the day of the event.
Technical difficulties on the attendees end (sound issues, tardiness, wifi connection, video cut out, etc) do not entitle attendees to a refund.
Seagrape does not offer guidance around computer or Zoom usage, though we do send out a link including instructions on how to use Zoom 24 hours prior to all workshops.
Honor the privacy of others; what is said and shared in a workshop is not meant to share outside of the workshop except for what instructors give permission to share.

__________________________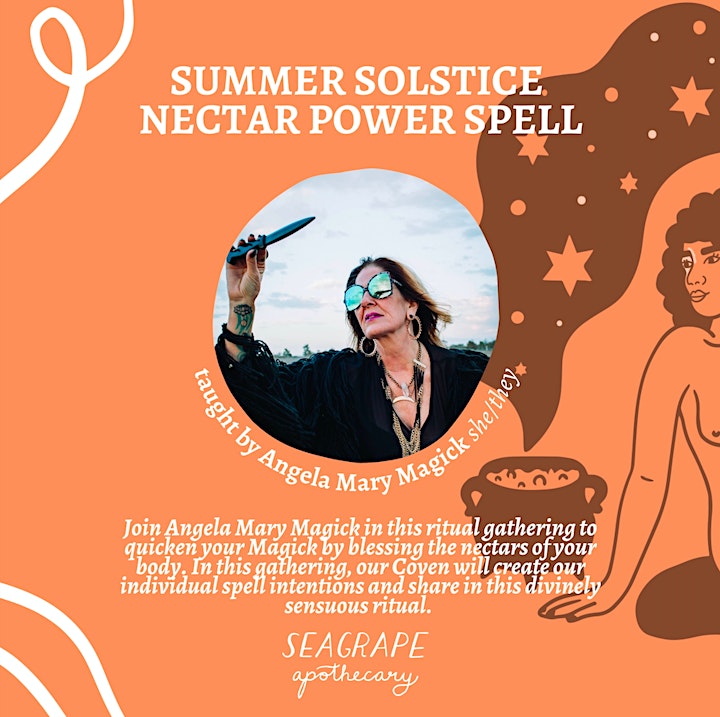 Angela Mary Magick they/she
Angela Mary Magick is creatrix and host of Angela Mary Magick 'Worldwide Coven' on YouTube, Moon bb Magick Tarot. They are a multidimensional lifelong Witch, artist, activist, community organizer, educator, and student. Her Magick is expressed through digital media, video art, ASMR, Spellbound Rites, Tarot, divination, social justice & action, plant & flower worshipping, small batch apothecary & kitchen Witchery. Fly into her nest for the divine details AngelaMaryMagick.com and their instagram at @angelamarymagick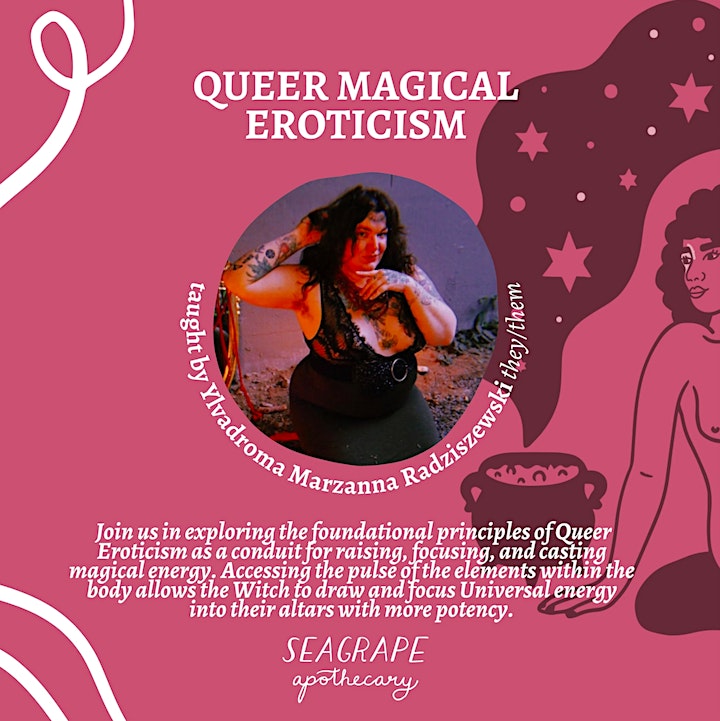 Ylvadroma Marzanna Radziszewski they/them
Ylva Mara is a Romani and Polish, gender non-binary, trans femme. High Priestess, a temple tender, traditional witch, teacher, writer, artist, and licensed acupuncturist and herbalist, they are known for approaching their work with a commitment to further understand how access to wellness and traditions of magic are complicated by and interconnected with the violence of kyriarchal oppression.
Their practice prioritizes the support of Sex Workers, Black, Brown, and Indigenous community members, femmes, survivors of trauma and abuse, survivors of incest and assault, chronically ill folx, trans and non-binary specific health concerns, addiction recovery, reproductive health support, folx navigating intergenerational and diasporic trauma, and those seeking alternative and supplemental support for acute chronic mental health concerns.
They are the founder of The School of Traditional Magic, co-founder of the radical witch's collective The Witches Temple, formerly The Cunning Crow Apothecary, and co-creatrix of The Living Altar, a ritual and performance art project. Find them on instagram at @schooloftraditionalmagic.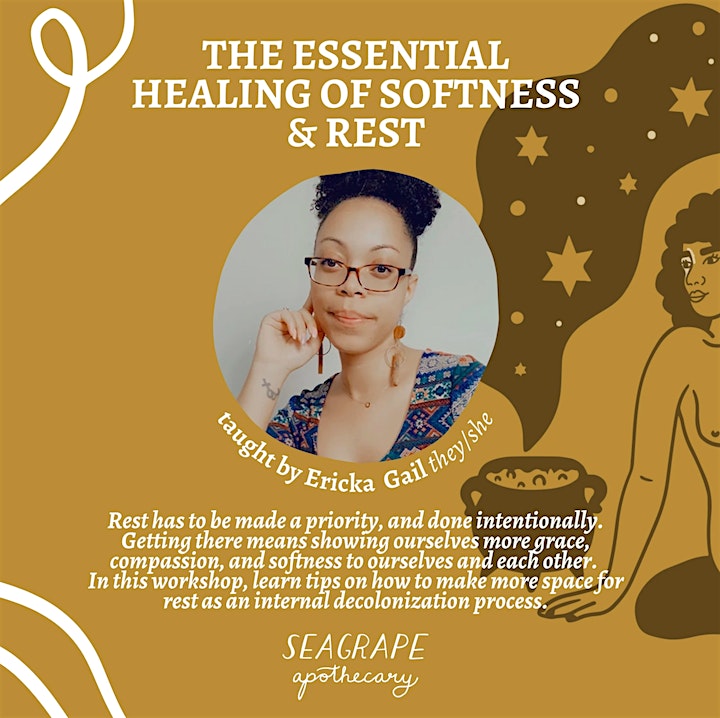 Ericka Gail they/she
Ericka Gail, M.S.Ed. is a non-binary, queer Black femme who is currently a resident crisis and trauma therapist working in interpersonal and sexual violence to facilitate healing for survivors and victims. Ericka uses their Instagram platform, Mentalhealthfemme, to provide therapeutic resources and culturally informed healing for QT/BIPOC folks. They are an educator, facilitator, poet, and healer. Prior to becoming a therapist, Ericka was their university's LGBT Ally Engagement and Advocate coordinator as a graduate assistant for over 2 years, the university's only paid-LGBT related position, where they led workshops, trainings, and events highlighting discrimination faced by the LGBTQ+ community to include bi-erasure and bi-phobia. In 2019, Ericka was a key-note speaker at the revival of Breaking the Ice, a student-led event celebrating LGBTQ+ contributions in history and popculture.
Ericka believes in the self-determination & liberation of all colonized people and addresses this through their mental health and social justice work. Ericka's current work focuses on anti-racism, LGBTQ+ and the intersections of marginalization; transnational feminist and human rights issues; gender based violence (SV/DV/IPV) & reclaiming joy and safety. While they do not provide therapeutic one-on-one services via social media, they commit themselves to making therapeutic tools as accessible and beneficial as possible for all to feel empowered on their healing and wellness journey, especially those in the LGBTQ+ community. Find them on instagram @mentalhealthfemme.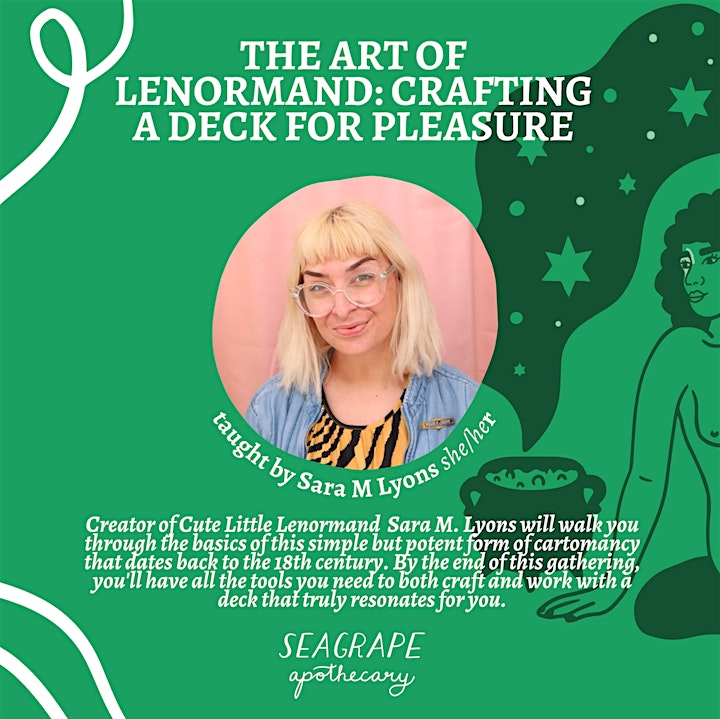 Sara Lyons she/her
Sara M. Lyons is an artist, illustrator, creator of the Cute Little Lenormand, and nail decal designer living and working in Anaheim, Ca. When she's not drawing or making things (which is most of the time), Sara likes reading comics, hanging out with her fiance (fellow artist JOSHR), getting her nails done, going to theme parks, and watching trashy reality tv on netflix. Her work focuses heavily on femininity and vice as filtered through the (slightly off-kilter) lens of her own experiences. Archie comics, John Waters films, Saturday morning cartoons, Lindsay Lohan, and early punk rock are among her references, and she's not one to shy away from the color pink.
Her artwork and nail decals have been featured by NYLON magazine, refinery29, buzzfeed, the beauty department, urban outfitters, xojane, rookie, broadly, the a/v club, complex, paste, and tipsy magazine, just to name a few. Find Sara on instagram at @saramlyons.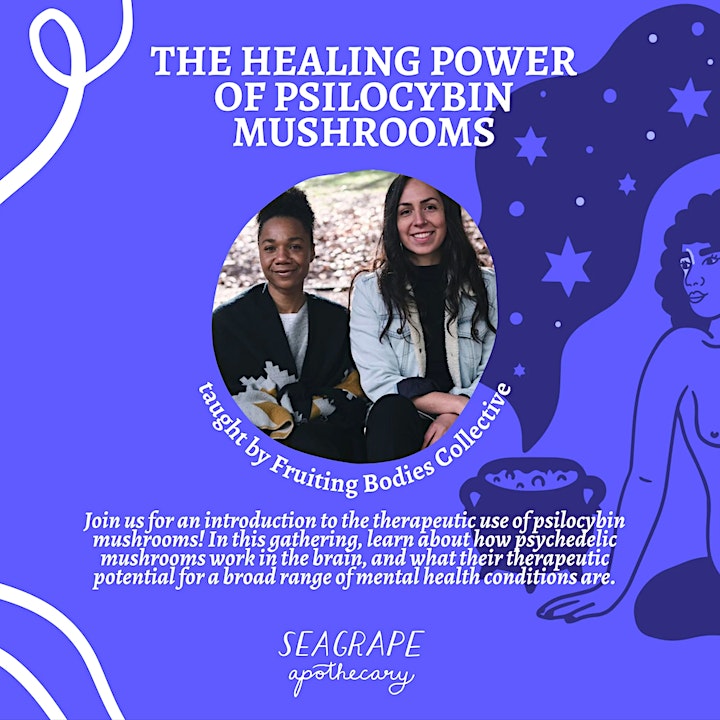 Fruiting Bodies Collective is a Portland, Oregon-based podcast, multimedia platform and advocacy group focused on the intersection between psychedelic medicines and healing justice. They exist to destigmatize the use of psilocybin mushrooms and other entheogens through storytelling and fact-based education, as well as build bridges and strengthen collaboration between groups working toward collective liberation and social change.
Elan Hagens she/her + Rebecca Martinez she/her
Elan Hagens, CEO of Fruiting Bodies, is a Portland born and raised gourmet mushroom entrepreneur and wild crafting educator. She has spent the last 10 years as an active leader in Portland's food justice and farming scene. She loves dogs, foraging and hiking, and you can get to know her over at @temptresstruffles. Oregon folks can visit her at several farmers markets this season including PSU and King! She is passionate about destigmatizing mushroom use and adding representation to the psychedelic healing movement. Find Elan on instagram at @temptresstruffles and @fruitingbodiesco.
Rebecca Martinez, CCO of Fruiting Bodies, is an Oregon born and raised author, educator and community organizer. Her background is in organic farming and written communications. She was a staff member on Oregon's Measure 109 campaign which will create statewide legal access to psilocybin therapy. She is passionate about healing the harms of the war on drugs and providing inclusive, easy-to-access information for all who want to learn. She loves dancing, gardening, and unstructured free time with her son and loved ones. Find Rebecca on instagram at @rebeccamartinezwrites and @fruitingbodiesco.
Date and time
Location
Refund policy