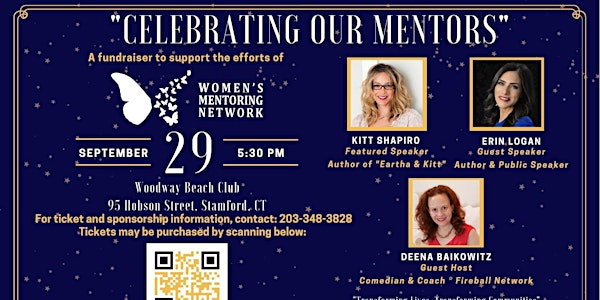 Celebrating Our Mentors - A Fundraiser to Support Women's Mentoring Network
Join us to hear the "Voices of Women's Mentoring Network" - a Celebration of Making a Difference.
When and where
Location
Woodway Beach Club 95 Hobson Street Stamford, CT 06902
About this event
A Fundraiser to Support Women's Mentoring Network. A night of inspiration and a chance to honor our mentors. We are thrilled to be celebrating those that have gone above and beyond to support the mission of Women's Mentoring Network. A fun evening with dinner, music, drinks, and networking.
- SPECIAL GUEST SPEAKERS -
KITT SHAPIRO - Author of Eartha & Kitt, Boutique Owner - West2Westport
ERIN LOGAN - Reporting Facts and Running from the Truth, A TV Anchor's Struggle to Find Self-Worth Beyond a Job Title
Guest Host: JUDY SIEGEL
AND
Stories directly from our members
The music of Mesha Steele will be featured throughout the evening.
- Sponsorship Opportunities Available –
Help us build a stronger community! Women's Mentoring Network is a not-for-profit organization that provides career, educational and personal resources that lead to the economic empowerment of low-income women and their families. Help us empower the next woman that walks through our door.
Donations welcome - checks may be mailed directly to:
Women's Mentoring Networks, Inc., 141 Franklin St., Stamford, CT 06901
tel: (203) 348-3828 / lgifas@wmninc.org / https://wmninc.org
Virtual option & recording also available. Please sign up online for access & information. Recording will be available after the event.
All COVID-19 protocols will be adhered to for those attending in-person. Please see below for additional details regarding COVID-19 safety.
COVID-19 Safety
The Woodway Beach Club practices safe COVID-19 protocols. For the safety of all of our guests & staff, COVID protocols for outdoor events will be observed. The event is limited in size.