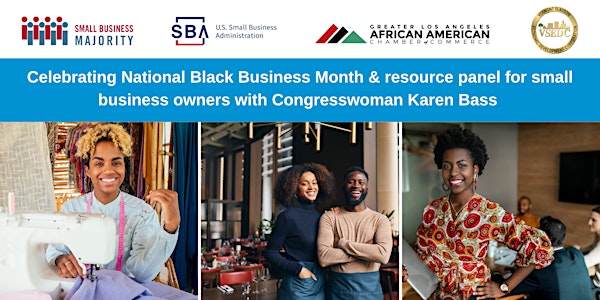 Celebrating National Black Business Month with Congresswoman Karen Bass
Join US Congresswoman Karen Bass (CA-37) and Small Business Majority for an event celebrating the contributions of local businesses.
About this event
Black Business Month is a time to acknowledge and appreciate Black-owned businesses across the nation and the ways in which entrepreneurship can be a pathway towards a diverse and equitable economy.
Join United States Congresswoman Karen Bass (CA-37), Small Business Majority, U.S. Small Business Administration (SBA), Greater LA African American Chamber of Commerce (GLAAACC) and Vermont Slauson Economic Development for an event celebrating the contributions of local small business owners and an overview of your community's small business resources.
Our first panel will feature two small business owners who will share their experiences, including their challenges and successes running a small business in the city of Los Angeles.
Our second panel will be dedicated to sharing resources and will cover the following topics:
Access to capital and funding options
Federal updates and additional statewide resources
Tapping into federal contracting opportunities
We will wrap up with a Q&A session!
Special guest: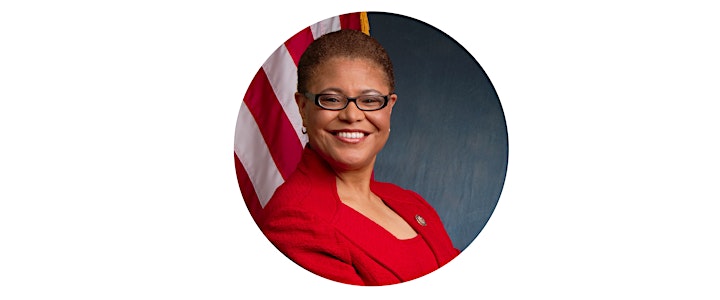 Congresswoman Karen Bass is a proud daughter of Los Angeles. She was raised with three brothers in the Venice/Fairfax area of Los Angeles and is the only daughter of DeWitt and Wilhelmina Bass. Watching the Civil Rights Movement on television with her father initially sparked her interest in community activism. It was at that time that she made a lifetime commitment to fighting for social and economic justice.
Representative Bass has represented Los Angeles in both Sacramento and Washington, DC for more than 14 years but has stayed rooted in the community here at home. She served as Speaker during California's greatest economic crisis since the Great Depression. Under her leadership, the Assembly fast-tracked federal economic stimulus legislation that aided Californians who were affected by the national economic crisis and jumpstarted billions of dollars in infrastructure projects. In addition to helping navigate the state through a very difficult time, she passed legislation to make healthcare more accessible and affordable for Californians and championed efforts to improve California's child welfare system. The Congresswoman led the effort to increase local film production through changes in state policy. For her leadership, Rep. Bass along with the 3 legislative leaders received the prestigious John F. Kennedy Profile in Courage Award, which has also been awarded to President Barack Obama, Speaker Nancy Pelosi and former Secretary-General of the United Nations Kofi Annan.