Description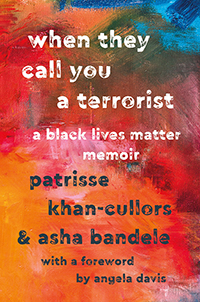 On Wednesday, February 14th we will celebrate our love for community and justice with Black Lives Matter co-founder Patrisse Khan-Cullors and award-winning author and journalist asha bandele. Join us in Los Angeles for an intimate conversation on their new book, WHEN THEY CALL YOU A TERRORIST: A Black Lives Matter Memoir. The conversation will be facilitated by Kelly Lytle Hernandez, Professor of History and African American Studies at UCLA and one of the nation's leading experts on race, immigration, and mass incarceration.
Hear directly from the authors whose book asks us to remember that protest in the interest of the most vulnerable comes from a place of deep love. Leaders of the Black Lives Matter movement have been called terrorists and a threat to America. But in truth, they are loving women whose life experiences have led them to seek justice for those victimized by the powerful.
The evening will also feature poetry performances by youth from POPS (Pain of the Prison System) the Club, an organization that gives community and voice to high school students whose loved ones are or have been incarcerated.
Arrive early for the reception to enjoy snacks and refreshments while listening to music by local LA selector DJ Monalisa! Social justice photo booth powered by Las Fotos Project!
This event is FREE but RSVP is requested!

WHEN THEY CALL YOU A TERRORIST takes an intimate look at Khan-Cullors' time growing up in Van Nuys, California, surrounded by a devoted family and supportive friends, and weaves her experiences into the larger picture of how predominantly Black and Latino neighborhoods are under constant systemic attack. From an unrelenting and hostile police presence, to disproportionate punitive action, to lack of basic social and medical services, Khan-Cullors and bandele show how lack of personal security and dignity makes daily life an act of survival.
In WHEN THEY CALL YOU A TERRORIST, a meaningful, empowering account of survival, strength, and resilience, Patrisse Khan-Cullors and co-author asha bandele seek to change the culture that declares innocent black life expendable.
RECEPTION - 6:00 PM
DISCUSSION - 7:00 PM
PROGRAM END - 8:30 PM