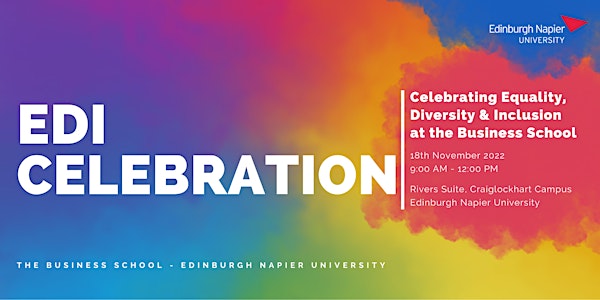 Celebrating EDI
Join our EDI team, keynote speakers and Inclusion Networks to celebrate EDI at TBS and learn more about the Decolonisation of the Curriculum
When and where
Location
Rivers Suite at Craiglockhart Campus 219 Colinton Road Edinburgh EH14 1DJ United Kingdom
About this event
Celebrating EDI
The event is open to staff and students alike. Join us to discover more about Equality, Diversity and Inclusion at the Business School and the university-wide strategy. Eva and Robert, our keynote speakers, will share their work on the decolonisation of the curriculum and an inclusive reading guide.
A message from the Dean of the Business School:
"With the increase in globalization, greater workforce diversity and ever-changing demographic population shifts, the need to promote and embrace diversity in organizations has never been greater.
Leading organizations now see diversity and inclusion as a comprehensive strategy embedded in every aspect of the talent life cycle to enhance employee engagement, improve brand image and drive performance.
As such as a School we are keen to involve as many people as possible in our vision of EDI, leading to the opportunity to participate in this interesting event.
Christine Cross - Dean of the Business School"
AGENDA
8:15 – Inclusive Breakfast
9:00 – Welcome from Nazira & Christine
9:10 – Introduction to EDI (Richard Whitecross): What is EDI? & From Equality to Equity
9:20 – The Business School EDI Strategy (Patrick Harte)
9:30 – ENU-wide Strategy (Sandrine Flower)
9:45 – Keynote Speakers:
• Eva Malone – Decolonisation of the curriculum
• Robert O'Brien (Subject Librarian) – Inclusive reading guide
10:00 – Inclusion Staff Networks: Carers, BAMEish, Women's, Interfaith, Armed Forces, LGBT+
11:00 – Tea and Coffee Break
11:15 – Discussion around the tables
12:00 – Lunch
For further information and dietaries requirements, please email m.orlando@napier.ac.uk