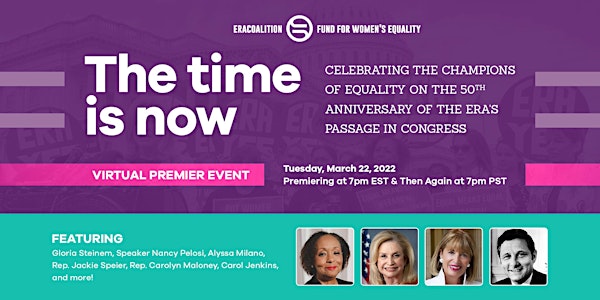 Celebrating Champions of Equality: The Time is Now
Celebrating the Champions of Equality on the 50th Anniversary of the ERA's passage in Congress
About this event
100 years since introduction, 50 years since passage! There is no time limit on equality. The ERA Coalition and the Fund for Women's Equality are working passionately to get the ERA published to the Constitution and create a more equal future for all.
Honoring:
Carol Jenkins
Chairwoman Carolyn Maloney
Representative Jackie Speier
The late Senator Birch Bayh
Please say ERA YES and join us, tickets are free!
Click HERE for sponsorship information. For questions please contact Melanie McEvoy at 212.228.7446 or melanie@mcevoyandassociates.com.