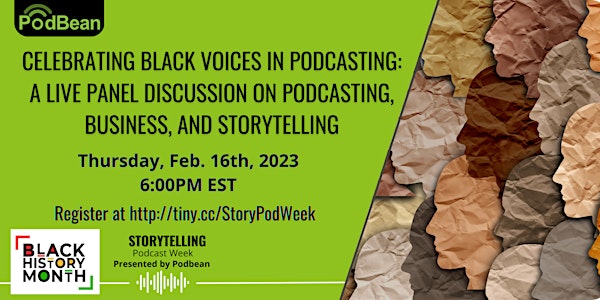 Celebrating Black Voices in Podcasting: Community, Business & Storytelling
Black podcasters speak about the creation of their shows, the role community plays and how podcasting is amplifying Black voices!
Date and time
Thursday, February 16 · 3 - 4pm PST
About this event
In honor of Black History Month, join this incredible panel of podcasters for Podbean's Storytelling Podcast Week's live panel to celebrate Black voices in podcasting!
Thursday, Feb. 16th at 6PM EST (3PM PST), join us for this special LIVE panel!
They'll share their journeys of becoming podcasters, the role community plays in podcasting, how as an open medium Black podcasters can build their audience without gatekeepers and so much more!
You can also catch the replay along with all of the episodes from the full week on Podbean's official podcast, Podcasting Smarter
...
The Storytelling Podcast Week series is brought to you by Podbean. We are a podcast publishing and monetization service, hosting over 620,000 podcasts. If you're looking to start your own podcast, monetize your podcast and livestream directly to your listeners, you can set up an account at podbean.com
About the organizer
Podbean is a podcast publishing and monetization service, hosting over 500,000 podcasts.
Join our live events to learn all about podcasting from recording to marketing and advertizing your podcast, podcasting for business and engage with top podcasters for round table discussions on Storytelling and more!