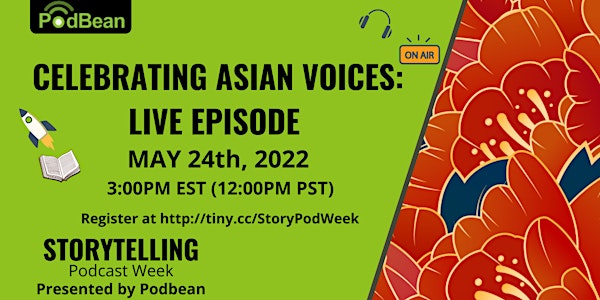 Celebrating Asian Voices: Storytelling Podcast Week Live Episode
Join us this panel of incredible voices offering perspectives and insight from Asian podcasters.
About this event
Join podcasters from across genres for Storytelling Podcast Week's live episode with Motzie Dapul of the Hi Nay podcast and an incredible group of podcasters in celebrations of Asian American and Pacific Islander Heritage Month...
*Please Note this event has been rescheduled to Monday May 30th at 3PM EST (12PM PST*
Join us for this special LIVE episode..
Speaking about their shows and developing their podcasts, we'll hear from several podcasters within AAPI community as they discuss what narratives and story elements speak to their experiences and the greater world!
You can also catch the replay along with all of the episodes from the full week on the Storytelling Podcast Week podcast!
...
Storytelling Podcast Week is brought to you by Podbean!
Podbean is a podcast publishing and monetization service, hosting over 500,000 podcasts. If you're looking to start your own podcast, monetize your podcast and livestream directly to your listeners, you can set up an account at podbean.com