Description
You have been invited to a special opening of the Invisible Forest Exhibit which begins on October 23rd from 3-5:30 pm at Dharma College.We will be hearing from Patsy Craig, the curator who is based in London along with one of the chief artists who has travelled from Peru to open this new art exhibit which will be on from October-March 2020 This is a way for Coworking with Wisdom to bring new artists into our mindful space. Please RSVP below as we'd like to know if you can make it!
It will be followed from 6-8 pm by a very special guest dharma speaker, Venerable Sujato who has travelled directly from Australia. He will be speaking on the topic of Ancient Words, Present Choices and Future Visions. His dharma talk begins at 6-8 pm. He is also the Founder of SuttaCentral.net. To put simply, "The wisdom of the Buddha has been preserved in a vast ocean of ancient texts. Many of these scriptures have now been translated into the world's languages. SuttaCentral brings these together and makes them freely available. Setting aside the boundaries of language and tradition, we let the Buddha speak for himself." Please join us for a colorful day of celebrating art with ancient wisdom.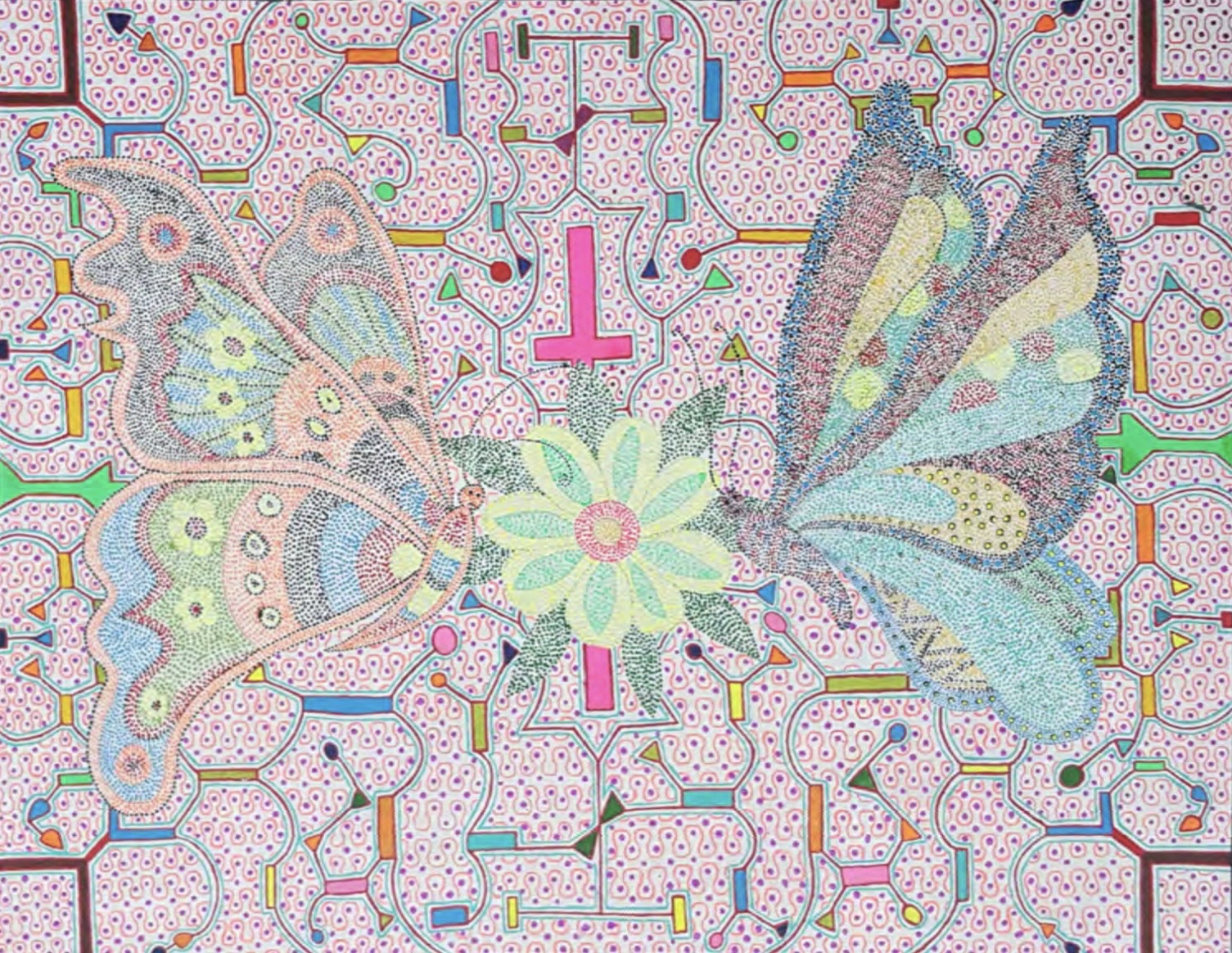 More about the artists:
In the afternoon from 3-5:30 we will be honoring a new art exhibit at Dharma College. The Amazon is a vast, rugged, beautifully diverse expanse that is integral to the Earth's ecological well- being. The Invisible Forest exhibition at Dharma College,
from 23 October 2019 through 15 March 2020
, features the work of select Indigenous Peruvian Amazonian artists and provides them with a platform to make visible their culture's enlightened world-views. In turn, The Invisible Forest offers Bay Area audiences access to these artists' invaluable insights.
The artists in the Invisible Forest exhibition come from cultural traditions that acknowledge, appreciate, enrich and perpetuate healthy biodiversity as the means to ensure mutual flourishing. These Indigenous 'wisdom traditions' are noteworthy and important for their sustainable world views and sophisticated understanding of our interdependence on the Earth System. Today, such traditions are calling out to be seen, understood and honored. We would like to thank Dharma College for hosting the exhibition, and we invite you to admire and receive the blessings of these artists' works! A selection of works from The Invisible Forest will also be on exhibit at the Bioneers 2019 conference at the Marin Veterans Memorial Auditorium
from 18-20 October
.
Featured Artists:
Brus Rubio
A self-taught painter and descendant of the original peoples of Muruy (Huitoto) and Bora, of the Peruvian Amazon, Brus Rubio was born in 1984 in the community of Pucaurquillo, located in
the basin
of the Ampiyacu River in Loreto, Peru. As a child, he heard fantastic stories from his parents while at at the farm fishing or talking at home in the dark Amazonian nights. These stories sustained his sensitivity to nature and fed his imagination about the great mysteries of life. Brus is renown in his Native Peru and has exhibited widely internationally.
"My creation reflects a great cosmic joy because it is inspired by the gods and mythical characters- in the parties and rituals, in the minga and agricultural work, in the magic and beauty of the fish and animals, in the song, the vision, and the sacred words of my ancestors. All of that is part of my existence, of my way of thinking, of feeling and looking at the world. I am fortunate because my art has taken me out of my village and allowed me to travel to other countries and I often incorporate my experience in the big cities, as new cultural spaces to explore and share. The interaction between the life of the jungle and the city has led me to "Amazonize" Lima, Paris, Washington, Havana, Miami, Madrid, London, and now the San Francisco Bay Area . In this way, my art has helped me to appreciate and project my ancestral culture as an indispensable part of the great universal culture."
Roldan Pinedo
Roldan Pinedo is a Shipibo artist from the community of San Francisco, in the district of Yarinacocha of the central Peruvian Amazon. Born in 1971, his name in Shipibo is Shoyan Shëca, the same name given to his grandfather meaning "restless mouse". His paintings are steeped in Shipibo mythology and the environment of the Amazon, including the complex richness of its flora and fauna. Early on in his career, Roldan was invited to Lima by the renown historian Dr. Pablo Macera as part of a team of painters from different regions of Peru where he, his wife Elena Valera, and other Indigenous artists were provided a context in which to produce paintings of the animals and plants of the jungle, as well as the customs and experiences of his people. They were the first from their community to paint in this manner. Roldan sustains himself as an artist by traveling back and forth from the jungle to the Peruvian capital. He also travels internationally having participated in various group and solo exhibitions abroad.
Elena Valera
Jimena & Estefany Pinedo Valera
Elena Valera is a Master Healer, embroiderer, and well-known painter born in 1968 in Pucallpa, Alto Ucayali, Loreto Peru. Her vast knowledge of her Shipibo-Konibo culture which she has transmitted to her daughters Estefany and Jimena Pinedo Valera is evident in her work. Elena's visual repertoire consists of the flora, fauna, daily life, and customs of her people, incorporating traditional Shipibo designs with mythological characters and sacred beings to form a contemporary perspective. Her work and that of her daughters often integrate traditional Shipibo designs known as Kené into their paintings- these intricate geometric patterns of great complexity are the heritage of the ancestors. "I have painted out of love for what I am and so that my children will inherit this pride and hold on to what we have and what we are as Shipibo." The Invisible Forest at Dharma College is the First time Jimena and Estefany have exhibited outside of Peru.
Lastenia Canayo
Lastenia Canayo was born in 1962 in Roroboya, Bajo Ucayali in the central Peruvian Amazon. She is a respected member of the Shipibo-Konibo people who continues the traditions passed down from her mother and grandmother. Lastenia's native name is Pecon Quena," the one who calls the colours" and her mother's is Maetsa Rahua,"the one who sees sound." Initially, she was taught how to work with ceramics and later she explored painting and embroidery. Her visual repertoire introduces us to the cultural universe of Ybo / Yoshin teachers, mothers, and other powerful entities that protect Amazonian animals, plants and all beings of nature. Through her conception of nature, Lastenia visualizes the various protective beings or "owners" of the plants and animals that are represented in her paintings. Early on in her career Lastenia participated in intercultural dialogue with researchers from Rural History Workshops at the National University of San Marcos (UNMSM) in Lima under the direction of the historian Pablo Macera and has since presented her work in various international exhibitions. In 2014, the Peruvian Ministry of Culture recognized Lastenia with the prestigious title of Meritorious Personality of Culture.
Curator:
Patsy Craig
Patsy Craig is based in London, UK and has a background in fine art and cultural studies. Her work as a curator/producer, author, and artist has spanned a diverse range of interests; for over 15 years she has been generating international creative development by cultivating cross-cultural collaborations in the fields of art, music, architecture, and urbanism. This output has included publications (books), exhibitions, concerts, and events (lectures, symposiums, & workshops). Three years ago Patsy turned her focus to environmental issues and Indigenous culture in particular after having spent time in November 2016 at Standing Rock, in North Dakota USA to stand in alliance with the water protection movement there. The experience of learning and living amongst Native American peoples in this context inspired her to learn more about First Nations Peoples and galvanised her to contribute towards providing more platforms from which to amplify Indigenous world-views and share Indigenous knowledge. Since then she has engaged in various forms of environmental activism whilst researching Native American and Peruvian Indigenous culture. "At this point in time when our civilisation is faced with the devastating effects of human-caused climate crisis, I believe that empowering the leadership of Indigenous peoples, as stewards, caretakers and protectors of the earth, is crucial to achieving environmental stability for us all."