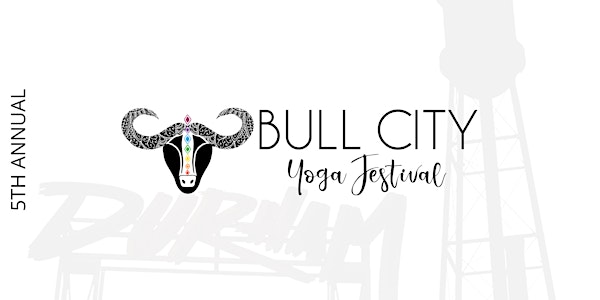 Celebrating 5 Years of Community: Mind, Body and Wellbeing!
Bull City Yoga Festival is excited to share five years of yoga, health and wellness with the diverse Durham Community.
When and where
Location
Forest Hill Park - Clubhouse and Event Field 1639 University Drive Durham, NC 27707
About this event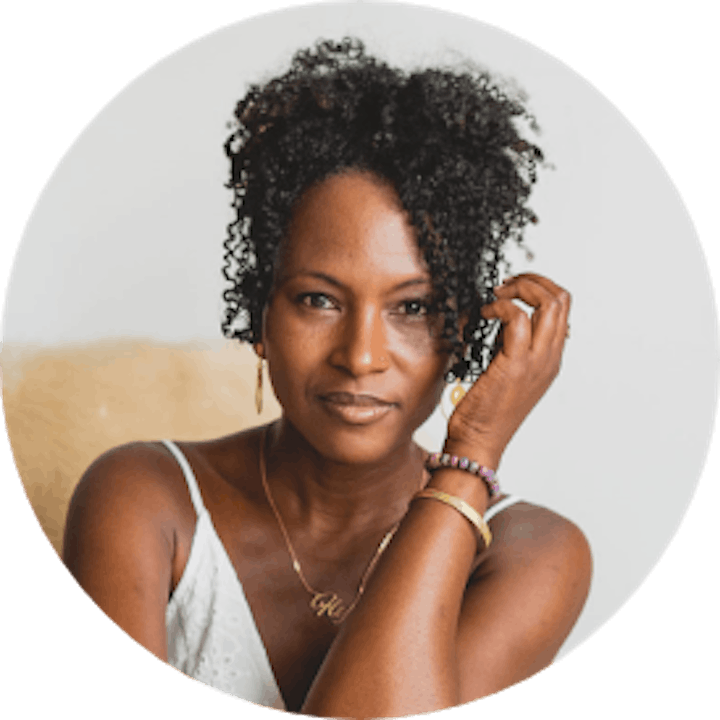 Featured Keynote Teacher: Faith Hunter
Faith Hunter began her practice of yoga and meditation in the early 90s to manage a traumatic life experience. Through the mindfulness and personal reflection gained from the practices, Faith was able to release her fears and experience an awakening from within. Over the past 20-plus years, Faith has studied yoga, mediation, breathwork, reiki, and many wellness approaches. She's graced the covers of Yoga Journal (twice), Om Yoga & Lifestyle, Origin Magazine, and Sweat Equity. She has also appeared on Wendy Williams, The Real Housewives of Potomac, and in Essence, Black Enterprise, Women's Health, Shape, New York & YOGA magazines. Faith is an exclusive yoga & wellness expert for BeachBody, iFIT Nordic Track, Fitbit, and Meditation Studio App and has proudly represented endemic brands such as Athleta, Footlocker, and lululemon as well as non-endemic brands such as Warner's and Weleda. In addition, Faith is an author who penned two books, Shades of the Soul (poetry and daily inspirations), and her latest, Spiritually Fly: Wisdom, Meditations, and Yoga for the Soul.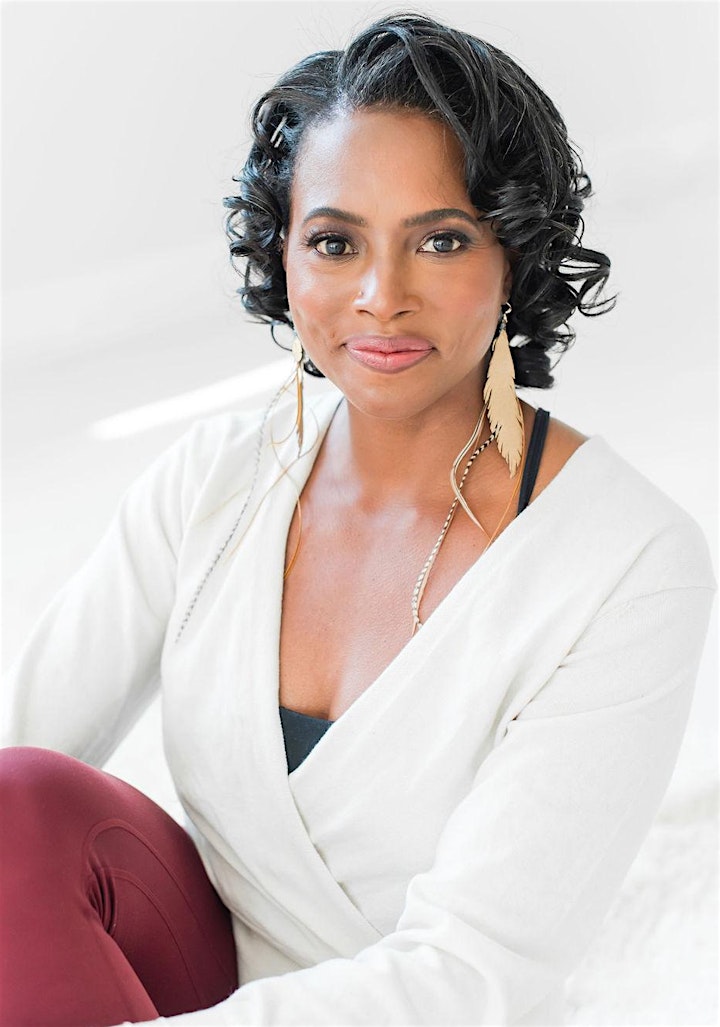 Featured Keynote Teacher: Michelle Johnson
Michelle C. Johnson is an author, yoga teacher, social justice activist, licensed clinical social worker and Dismantling Racism trainer. She approaches her life and work from a place of empowerment, embodiment, and integration. With a deep understanding of trauma and the impact that it has on the mind, body, spirit and heart, much of her work focuses on helping people better understand how power and privilege operate in their life. She explores how privilege, power and oppression affects the physical, emotional, mental, spiritual and energy body.
Tickets are on sale until 12:00pm Saturday, October 8, 2022!
Friday, October 7, 2022
Opening Keynote Teacher: Yin Yoga with Faith Hunter - 7:00pm - 8:30pm
Soften your heart and soothe your soul with a gentle Yin Yoga and meditation experience guided by Faith Hunter. You will begin with a calming breathing practice, flow sweetly through nurturing movements, and drift deliciously into a meditative moment. Faith will use her unique Spiritually Fly approach to Yin as you ease mindfully in the postures, soften the muscles, and give the connective tissues the long, gentle pressure needed for strengthening. All levels
Forest Hills Clubhouse - only 50 tickets for Friday will be sold.
Saturday, October 8, 2022
8:00am - 9:00am -Powerful Vinyasa - Shakira Bethea
9:30am - 10:30am
Bilingual Yoga Flow - Carolina Chavez
Chakra Powered Flow- Magdalena Pintos
Kids Yoga (8-13) - A Walk Through The Woods Child's Yoga Class - Abbey Billman
10:30 - 11:00am - Break
Mid-day Keynote Teacher: Michelle Johnson - 11:00am - 12:00pm -"A Timeless Path and Practice"
Yoga is an ancient practice designed to support us in meeting whatever might arise, moment to moment. In this session, we will explore how we can engage in spiritual practice to meet the uncertainty life presents and the challenging times we are experiencing because of social unrest, climate change, collective loss, and the unsettling times in which we find ourselves now. This session will also explore how we might engage in spiritual practice to invite more ease into our lives and cultivate a sense of collective ease and peace. The session will include pranayama, discussion, journaling, and a little movement.
12:00pm - 1:00pm - Lunch
1:00pm - 2:00pm
Kundalini Yoga and Meditation - Aubrey Zinaich
Body Matrix Flow - Victoria Haffer
Flow and Restore Yoga - Karla Vallecillo
2:00pm - 2:30pm - Break
2:30pm - 3:30pm
Mind body Centering Yoga:: Resources for Embodied Mindfulness. - Nina Be
Age with Grace - Anjana Rathore
Zen Shimmies w/Pink Moon Belly Dance - Shemora Sheikh
4:00pm - 5:00pm - - Healing Journey Through Harmonious Meditation - Mars Bradley and L.A. Adkins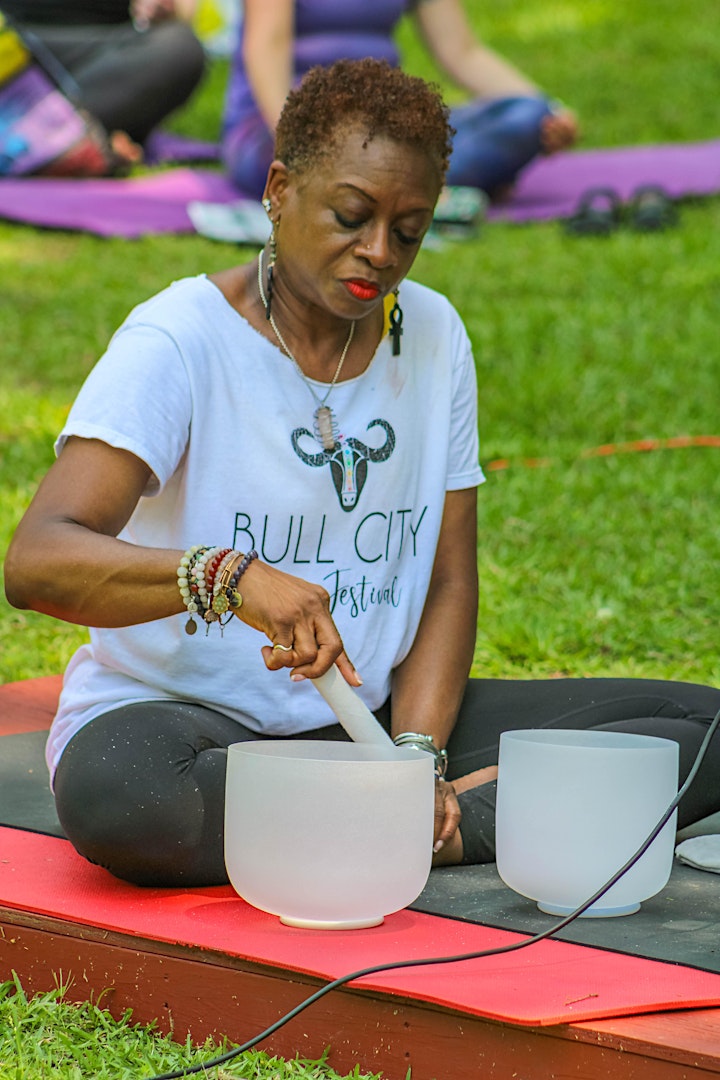 Bull City Yoga Festival - Founder - Ingrid Saddler-Walker
" Bringing the diverse yoga community together has always been a intention of mine"
"I love seeing the diverse community coming together with like minded intentions!"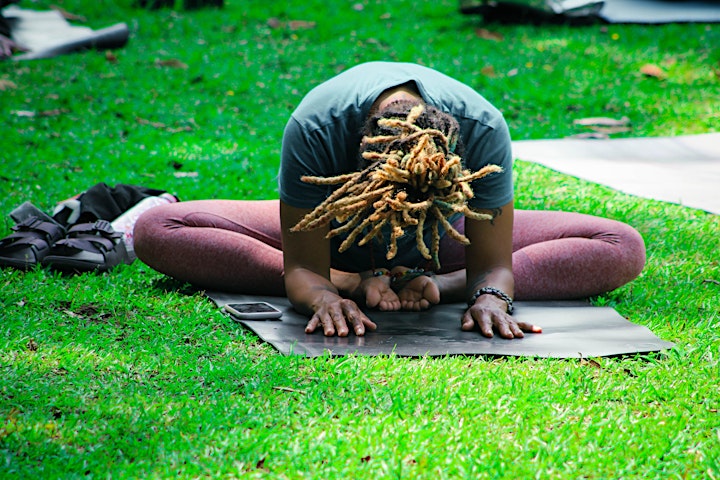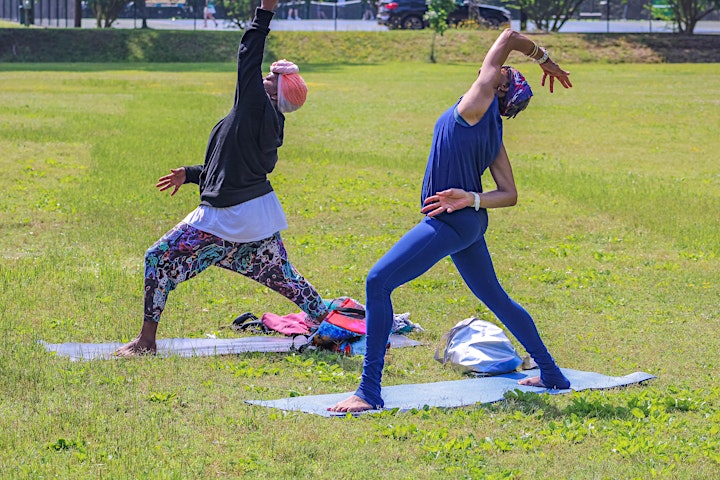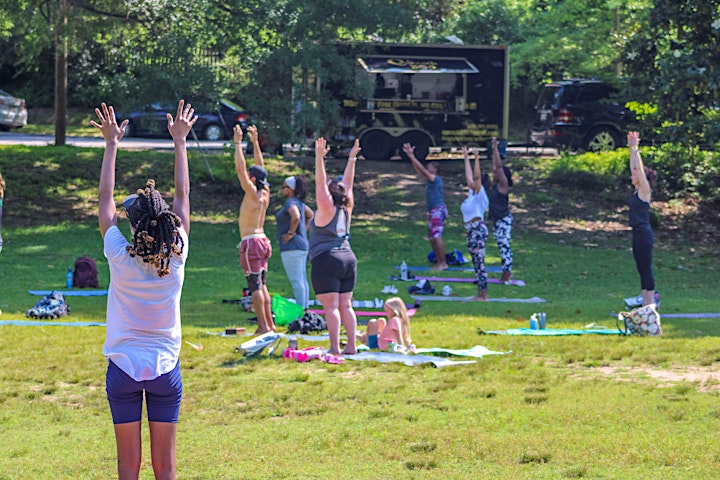 Sun Salutations Bull City Yoga Event - May 21, 2022 - Forest Hills Park, Durham, NC