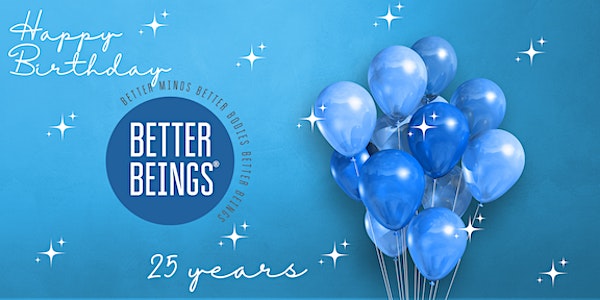 Celebrating 25 Years of Better Beings
It's my birthday--well, my business's birthday--and we must celebrate!
About this event
It's not really a birthday without a party so I'm throwing one---virtually of course. How does the girl who is on a mission to help people be better beings celebrate? By offering my information and inspiration to YOU. I've decided to go big and share one of my keynote speeches.
Register here to Join me August 23rd at 6pm Mountain Time for
5 Keys to Be a Better Being
I can honestly say I am living a great life. While this is true today, it wasn't always the case and it didn't happen by accident. Once I became consciously aware of how I was choosing to participate in life, I realized if I didn't make some serious changes, my future would not be so bright.
This keynote outlines the 5-step approach to achieving health and happiness, and if adopted, you too, will be a better being.
Of course it's not really a party without presents—for YOU that is! All registrants will be automatically entered into prize drawings.