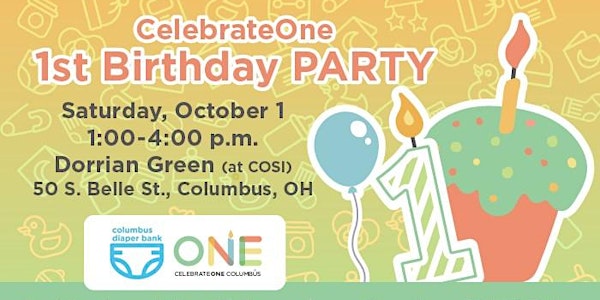 CelebrateOne 1st Birthday Party
Is your baby turning 1 this calendar year? We would love to celebrate with you! All 1-year-olds will receive a special gift!
When and where
Location
COSI Front Lawn/Dorrian Green Park 50 South Belle Street Columbus, OH 43215
About this event
CelebrateOne 1st Birthday Party!
Date: Saturday, October 1, 2022
Time: 1:00 p.m. – 4:00 p.m.
Location: COSI Front Lawn/Dorrian Green - 50 S. Belle St, Columbus, OH 43215
Parking: Park in the COSI garage and keep your ticket for free validation.
Congratulations! Your baby is turning 1! We will celebrate this milestone outside on the beautiful lawn out front of COSI at Dorrian Green.
Please plan to be there the entire time! There will be music, free food, early childhood education resources, and a special gift from CelebrateOne for registered families. Have your 1-year-old's picture* taken with their cupcake! There will be kid's activities, costume characters, and playground onsite.
We look forward to seeing you there! And please encourage other families with a baby turning 1 this year to register!
Since the event is outside, please protect yourself by staying hydrated with plenty of water and wearing hats and sunscreen.
*Disclaimer: Photos will be taken throughout the event. If you do not wish to have your photo taken, select that option on your registration.