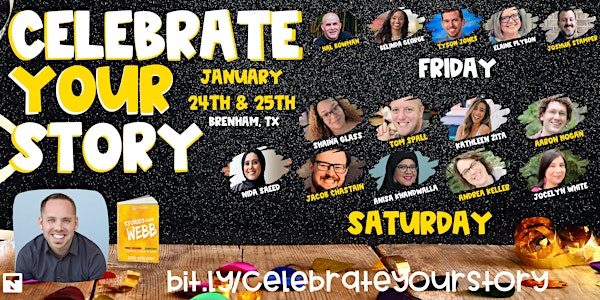 Celebrate Your Story - Professional Development
When and where
Location
Blinn College Student Center (at Walter Schwartz Way) 651 Blinn Boulevard Brenham, TX 77833
Description
Join Todd Nesloney and a few friends at the #CelebrateYourStory event! Todd's second book, Stories From Webb, is having it's 2nd birthday and to celebrate, Todd is bringing together a few of his Texas friends in a Texas-sized PD Event!

There are 3 learning options!
Educators can sign up for the Friday & Saturday Event ($50) or just Friday/Saturday Event ($30 day rate)
Friday will be a day full of stories and professional development from Todd Nesloney, Hal Bowman, Belinda George, Joshua Stamper, Elaine Plybon, and Tyson Jones! Sessions are below:
Hal Bowan - Be The One!
Tyson Jones - How to Maintain Positivity and Inspire Others to Do the Same
Belinda George - Don't Stop (Pushing Past Obstacles)
Joshua Stamper - Aspiring Leadership
Elaine Plybon - Think Like a Futurist
Todd Nesloney - Tell Your Story
We wanted to make sure teachers wouldn't have to take a day off work to attend! Saturday is the day to learn from Todd Nesloney, Aaron Hogan, Shaina Glass, Tom Spall, Anisa Khandwalla, Jacob Chastain, Kathleen Zita, Andrea Keller, Nida Saeed, and Jocelyn White! Sessions are below:
Todd Nesloney - Kids Deserve It
Aaron Hogan - Shattering the Perfect Teacher Myth
Kathleen Zita - Creating Engaging Math While Doing it for the 'Gram! (Learn how to make math engaging with the help of Instagram!)
Jocelyn White - The Magic of ART!
Anisa Khandwalla & Nida Saeed - Don't Let The Hijab Fool You (working as a scarf wearing teacher in Texas)
Shaina Glass & Tom Spall - Using Technology!
Andrea Keller - Bringing the Sunshine - Utilizing Books and The Library
Jacob Chastian - Trauma Informed Teaching

If you purchase a ticket for BOTH days ($50) you will also receive a free copy of Stories From Webb.
Daily Tickets are $30.
There are MANY more suprises on the way! You won't want to miss it.
Seats are limited.
Breakfast and Lunch will be provided on both days!
Celebrate Your Story is proud to partner with ATPE.
***Need a PDF of the sessions to share at school? Grab a copy HERE.