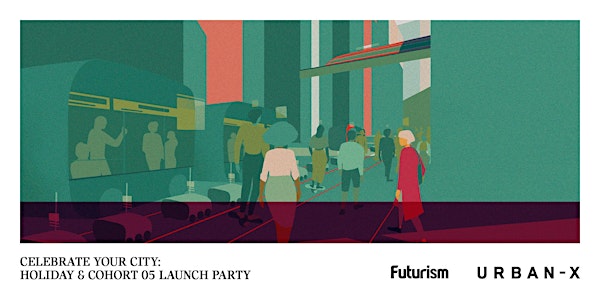 CELEBRATE YOUR CITY: HOLIDAY PARTY + COHORT 05 LAUNCH
When and where
Location
URBAN-X 29 Norman Avenue Brooklyn, NY 11222
Description
Join us at the URBAN-X Holiday Party and meet Cohort 05 - our latest group of startups reimagining city life - alongside our partners at Urban.Us, public and private sector leaders and the NYC tech and design community.

This evening will provide an opportunity to toast with friends and meet Cohort 05. You'll learn more about our three thematic areas of focus: Electric Mobility Access, Small Footprint Living, and Efficient Building. Catch a live performance from the horns and keys of Brooklyn-based musical collective Antibalas. Secure your spot as space is limited
It's a party! We'll have drinks, hors d'oeuvre's, dancing and surprises!
Cohort 05 Companies
The Free Ride –The Free Ride is an all-electric, short-range, ridesharing company providing city-goers with free, sustainable transportation.

Borrow – Borrow provides an alternative solution to car ownership by offering customers flexible, short-term car leases for 3, 6 and 9 month increments without a long-term commitment. They currently offer their services in Los Angeles, CA

Thrilling – Thrilling is bringing vintage and second hand stores online for the very first time. Thrilling is dedicated to three core pillars: 1) helping local store owners expand their business and reach new customers around the world; 2) reducing the environmental impact of the apparel industry by encouraging second hand shopping; 3) celebrating individuality and personality via fashion.

Treau – Is building quiet, beautiful, and comfortable climate control systems based on its breakthrough heat exchanger technology. Treau's HVAC system is 50% more efficient with 75% less carbon emission while also being cheaper than comparable window units at scale.

GreenQ – Has created cameras and load sensors to garbage trucks. The sensors are used to calculate weight and identify contents transferred to the garbage truck. From these sensors they create analytics used for efficient routing. They can also be used to enable usage-based charges (or incentives) and compliance.

Toggle – Toggle provides automation to construction via rebar for reinforced concrete. They combine industrial robotic manufacturing technology with the flexibility of on-demand mass customization to create a system that significantly reduces cost and increases productivity for construction projects.

Gearbuddy – Uses IoT and machine learning to make construction equipment assets like bulldozers, excavators, and trucks smart and aware of the context they are working in, improving safety, efficiency, and planning.