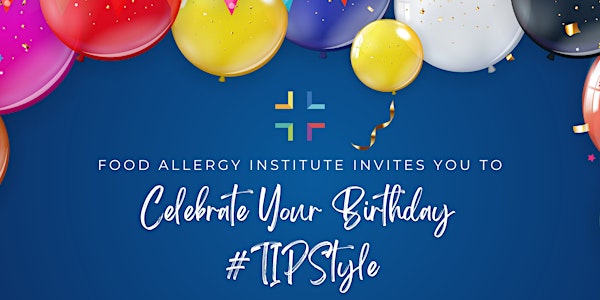 Celebrate your Birthday: TIP Style!
The Food Allergy Institute is coming to the East Coast! Join us as we celebrate your child's birthday #TIPStyle!
When and where
Location
Hosted by Holden Events 268 West Dekalb Pike King of Prussia, PA 19406
About this event
At the Food Allergy Institute, we understand birthday's look a little different. Come join us and celebrate your child's birthday in a safe environment!
We will have allergy friendly cupcake decorating, a bounce house, face painting, birthday goodie bags, and a special meet and greet with Dr. Inderpal Randhawa!
The venue will be sanitized prior to the event and medical staff will be on site to ensure patient safety!
100% of the proceeds will go to the Active Military Families Grant!
Please see below for full event schedule:
Due to limited space, please choose 1 time slot only
9:30 am - 11:30 am Morning Celebration
9:30 - 10:30 AM
Check in / meet & greet with Dr. Randhawa
Cupcake decorating and face painting
10:30 - 10:45
East Coast expansion presentation by Dr. Randhawa
10:45 - 10:50
Singing 'Happy Birthday' to TIP patients
10:50 - 11:30
Continue meet & greet with Dr. Randhawa
Bounce House, cupcake decorating and face painting
11:30: End of morning celebration
1:30 pm - 3:30 pm Afternoon Celebration
1:30 - 2:30 PM
Check in / meet & greet with Dr. Randhawa
Bounce house, cupcake decorating and face painting
2:30 - 2:45 PM
East Coast expansion presentation by Dr. Randhawa
2:45 - 2:50
Singing 'Happy Birthday' to TIP patients
2:50 - 3:30
Continue meet & greet with Dr. Randhawa
Bounce house, cupcake decorating and face painting
3:30: End of afternoon celebration