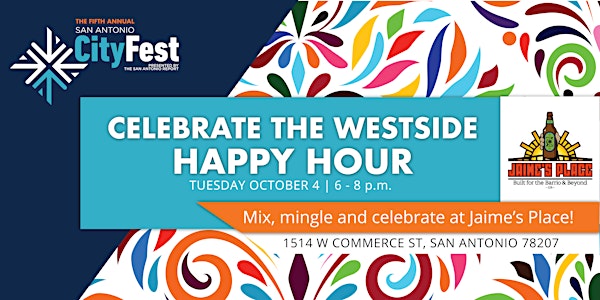 Celebrate the Westside Happy Hour at Jaime's Place - 2022 CityFest
Kick off CityFest with a fun night at Jaime's Place. Celebrate the history, culture, flavor and sound of the city's historic westside.
When and where
Location
Jaime's Place 1514 West Commerce Street San Antonio, TX 78207
About this event
Join us at Jaime's Place, a West Side institution where food, music and culture thrive. Community members and San Antonio Report readers will gather to kick off the 5th annual CityFest on Tuesday, October 4 at 6 p.m. to celebrate and learn about San Antonio's historic West Side. We'll be joined by Dr. Sylvia Mendoza and Dr. Gloria Vásquez Gonzáles, creators of "The West Side Sound Oral History Project" which is aimed at preserving West Side community memories, histories, music and cultural contributions, businesses and barrios. Come by to mix, mingle, enjoy lively music by Los Nahuatlatos, and get a preview of the week's events!

CityFest: Live Local
Join us for CityFest 2022—four days of dynamic programming curated around the theme "Live Local" from Tuesday, October 4 through Friday, October 7. As San Antonio continues to recover from the worst days of the pandemic and look toward strengthening our community using an equity lens, our fifth annual urban ideas festival will be staged throughout the city and streamed online to promote accessibility and community engagement.
Our keynote luncheon titled "The Exit Interview" will be a conversation with County Judge Nelson Wolff and San Antonio Report co-founder Robert Rivard at the Tobin Center for the Performing Arts. San Antonio Report staff along with invited guests will serve as moderators throughout the week for panels and events to get you connected (or re-connected) to your city.
For more information on CityFest, visit www.cityfestsa.org