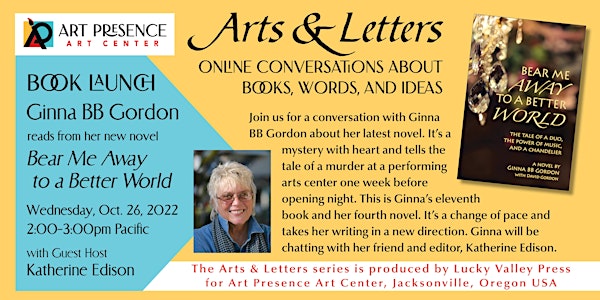 Celebrate the release of Ginna BB Gordon's new novel!
Online conversations about books, words, and ideas. Produced by Lucky Valley Press for Art Presence Art Center. www.art-presence.org
About this event
A Conversation with Author Ginna BB Gordon
This livestream hosted by Katherine Edison features author Ginna BB Gordon reading from her new novel.
Bear Me Away to a Better World is a cozy murder mystery with big heart. It tells the story of two intensely creative people who meet in the 1950s, bond, and form a partnership that touches countless lives.
Fifty years later, at their beloved Villa Zanetta, a thriving performing arts center in California's Sonoma Valley, someone is (presumably) murdered, but someone else is secretly loved, while another is disgraced, and yet another finds solutions.
Hector trims the rose bushes in the Villa Garden, and Marcus discovers new artistic vistas, while Martha grieves a loss and Kendra hopes for a future.
Always in the periphery of Villa Zanetta and its cast of colorful creatives are Hayne Williams and Diesel Edwards, the octagenarian "duo," who make discoveries of their own and manage to hold everything together with the power of art, ideas and music.
Author Ginna BB Gordon and her husband David Gordon have a lifetime of professional experience in the entertainment industry, and their insight into the world of the performing arts gives an authentic color to this engaging story.
In today's confounding universe, Bear Me Away to a Better World wraps its arms around you and gives you sweet joy and dear hope.
Follow this link for more information about the book, and links to retailers.
Follow this link to search for your nearest independent bookstore.
===============================
ABOUT GINNA BB GORDON:
Ginna BB Gordon has been surrounded by music and the arts since childhood. Her father, Richard, was a musician, composer and conductor, her mother, Virginia, an actor, architect and accomplished artist in several mediums.
In her teens and 20s, Ginna experienced 14 years on the stages of community theaters and occasional bits in film and TV.
Ginna's passion for organic growing and cooking beautiful food led to myriad venues where she reigned as chef, from a small conference center in Calistoga to the Chopra Center for Well Being in La Jolla, and other California cafés and restaurants in between.
Ginna's first cookbook, A Simple Celebration, the Nutritional Program for the Chopra Center for Well Being, was published by Random House/Harmony Books in 1997.
While honing her writing skills, Ginna served for eight years as Operations Director and Event Planner for Carmel Music Society, the oldest performing arts non-profit west of the Mississippi. Following that, for another seven years she planned and managed major events for the Carmel Bach Festival and other West Coast organizations.
Ginna has written five other cookbooks, including The Soup Kit, a comprehensive guide to making gourmet soups; Bonnebrook and The Gingerbread Farm, the first two volumes in her cooking memoir series; and First You Grow the Pumpkin, about growing, making, and preserving culinary treats. Her latest cookbook is Once a Baker: 100 Bakery Favorites (Available November 2022).
Ginna's previous novels are Looking for John Steinbeck, Deke Interrupted and Humming in Spanish, the first three volumes in her ongoing Lavandula Series, a saga about coming of age in California in the 1960s.
Bear Me Away to a Better World is her 11th book.
Ginna lives on the Pacific Rim with her husband, David Gordon, career musician, book designer, and author of two non-fiction books. Ginna and David are Lucky Valley Press, a boutique design and pre-press company serving independent authors throughout the US.
For more information about Ginna BB Gordon, visit luckyvalleypress.com.
Follow this link for more information about the book, and links to retailers.
-----------------
PLEASE NOTE:
These Arts & Letters events are hosted in Zoom. For best results, you should install the free Zoom app on your computer or mobile device.
Only the hosts and guests are visible onscreen. Attendees will be invisible to the host and to each other.
We will invite participants to type questions and comments into Zoom Chat during the presentation, and the host will relay them to the guest.
-----------------
Art Enhancing Community
Produced by Lucky Valley Press for Art Presence Art Center, Jacksonville, Oregon.
Join the Lucky Valley Press mailing list for news of future events.
Follow LVP on Facebook, and visit our YouTube Channel.