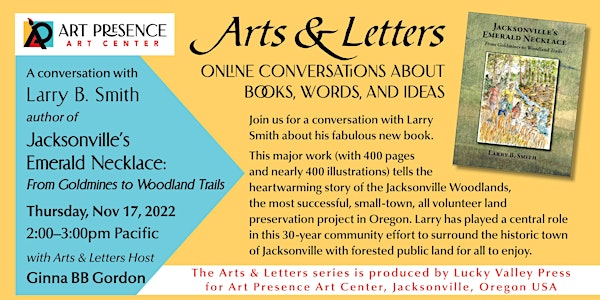 Celebrate the Launch of Larry Smith's Jacksonville Woodlands Book
Online conversations about books, words, and ideas. Produced by Lucky Valley Press for Art Presence Art Center. www.art-presence.org
About this event
A Conversation with Author Larry Smith
This livestream hosted by Ginna BB Gordon features Larry Smith talking about his major new book.
Jacksonville's Emerald Necklace: from Goldmines to Woodland Trails is the inspiring story of how an historic village in Southern Oregon created the most successful, small-town, all-volunteer land preservation project in the state of Oregon.
A group of dedicated volunteers, in an Oregon town of only 2,500 residents, have preserved nearly 300 acres of undeveloped native and historic woodlands and created 16 miles of interconnected hiking trails used by several thousand hikers monthly.
Compared to other Oregon cities' parklands, these woodlands conservation efforts might seem minuscule, but the results have been monumental and changed the course of Jacksonville history. Woven throughout Jacksonville's Emerald Necklace are stories telling how Larry Smith's 5th grade students took the project to a whole new level of community involvement.
Smith's students wrote letters persuading land owners to convey their land to public ownership, built trails, planted trees, produced an award-winning video, and won four national land preservation awards. Through their many-faceted efforts the students raised $1.1 million. The kids really did make a difference.
==============================
"The Jacksonville Woodlands is the most unique and successful preservation project of its kind in the whole state." –Oregon Parks Department"
===============================
ABOUT LARRY SMITH:
While the treasures of gold mined from the grounds and creeks in the vicinity of Jacksonville have long since been depleted, local visionary Larry Smith and the Jacksonville Woodlands Association (JWA) have quietly assembled a remarkable collection of living historical trails to reserve the memories of Oregon's wild juvenile days in the 1850s and the '60s.
Larry Smith grew up on a small farm in Phoenix, Oregon and attended both Southern Oregon College (SOU) and LeTourneau College (LetU), graduating with degrees in Engineering and Elementary Education. While attending college, Larry began working as a seasonal Park Ranger at Crater Lake National Park, where he spent 52 years, including his volunteer seasons.
Larry taught 5th grade at Jacksonville School for 33 years, and field classes for both S.O.U. and Antioch University. Larry has been awarded four national teaching awards recognizing his support of environmental education.
In 1989 Larry helped found the Jacksonville Woodlands Association, serving as president, executive director and currently development director. Now semi-retired, Larry still teaches part-time for the Medford School District as a substitute and conducts Crater Lake and Jacksonville field trips for school classes, tour buses, and community groups.
Larry also serves on several boards and community committees, including the board of the Crater Lake Institute and the City of Jacksonville's budget committee.
Larry and his wife Linda have one son, Brian, one daughter, Amber, and seven grandchildren and one great grandson.
To buy a copy of the book, please patronize your local bookstore. Follow this link to search for your nearest independent bookstore.
Follow this link for more information about the book, and links to retailers.
-----------------
PLEASE NOTE:
These Arts & Letters events are hosted in Zoom. For best results, please install the free Zoom app on your computer or mobile device.
Only the hosts and guests will be visible onscreen. Attendees will be invisible to the host and to each other.
We will invite participants to type questions and comments into Zoom Chat during the presentation, and the host will relay them to the guest.
-----------------
Art Enhancing Community
Produced by Lucky Valley Press for Art Presence Art Center, Jacksonville, Oregon.
Join the Lucky Valley Press mailing list for news of future events.
Follow LVP on Facebook, and visit our YouTube Channel.