Ten to twenty mile walk supporting the East Coast Greenway, in conjunction with their cycling weekend event.
About this event
Cross the Bayonne and Goethals Bridges, and support the Greenway!
Greenway festivities are between 8:30 and 9am, with our walk departing thereafter.
Start: Liberty State Park Central Terminal, Jersey City, NJ
Optional startpoint:- Grove Street PATH Station, Jersey City (+2mi)
Finish: 8th Street Station, Bayonne or Elizabeth Station
Distance: 10-20mi
Return: light rail or NJ Transit
Coordinator: Cory Storch and Charles Updike
Transit: Path train from Newark or NYC to Grove Street
Come join us as we support the East Coast Greenway Alliance at the start of their cycling tour from New York to Philadelphia. This is a free walk, but donations to the Greenway are encouraged.
More information about the NYCtoPHl Greenway Bike Ride can be found at greenway.org. Greenway festivities are between 8:30 and 9am, with our walk departing thereafter.
If you wish to walk from the PATH station at Grove Street, be prepared to depart there by around 7:40am. Return to Jersey City from Bayonne via light rail after a walk on the Bayonne Bridge, or continue through Staten Island and over the Goethals Bridge to the NJ Transit Station in Elizabeth. Or walk back to Jersey City from Bayonne, for a 23-mile round trip.
Highlights: Liberty State Park, Statue of Liberty, Manhattan skyline, Bayonne, Bayonne bridge, Staten Island, Goethals Bridge, Elizabeth
Partners: The East Coast Greenway Alliance is a non-profit organization developing a public multi-use 3,000 mile trail from Canada to Key West through New Jersey and New York. Donations and memberships help make this dream trail a reality.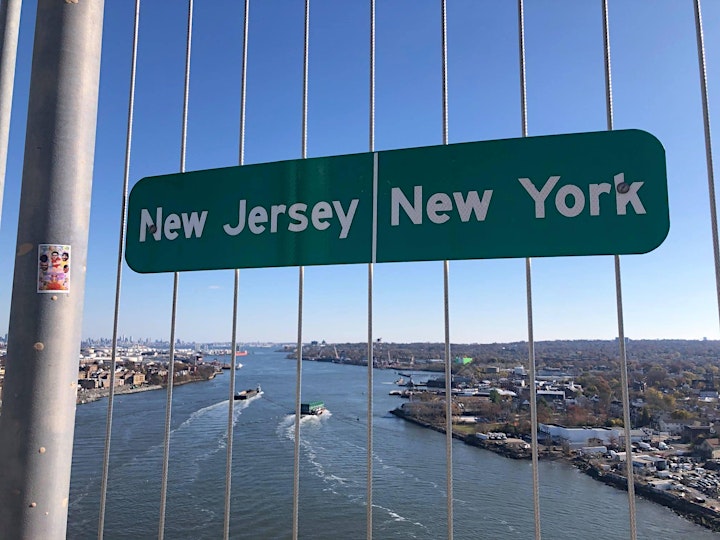 Organizer of Celebrate the Greenway Walk
FreeWalkers is a non-profit 501(c)3 social organization and network for individuals interested in participating in distance walking events. Our group is free and open to everyone. We encourage each member to accomplish challenging goals as we work together, experience, and promote pro-pedestrian issues. Paricipants accept responsibity for themselves on the walk.