Celebrate the Birth and Rise of the Divine Feminine

Thursday, January 31, 2013 from 7:30 PM to 9:30 PM (PST)
Event Details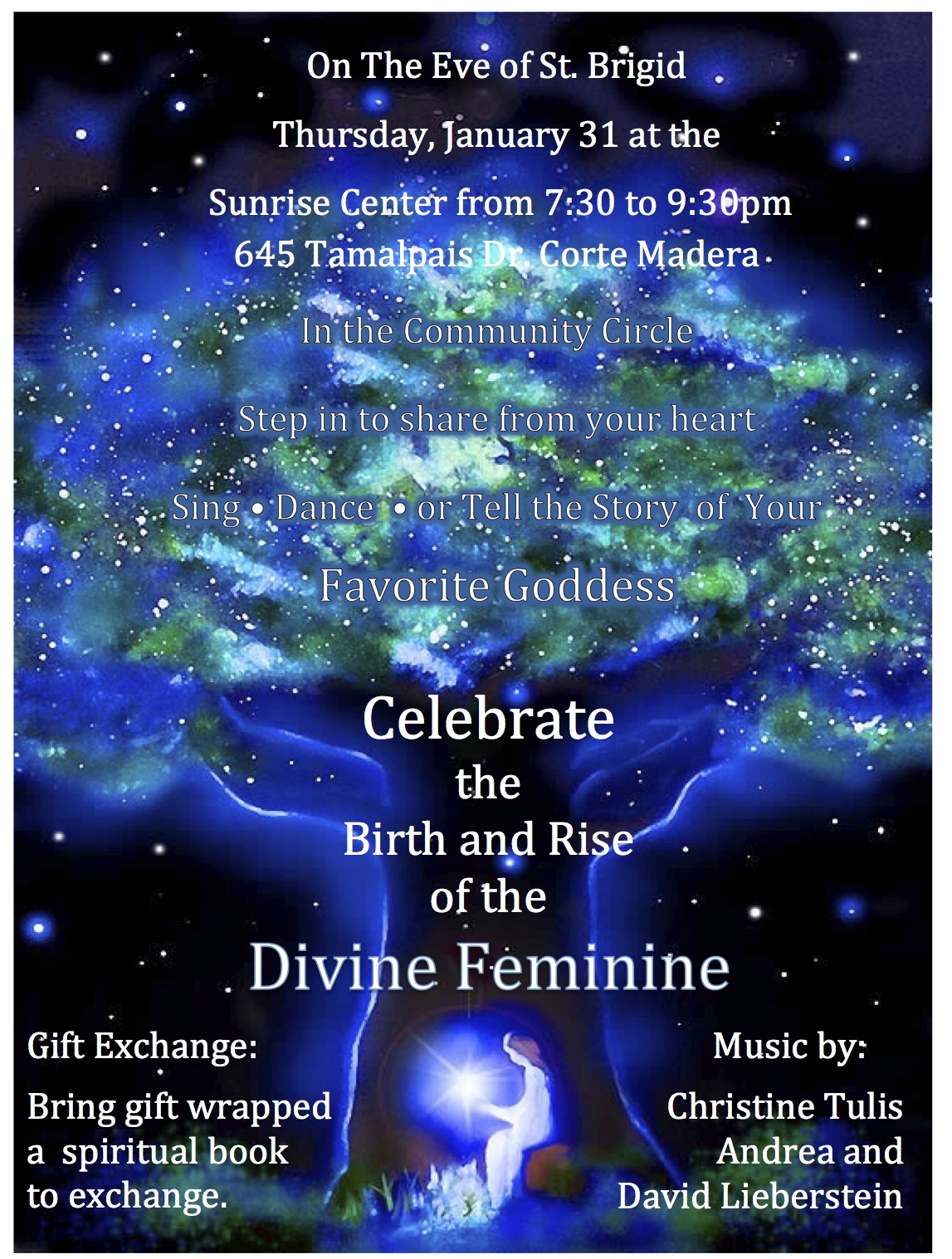 If you wish to be apart of the community circle and
share your song, dance, poem or story about your favorite Goddess
please contact Christy at christymichaels@gmail.com or 415-879-0155
Information about the event:
Celebrating the Birth and Rise
 of the
 Feminine Face of God
 ~
 Mary Magdalene's Birthday
 ~
 Thursday, January 31
 7:30 pm to 9:30 pm
 at
 Sunrise Center
Festival of Music – Song – Treats with Ordained Priestesses:
Christiane Michaels and Priestess Friends sharing...

Music • Sacred Chants • Harp and song by Christine Tulis
Accompanied by the music and songs of David and Andrea Lieberstein
Community circle of celebration, dance, story-telling and poems to the Divine Feminine – Come share yours (3 min. limit) Please RSVP if you wish to participate in this.
(Call Christy at 415-879-0155 or email at christymichaels@gmail.com)
At Christmas we celebrate the birth of Christ as a symbol of the Divine Masculine Christ Consciousness and return to light.  Recent events have led to a deeper understanding of who Mary Magdalene is.  Mary's identity as a prostitute stems from Homily 33 of Pope Gregory I.  His sermon in 591 claimed the unnamed woman at the well was Mary, (Luke Ch. 7) thereby labeling her a prostitute.  The Catholic Church 1969 officially repealed Gregory's labeling of Mary, thereby admitting their error. 
Perhaps there is another error in not celebrating her birthday as the Feminine face of God.  Out of the shroud of secrets around Mary has come some information, which points to January 31, as her birthday.  Some question the validity of whether the information is accurate as to her actual birthday, or not.  Think about though, how fitting it is for our deepen experience of our oneness if the Feminine Face of God's birth is celebrated in January the beginning of the New Year and in December the Masculine birth, bookending the year in the Divine.
The greater truth is we are one in spirit, but because for centuries we have a Patriarchy of priest and minister, in fact many religious factions still do not allow women to become priestesses.   I see in this auspicious time, that the Feminine Face of God is rising to balance out and equal the Masculine Face of God.  We are all both male and female parts of the Divine. A healing needs to happen to rise up the Feminine as Divine.  If you do not think so ask your women friends how many struggle with limiting low self esteem and depression.  It is time to celebrate the birth of the Feminine Face of God, so that we may equally come into a balanced state of wholeness.   
Join us in a new sacred celebration of the birth of Mary Magdalene, on this new High Holy Day, a Mary-mas of celebration, if you will. What we do know is she was born and her role as one of greatest Spiritual female leaders is rising to greater heights and understanding.  Just as many scholars have known for a while that the actual date of Jesus birthday being on Dec. 25 is unlikely.  Many believe that Dec. 25 was used because it ties into the Pagan holiday of the return of the light so this would encourage Pagan's to participate in commemorating the Christ.  The Goddess Isis birthed her son on Dec. 25.
Due to the suppression of the Feminine Face of God as embodied as Mary of Magdala, we honor her and celebrate her birth regardless the possible inaccuracy, because it is time to honor the birth of the Divine Feminine in all of us. 
The prophecy of 2012 was not the end of the world, but according to the powerful female Guatemalan Shaman, Elizabeth Araujo (who has works with Mayan traditional healing ceremonies) "It is, the time of the rise of the Divine Feminine.  "Why?" she says. "Because women notoriously do not want war, nor starving children; let there voices be heard.  We ask the men to support the rise of the Divine Feminine." 
It is time to raise up our voices for honoring the Divine in Women.  Please watch this you tube on the protection of woman.  You will notice when women are safe and protected there is much joy and celebration.
This is hard to watch, but every 15 min. a woman is beaten in the US and as we take a stand for the
Divine Feminine we take a stand for all our safety and blessings as we express who we are.
http://www.youtube.com/watch?v=gl2AO-7Vlzk
Come stand with us for the Divine Feminine and celebrate her stories, dance, songs and poetry in her many expressions.  From the Green Tara to Mary Magdalene we celebrate the archetype of the Divine within us all.  Men who love the Goddess are welcome. Those who wish will have an opportunity to express in the community circle their favorite Goddess, through song, poetry, dance or storytelling (limit 3 min.) may step into the community circle and share. (RSVP Please your intent and what you would like to do,) 
In Mathew 26:13 Jesus predicted that there would come a time when Mary Magdalene would be remembered and discussed for what she has done.  Mary is often painted reading a book. Bring a gift-wrapped re-cycled book as there will be a gift exchange as we celebrate the birth and rise of Mary Magdalene.
Please join us for the special sacred event.
When:  Thursday, January 31, 2013 from 7:30 pm to 9:30 pm

Location:  Sunrise Center 645 Tamalpais Dr. Corte Madera, CA 94925
Cost: $20 (know one turned away for lack of funds) Volunteers deeply appreciated - Call Christy if you can help 415-879-0155

Pre-reg:  Preferred; Drop-in OK
http://marymass.eventbrite.com

When & Where

Sunrise Center
645 Tamalpais Dr
Corte Madera, CA 94903


Thursday, January 31, 2013 from 7:30 PM to 9:30 PM (PST)
Add to my calendar
Organizer
Christiane Michaels, M.A. Her vision work is devoted to spreading The Gospel of Mary Magdalene, especially as it is mirrored in A Course In Miracles.  She lectures and produces sacred events around the country, teaching from these two texts.  
 
In 2001, Christy, as everyone knows her, was first introduced to a new story about Mary Magdalene.  She became passionate about Magdalene and has traveled to England, Scotland and France studying and visiting many of the sacred sites devoted to Mary Magdalene.
 
She also honors Mother Mary, as Christy had a profound and miraculous healing from the waters of the spring of the home of Mother Mary in Turkey, and is deeply grateful to Her for the end of her suffering.
 
Christy has a Master's degree in Clinical Psychology from Goddard College. Her thesis was on The Influence of Eastern religions on Transformative Psychotherapy.