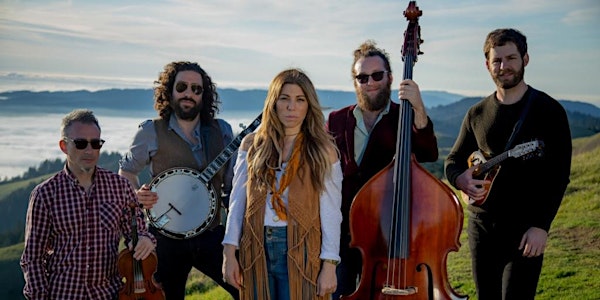 Celebrate Sukkot at Temple Sinai Cranston with Nefesh Mountain
Come join us to celebrate Sukkot with Nefesh Mountain's music, merging old time Appalachia and bluegrass with Jewish spirituality
When and where
Location
Temple Sinai 30 Hagen Avenue Cranston, RI 02920
About this event
On Oct. 15, beginning at 6:15 pm(concert begins at 7:00), Temple Sinai in Cranston will celebrate Sukkot in a very special way. In addition to sukkah decorating and blessings, a special oneg of home-made harvest treats, an auction of 3 show-stopping home-made cakes, and a raffled gift basket, there is more – a spectacular concert by the premiere bluegrass group in the US, Nefesh Mountain!
Since they arrived on the scene in 2015, Nefesh Mountain has been hailed as one of today's formative boundary pushing Bluegrass/Americana bands. They're among the first to truly give voice and openly represent Jewish American culture, tradition, values and spirituality in the world of American roots music. Nefesh is Hebrew for soul, and you will hear plenty of it from this unique group. The band has been called "A master class in string music!" by Rolling Stone, "Arguably some of the best bluegrass every made!" by American Songwriter, "Infectious, exuberant, and infused with pure melodic prowess," by Bluegrass Today, "Crisp, clear, and magical" by No Depression, and "Refined, timeless bluegrass" by The Bluegrass Situation.
Listen to some of Nefesh Mountain's music and get ready to dance:
https://www.youtube.com/watch?v=IArEHIDYCrs&authuser=1
Check out Nefesh Mountain and listen to more music at their website here: https://www.nefeshmountain.com/
The event begins outdoors at 6:15 in the sukkah so bring any harvest items to help decorate! This will be followed by Nefesh Mountain at 7:00, and a festive harvest oneg at 8:30.
Thanks to the generosity of the Temple Sinai's Schreiber Music Fund, tickets to the Sukkot celebration are FREE! However, tickets are limited and you must reserve your seats in advance to be admitted.