Celebrate Pro Bono Week 2011

Monday, October 24, 2011 at 9:00 AM

-

Wednesday, October 26, 2011 at 6:00 PM (EDT)
Event Details
OCTOBER IS PRO BONO MONTH!
Noting that countless Americans cannot afford the legal representation that they need to protect their lives, properties, and national liberties, Governor Patrick has proclaimed October to be Pro Bono Month in Massachusetts. View the Proclamation below or download the PDF. Additionally, the American Bar Association's Standing Committee on Pro Bono and Public Service has announced that they will hold the third annual National Pro Bono Celebration throughout the last week of October. In support of Governor Patrick's Proclamation and the ABA's National Celebration, the Rappaport Center is holding several events this year to recognize and urge support of pro bono work:
Exploring Legal Services Careers – October 24 from 3-4pm in the Faculty Dining Room
The Rappaport Center for Law and Public Service, the Boston Bar Association, and the Victim Rights Law Center invite you to come hear a panel of attorneys committed to legal services discuss the many different ways in which public interest students can pursue careers in legal aid.
The panelists are: Lindy Aldrich (moderator) of the Victim Rights Law; Janet Donovan of Casa Myrna Vazquez, Inc.; Martha Drane of Medical-Legal Partnership | Boston; Anna Nguyen of the Asian Outreach Unit at Greater Boston Legal Services; Staci Rubin of Alternatives for Community & Environment; and Joel Thompson of Prisoners' Legal Services.
Take the Pro Bono Challenge and Help Your Section Win a Pizza Party During December Exams – October 25, all day at the Rappaport Center

Sign up for the Suffolk Law Pro Bono Program and win a pizza party for you and your section-mates during December exams!
On October 25, the Rappaport Center will be recruiting law students to sign up for the Pro Bono Program. Enrolling in the Pro Bono Program allows you to stay connected to the wide range of volunteer opportunities available for Suffolk Law students and does not obligate you to volunteer immediately.
At the end of the day, the section with the highest number of student sign-ups will win a pizza party during December exams to be held in the cafeteria. Stop by the Rappaport Center to sign up and earn points for your section!
Pro Bono Fair for Attorneys and Law Students – October 26 from 5-7pm in the Function Room
The Rappaport Center is co-sponsoring a Pro Bono Fair for Attorneys and Law Students with the Boston Bar Association. Boston-area agencies will be available to speak with law students and lawyers about volunteer opportunities. This is a terrific opportunity to learn more about the vast array of pro bono opportunities in the Boston community and to get involved.
Agencies that have already signed on to participate include : Action for Boston Community Development, Parker Hill/Fenway  •  Alternatives for Community & Environment (ACE)  •  The Children's Law Center of MA  •  City of Boston Earned Income Tax Credit Campaign  •  The Clubhouse Family Legal Support Project  •  Community Dispute Settlement Center  •  Community Legal Services And Counseling Center  •  Equal Justice Coalition  •  Kids In Need of Defense (KIND)  •  Legal Advocacy and Resource Center  •  Lutheran Social Services  •  Mental Health Legal Advisors Committee  •  Metropolitan Mediation Services  •  New England Innocence Project  •   Neighborhood of Affordable Housing  •  The Second Step  •  Women's Bar Foundation  •  ABA Death Penalty Representation Project  •  Justice at Work  •  Metrowest Legal Services  •  Shelter Legal Services  •  AIDS Action Committee  •  Jewish Family & Children's Service – Bet Tzedek Legal Services  •  Greater Boston Legal Services
All Boston area law students and attorneys are welcome!
Please join us and get involved in Pro Bono Month!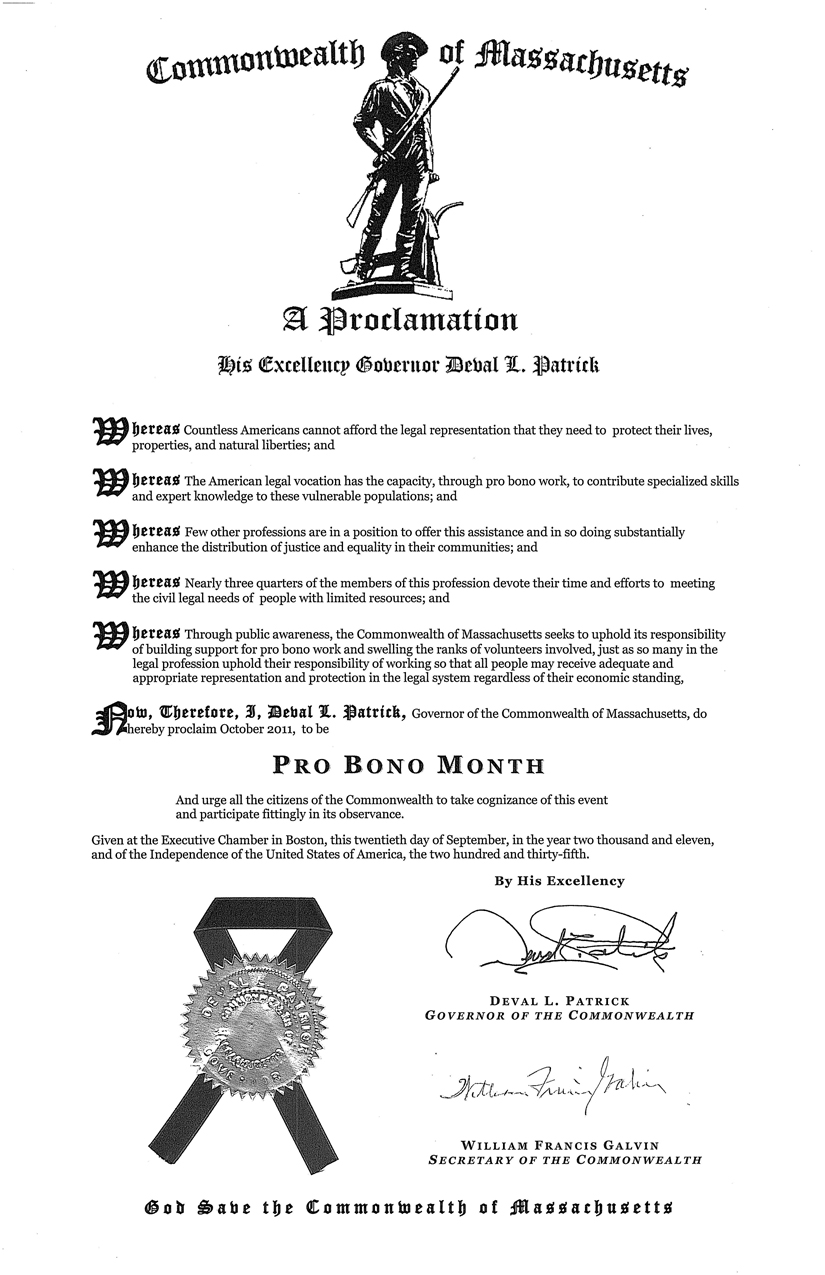 (click to enlarge or download)

When & Where

Suffolk University Law School
120 Tremont Street
Check event details for specific location
Boston, MA 02108


Monday, October 24, 2011 at 9:00 AM

-

Wednesday, October 26, 2011 at 6:00 PM (EDT)
Add to my calendar
Organizer
Rappaport Center for Law and Public Service
The Rappaport Center for Law and Public Service at Suffolk University Law School prepares lawyers for leadership in public service and provides a regional forum for innovative thinking about law and public policy.  The Center supports the Law School's mission to prepare and sustain students and alumni to provide access to justice and leadership in public service.
Celebrate Pro Bono Week 2011