17th Annual Holiday Concert Streamed LIVE!
About this Event
The Watchung Arts Center ushers in the holiday season with a musical night capturing the rich and joyous sounds of the season. AMANI will perform on Saturday, December 12, at 8 PM. Due to the Pandemic this special Concert will be streamed LIVE from the Watchung Arts Center to the comfort and safety of your home via Zoom.
AMANI was formed to share the concept of peace through music, performing for people of all ages, races, and religious affiliations. AMANI will perform a selection of holiday favorites as well as some hits from a variety of genres including The Great American Songbook, Gospel, R&B, Jazz, Bossa nova, and Broadway. This will be the 17th Annual Holiday visit to the WAC by Eigen, who has been a frequent contributor to the Center's "JaZZ in the Gallery" series with his Beacon Hill Jazz Band as well as with other noted jazz performers.
The members of the group are veteran musicians led by Marty Eigen on sax and flute, vocalist Stephen Fuller, pianist Tomoko Ohno, violinist Diane Perry, bassist Alex Gressel, and Vern Mobley on drums.
Marty Eigen is the founder of AMANI and the leader of Beacon Hill Musicians. He plays tenor sax, flute, baritone sax, and clarinet on occasion. He has appeared many times at the Watchung Arts Center, Bickford Theatre and at Shanghai Jazz in Madison, and Trumpets in Montclair. Since 2015 Marty has produced annual benefit concerts to raise money for The Seeing Eye.
Stephen Fuller's deep rich voice and soulful renditions have long made him a favorite with sophisticated audiences. Fuller is best known for his smooth virtuosity, which spans the breadth of jazz standards, blues, swing, bossa nova and contemporary classics. As a lead vocalist, he has worked with a number of jazz bands and singing groups, and is a very talented band leader. A graduate of Newark's Arts High School and Colgate University, Stephen credits his musical influences to Nat King Cole, Frank Sinatra, Johnny Hartman, Joe Williams, Jon Lucien and Bill Withers.
Tomoko Ohno, born in Tokyo, began piano studies at the age of 4. As a teenager, she began playing professionally in the Tokyo area jazz scene. Miss Ohno moved to the United States and entered the Jazz Studies Program at William Paterson University in New Jersey. She has performed at Lincoln Center, Carnegie Hall, The Kennedy Center, The Blue Note, and Birdland, in addition to appearing on live radio broadcasts by WBGO and WNYC, and ABC TV's Good Morning America.
Violinist Diane Perry has long been blending classical with jazz. The New Jersey Jazz Society called her music "exhilarating, madly original" and "playful, mischievous, and innocent all at once. Her concert-hall tone is full and pure, and a joy to hear. The ensuing vocals are clean and swinging." Juilliard-trained violinist Diane Perry's music is so visceral and honest that audiences are moved to tears. With a violin sound lauded for its spectacularly pure, soaring tone, and a voice rich with emotion, her shows swing between hilarious and heartbreaking.
Since his start, playing in Austrian theaters, bassist Alex Gressel has had the great fortune to play with world-class but somewhat obscure musicians such as the originator of Bossa Nova and Samba Jazz drumming Edison Machado, his mentor, the Danish multi-talent Marilyn Mazur, alto sax giant Clarence "C" Sharpe, the genius piano player Mark Thompson, Cecil Payne, Gil Coggins, Sadik Hakim, Dennis Charles, Tommy Turrentine, Mozar Terra, Johnny O'Neal, Roni Ben-Hur and many others.
Vern Mobley is a drummer at heart who has been playing for nearly 3 decades. During that time, he has worked tirelessly to craft an unmistakable drumming style and talents unrivaled in the Lehigh Valley. Often playing multiple rhythmic patterns while playing additional percussion instruments, Vern's sound often gives the illusion of multiple drummers/percussionists playing the drum kit simultaneously.
The box office will close at 5PM Saturday, December 12. The Zoom link will be shared via email to ticket holders by 6PM on the day of the event.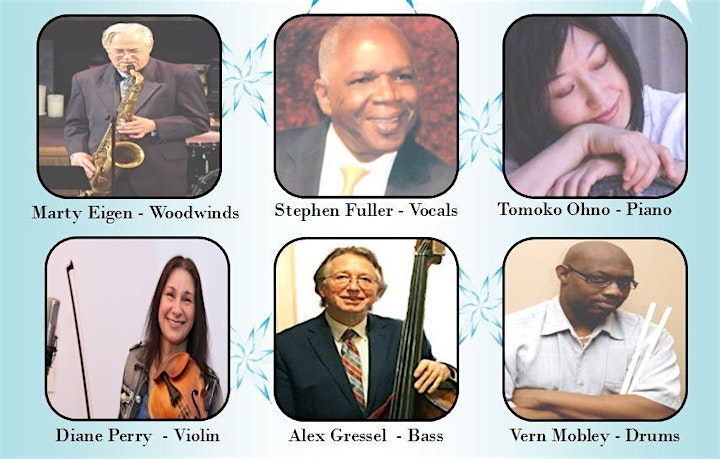 Date and Time
Location
Refund Policy