Celebrate. Inspire. Empower: Celebrating Assyrian Women
Description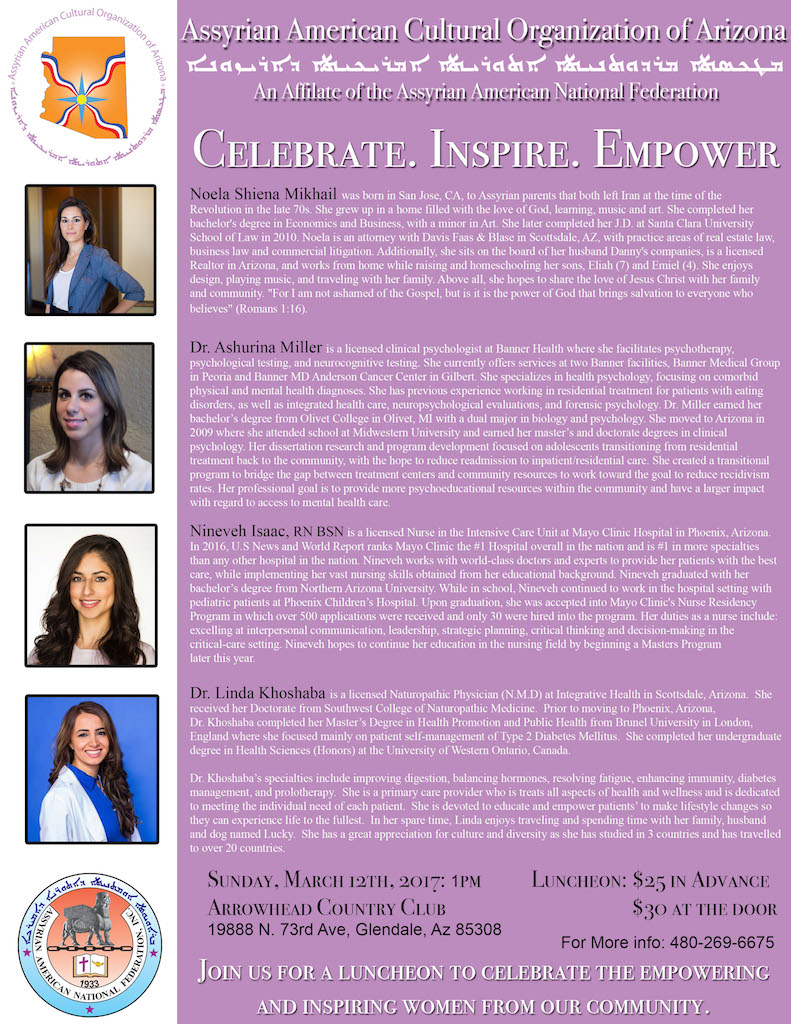 Noela Shiena Mikhail was born in San Jose, CA, to Assyrian parents that both left Iran at the time of the Revolution in the late 70s. She grew up in a home filled with the love of God, learning, music and art. She completed her bachelor's degree in Economics and Business, with a minor in Art. She later completed her J.D. at Santa Clara University School of Law in 2010. Noela is an attorney with Davis Faas & Blase in Scottsdale, AZ, with practice areas of real estate law, business law and commercial litigation. Additionally, she sits on the board of her husband Danny's companies, is a licensed Realtor in Arizona, and works from home while raising and homeschooling her sons, Eliah (7) and Emiel (4). She enjoys design, playing music, and traveling with her family. Above all, she hopes to share the love of Jesus Christ with her family and community. "For I am not ashamed of the Gospel, but is it is the power of God that brings salvation to everyone who believes" (Romans 1:16). Noela Shiena Mikhail was born in San Jose, CA, to Assyrian parents that both left Iran at the time of the
Dr. Ashurina Miller is a licensed clinical psychologist at Banner Health where she facilitates psychotherapy, psychological testing, and neurocognitive testing. She currently offers services at two Banner facilities, Banner Medical Group in Peoria and Banner MD Anderson Cancer Center in Gilbert. She specializes in health psychology, focusing on comorbid physical and mental health diagnoses. She has previous experience working in residential treatment for patients with eating disorders, as well as integrated health care, neuropsychological evaluations, and forensic psychology. Dr. Miller earned her bachelor's degree from Olivet College in Olivet, MI with a dual major in biology and psychology. She moved to Arizona in 2009 where she attended school at Midwestern University and earned her master's and doctorate degrees in clinical psychology. Her dissertation research and program development focused on adolescents transitioning from residential treatment back to the community, with the hope to reduce readmission to inpatient/residential care. She created a transitional program to bridge the gap between treatment centers and community resources to work toward the goal to reduce recidivism rates. Her professional goal is to provide more psychoeducational resources within the community and have a larger impact with regard to access to mental health care.
Nineveh Isaac, RN BSN is a licensed Nurse in the Intensive Care Unit at Mayo Clinic Hospital in Phoenix, Arizona. In 2016, U.S News and World Report ranks Mayo Clinic the #1 Hospital overall in the nation and is #1 in more specialties than any other hospital in the nation. Nineveh works with world-class doctors and experts to provide her patients with the best care, while implementing her vast nursing skills obtained from her educational background. Nineveh graduated with her bachelor's degree from Northern Arizona University. While in school, Nineveh continued to work in the hospital setting with pediatric patients at Phoenix Children's Hospital. Upon graduation, she was accepted into Mayo Clinic's Nurse Residency Program in which over 500 applications were received and only 30 were hired into the program. Her duties as a nurse include: excelling at interpersonal communication, leadership, strategic planning, critical thinking and decision-making in the critical-care setting. Nineveh hopes to continue her education in the nursing field by beginning a Masters Program later this year.
Dr. Linda Khoshaba is a licensed Naturopathic Physician (N.M.D) at Integrative Health in Scottsdale, Arizona. She received her Doctorate from Southwest College of Naturopathic Medicine. Prior to moving to Phoenix, Arizona, Dr. Khoshaba completed her Master's Degree in Health Promotion and Public Health from Brunel University in London, England where she focused mainly on patient self-management of Type 2 Diabetes Mellitus. She completed her undergraduate degree in Health Sciences (Honors) at the University of Western Ontario, Canada. Dr. Khoshaba's specialties include improving digestion, balancing hormones, resolving fatigue, enhancing immunity, diabetes management, and prolotherapy. She is a primary care provider who is treats all aspects of health and wellness and is dedicated to meeting the individual need of each patient. She is devoted to educate and empower patients' to make lifestyle changes so they can experience life to the fullest. In her spare time, Linda enjoys traveling and spending time with her family, husband and dog named Lucky. She has a great appreciation for culture and diversity as she has studied in 3 countries and has travelled to over 20 countries.