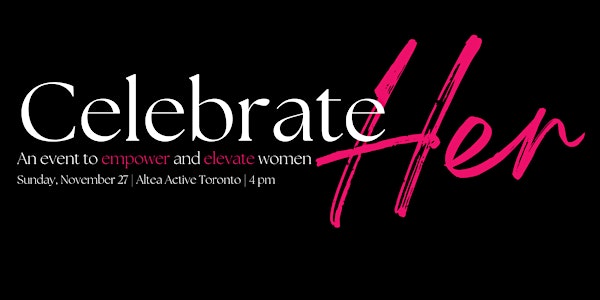 Celebrate Her: An event to Empower and Elevate Women
This Celebrate Her event is a celebration of female leaders from various backgrounds and different types of leadership experiences.
When and where
Location
Altea Active Toronto 25 Ordnance St Toronto, ON M6K 0E9 Canada
About this event
Join us for an afternoon of exploration, networking and celebration! Our Celebrate Her event is an exciting opportunity for high school female athletes to explore new opportunities and learn from the female leaders in sport. It is also a valuable opportunity for leaders and athletes to develop meaningful connections with each other by sharing stories and participating in our Conversation Café.
This is not your traditional networking event. All participants will have the opportunity to engage, interact, work as a team, reflect and much more. There will be lots of fun activities for all to participate in! It is an uplifting, inspiring and welcoming environment for all participants to share their stories and experiences. 
A few notable Leaders include:
Alix Krahn
Andrea Beneteau
Dress code: Business Casual
AGENDA
4:00 pm - Doors Open & Guest Arrival 
4:20 pm - Introduction
4:30 pm - Conversation Café
5:45 pm - Thank You & Gift Presentation
6:00 pm - Closing Keynote (Community Members Welcome)
6:20 pm - Final Remarks, Raffle & Closing
*Light snacks and refreshments will be provided*
What is a Conversation Café?
A Conversation Café is a space set up for intentional conversations with people. All participants will be divided up into smaller groups to have conversations through different formats about specific topics at their table. After a designated time, participants will rotate to another group to have an opportunity to talk to new people and a new topic. During each rotation, facilitators will be introducing new topics or new challenges each table will be asked to discuss or accomplish.
Tickets
All ticket purchases are by optional donation. We are grateful for any donation to our organization to help build current and future events for LTS. We would suggest $20 donation per ticket. We will accept cash or credit at the door, we do prefer cash.
Raffles
We have some FANTASTIC prizes to be raffled off! Raffle ticket package is on our site!
All proceeds will support our "Send a Girls to Camp" campaign and creation of various events throughout the year.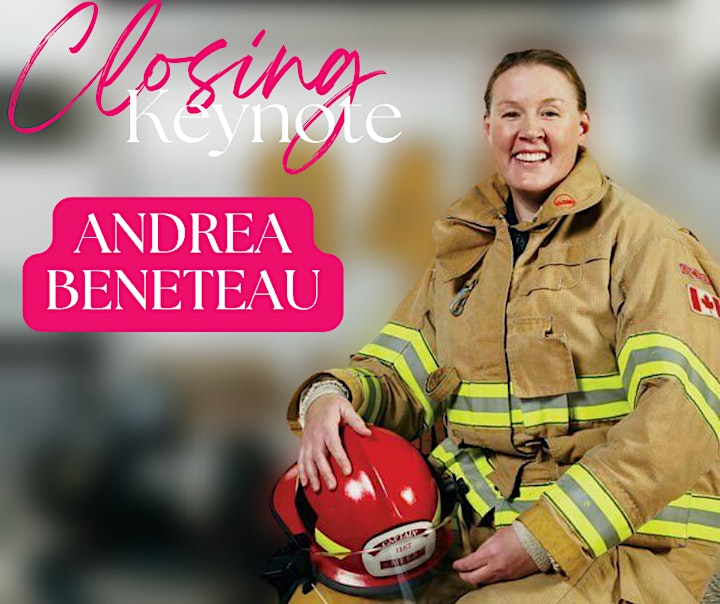 Closing Keynote
ANDREA BENETEAU
I was born and raised and still reside in Toronto. I don't know what I would have done without sports growing up. I was a competitive swimmer, figure skater and diver - yes, I dove off of those ten metre towers. I played softball, soccer and tennis too but my real love was and still is today, basketball. I was fortunate to play at the varsity level for the University of Western Ontario and Centennial College. I have also given back to the sport I love so much as basketball referee for the past 24 years.
I am a retired Markham fire captain and Toronto paramedic. As you can tell by my career choices, I kept choosing to show up places where there were no women. I have always had a strong desire to challenge the status quo and was always motivated to prove myself when someone told me I wasn't capable of doing something.
My biggest challenge yet, one I didn't think was at all possible, becoming an author. I am a published author! I coauthored a book called Uncover Your Light: Empowering Stories of Hope and Resilience, that was just released this past October. I share my story of resilience in the face of adversity. It's a triumphant story of survival.