Celebrate Earth Day by Volunteering: 11th Annual Safe Kids Child Seat Recyc...
Description
Help Safe Kids dismantle recycled car seats for Earth Day.
Here are some details of how this works:
https://www.youtube.com/watch?v=puKpNdkFHhM
AT ALL TIMES: SAFETY FIRST!
30 minute safety and instructions 7:30am - 8:00am
8:00am - 12:00pm dismante car seats.
THE SAFETY OF YOU AND THOSE AROUND YOU IS OUR PRIMARY CONCERN.
Sort @ all stages
Separate plastic, metal and paper throughout deconstruction.
Stage 1 Going to the Dogs https://www.maricopa.gov/3560/Animal-Care-and-Control
Remove all fabric, padding, and straps. Quilted fabric becomes bedding +/or chew toys for the animals.
It may be necessary/efficient to cut some straps; however, long straps (i.e., tethers) make free leashes

Stage 2 Waste Not, Want Not
We've repurposed long straps and plastic-metal fasteners with both male & female components.
MINIMIZE WASTE Cut as close as you can safely - Short strap pieces are waste as is any soft foam :(
Stage 3 Make a Home Earth Friendly Building Materials, LLC http://www.efbm.com
Clean Polystyrene foam (rigid foam) will be recycled into Earth Friendly Block ™
Stage 4 Hand me a tool
Remove any metal (or plastic) fasteners with the hand tools provided.
Be meticulous. Get it down to the base plastic shell, but if it's smaller than a nickel it can stay.
Stage 5 Boyd's Power Center
Tim Taylor from Tool Time would love to work this stage. We utilize an assortment of power tools to separate remaining metal from the plastic shell.
Stage 6 Clean Up We're done when the area is cleaner than when we arrived!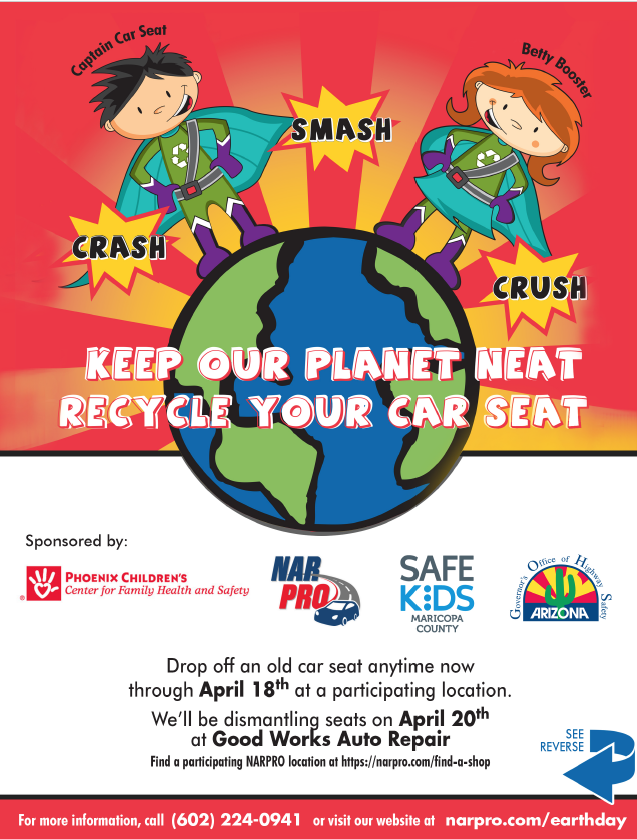 For questions regarding this volunteer opportunity: June.Vutrano@maricopa.gov

Event Organizer and on site contact: James Garnand, NARPRO @ Hi-Tech Car Care
602-224-0941