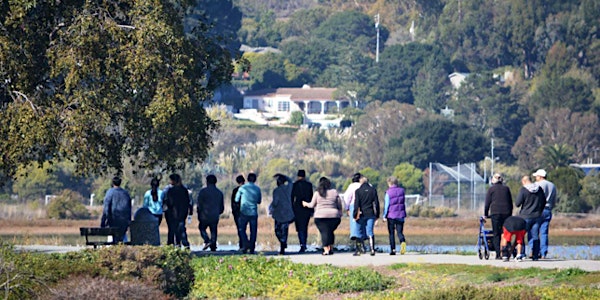 Celebrate Climate Resilience — Eat, Drink, Play & Plan
When and where
Location
Marin City Manzanita Community Center 630 Drake Avenue Sausalito, CA 94965
Description
Resilient by Design, Shore Up Marin, Marin City Community Services District, County of Marin and the Urban Works Agency invite you to an evening reception.
Meet and mingle with the 10 teams selected for the Resilient by Design | Bay Area Challenge, your friends and your neighbors.
This is a great opportunity to informally ask internationally recognized experts your questions about climate adaptation, sea level rise, flooding, etc., and to share your vision for a Marin that has successfully adapted to sea level rise.
Light buffet dinner will be served. Learn about games used to envision solutions to sea level rise and climate impacts from their creators, including Marin County's Game of Floods and others.
Location: Marin City Manzanita Recreation Center
630 Drake Avenue
Sausalito, CA 94965
The event is free and open to the public. All ages welcome. Please present your RSVP at the door.
Registration will close once the ticket capacity has been reached.
For more information, contact: Shore Up Marin (415) 450-0110.

Please visit the Resilient by Design website for information on more upcoming events: http://www.resilientbayarea.org/upcoming-events/
Game of Floods
The Game of Floods was originally developed by Roger Leventhal as part of the Supervisor Kate Sears Task Force on sea level rise impacts along the Southern Marin Community shoreline. The first playing of the game in a large public meeting occured in November 2014. The game seeks to raise the level of community understanding of the issues and challenges of SLR adaptation through active doing rather than passive listening. The Game of Floods has been played in a variety of schools and communities all across Marin County and has garnered regional and national attention. Learn more HERE.
Bartertown: A game of social resilience
Bartertown imagines a world without money to test how social networks can be reshaped by an economy of favors and resource-sharing. We hope to see how cities and people can survive, and even thrive, in a crisis. Bartertown was created by the Urban Works Agency at the California College of the Arts for the San Francisco Bay Conservation and Development Commission's Adapting to Rising Tides program.
Organizers
Resilient by Design | Bay Area Challenge is a collaborative research and design project that brings together local residents, public officials and local, national and international experts to develop innovative solutions to the issues brought on by climate change that our region faces today. In a yearlong challenge, teams of engineers, architects, designers and other experts will work alongside community members to identify critical areas throughout the Bay Area and propose exciting, new, community-based solutions that will strengthen our region's resilience to sea level rise, severe storms, flooding and earthquakes. The result will be 10 new implementable projects that offer an imaginative and collaborative approach to resilience. By seizing the critical need to address climate change as an opportunity to bring about a stronger, safer Bay, we are protecting shoreline communities and preparing for the local challenges brought on by sea level rise. Rather than wait for a natural disaster, the San Francisco Bay Area is proactively reimagining a better future by creating a blueprint for resilience that harnesses Bay Area innovation and serves as a model for communities around the world. ResilientBayArea.org
Shore Up Marin is a multiracial environmental and social equity coalition advocating for equitable inclusion of low-income communities in planning and community preparedness. Our main focus areas are sea level rise and climate adaptation, flooding and hazard mitigation, emergency preparedness and water, air and soil quality. Shore Up Marin is a member of the Resilient Communities Initiative. ShoreUpMarin.org
Marin City Community Services District is the municipal authority for Marin City. It is a multi-purpose California special district that is governed by a publicly-elected five-member board of directors. marincitycsd.org
County of Marin is planning for climate change in collaboration with Marin's cities and towns. By assessing what is vulnerable to rising tides, by creating opportunities for the community to learn with us, and by involving everyone in planning for these changes, Marin will be better prepared to meet these challenges as a community. By beginning to prepare now, Marin can find ways to live with water, as well as create suitable defenses. MarinSLR.org
Roger Leventhal, P.E. is a Senior Engineer in Department of Public Works Flood Control. He has led up many of the technical studies related to SLR adaptation in Marin County with an emphasis on pilot projects to demonstrate the effectiveness of nature based adaptation solutions along the Marin County shoreline.
Alex Westhoff, AICP, is a planner with the Marin County Community Development Agency. He has co-authored Marin's sea level rise vulnerability assessments and adaptation report.
The Urban Works Agency is a research lab at the California College of the Arts that works with interdisciplinary partners to produce original research and design projects. Recently, they have worked with local and regional partners to produce fun, innovative board games focused on resilience and sea level rise. urbanworks.cca.edu
Janette Kim is assistant professor of architecture and co-director of the Urban Works Agency at California College of the Arts, founding principal of the design practice All of the Above, and founding editor of ARPA Journal, a digital publication on applied research practices in architecture.