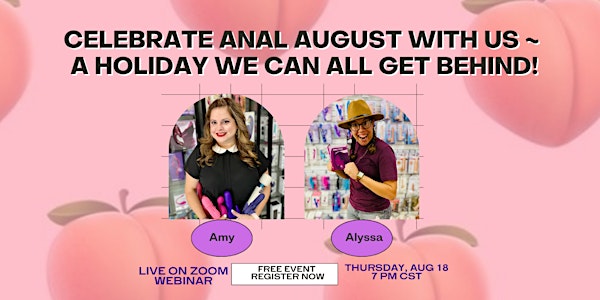 Celebrate Anal August
Celebrate Anal August with us ~ A holiday we can all get behind! LIVE on Zoom Attendees will receive a coupon to use online or in-store
About this event
Celebrate Anal August with us ~ a holiday we can all get behind!
Thursday, August 18 · 7PM CST · LIVE on Zoom Webinar
FREE
Join Love Shack Boutique Store Manage and Sexual Health Guru Alyssa and our store owner and Certified Sex Educator, Amy for a quick guide to backdoor pleasure. Anal play is a source of mystery, curiosity, taboo, and apprehension for many people. It can be a bit overwhelming to approach. This event is designed to equip you with the tools and information to make anal play safe and enjoyable for everyone involved.
Attendees will receive a coupon to use online or in-store.
You must sign up via Eventbrite, after you register, you will be sent an email confirmation. This event will take place online on Zoom, and will begin promptly at 7pm. Love Shack Boutique staff will be on camera, not you. Questions will be asked via Zoom chat.
Events are non-explicit and non-sexual. That means that although the content includes information about sex and is intended for adult audiences, no sexual or explicit activity takes place. All demonstrations and other learning tools, images, and props are of an educational nature.
Everyone Is Welcome: Our in-store / online events are well attended by an incredibly diverse audience. When we say that everyone is welcome, we mean it! People of all genders, orientations, ages (18 and older), and abilities are encouraged to come.