Celebrate Africa with amazing local Austin bands, virtual African market and DJ. This event will be live streamed from Sahara Lounge.
About this event
Celebrate Africa from your phone, living room, tablet, Tv, laptop or computer. This event will livestream African Bands from Sahara Lounge ATX, and the African DJ will join the fun by entertaining you with amazing Afro Beats and more. The African Market in between sets will highlight local African Vendors and you can shop with them online.
Watch LIVE via Facebook Live https://fb.me/e/17W9YUjPy
Youtube Live via International Multicultural and International Multicultural Community pages
5:00pm Afro Jazz ~ featuring Ibrahim Aminou (Niger) on Kora and Vocals, Aboubacar Sylla (Guinea) on Balafon (West African Xylophone) and Percussion and Special Guest Joshua Thomson on Alto Sax. 
6:00 pm Abou & the Crew ~ featuring Aboubacar Sylla on Balafon, Vocals and Percussion, Tyler Neal on Alto Sax, Tyrell Elegonye on Electric Guitar. Eileen Bristol on Bass Guitar and Thomas Wheeler on Drums
7:00 pm Zoumountchi ~ featuring Ibrahim Aminou on Electric Kora, West African Guitar and Vocals, Aboubacar Sylla on Percussion, Tyler Neal on Alto Sax, Tyrell Elegonye on Electric Guitar. Eileen Bristol on Bass Guitar and Thomas Wheeler on Drums
8:00pm DJ SelectRah https://www.mixcloud.com/selectarah/stream/
Please Tune in from 5pm CST and share.
You can watch this event via Instragram Live, Facebook Live, Zoom, YouTube Live, Vimeo, Periscope and different Facebook Groups.
This project is supported in part by the Cultural Arts Division of the City of Austin Economic Development Department.
International Multicultural Community is a sponsored project of Austin Creative Alliance.
Special Thanks to Sahara Lounge ATX, African Business and Social Alliance (ABASA), International Multicultural, Kevin Bergeron,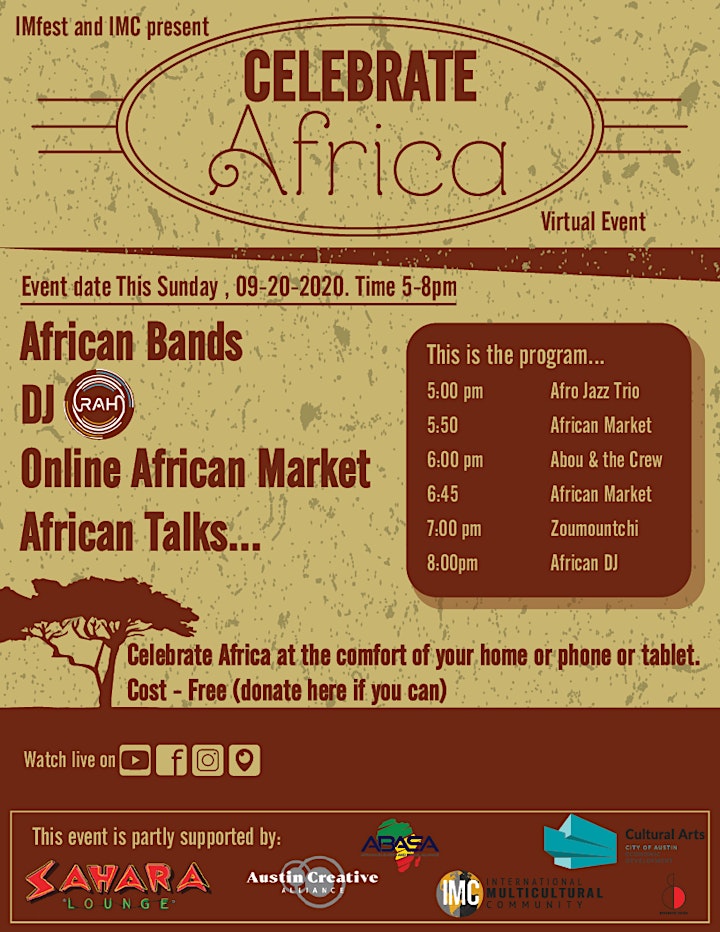 Organizer of Celebrate Africa
International Multicultural Community
Since 2013, International Multicultural Community has been creating opportunities for the people of Austin to share, learn, explore, and celebrate their love of all our diverse cultures at the annual International Multicultural Festival as well as frequent social gatherings around the city. International Multicultural Community fosters engagement in international and multicultural issues that affect our community, such as art, crafts, immigration, teaching and preservation of languages, international travel, tourism, education, global business, and more, all while promoting unity and civic pride among the people of Austin. This group thrive on the collaboration and partnership with those with similar focus. Future plans include an International Multicultural Marketplace, International Multicultural media platform and much more. We hope to collaborate with many other multicultural organization in and outside the city.
www.imfest.net