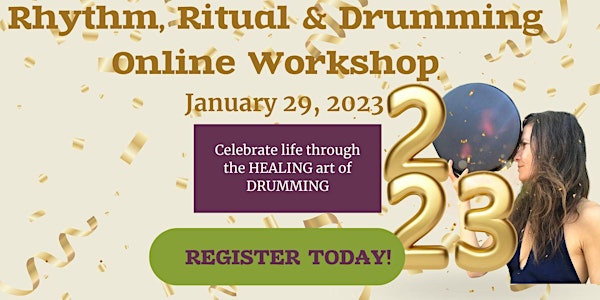 CELEBRATE 2023: Rhythm, Ritual & Drumming Workshop (all levels/online)
A special online workshop where we will celebrate life through the art and expression of drumming, rhythm, chanting and ritual.
Refund Policy
Contact the organizer to request a refund.
Eventbrite's fee is nonrefundable.
About this event
New year, New rhythms, NEW YOU!
Rhythm, Ritual & Drumming Workshop with Marla Leigh (online)
There is a formula for happiness...
The pandemic has served as a reminder that our lives are a precious gift, every BEAT of them. It is vitally important for our physical and mental health to express ourselves creatively, to shift focus away from the negatives and to acknowledge the good.
Sometimes, that is hard to do alone or without inspiration. In joining a community of like-minded souls, there is no better way to uplift ourselves…
So, we are excited to bring you our special 2.5 hour online workshop ~ where we will celebrate life through the art and expression of music.
Together, we will learn ways to approach your drumming to optimize its healing potential
************************************************************
What is a Frame Drum?
Known for its deep spiritual connection, and restorative, relaxing properties, the frame drum was played in many cultures for ceremony, sacred rites of passage and celebration.
It does not matter if you have never heard of the frame drum, never played an instrument before, or if your fingers have become rusty and your drums dusty, this fun musical workshop will guide you to be more creative and hopefully discover/refresh a healthy addiction in 2023.
You will leave our workshop with a fresh perspective on ~ as well as new skills and rituals in ~ rhythm, drumming, chanting and hopefully some exciting musical dreams to start the year.
*Open to ALL LEVELS. There will be material taught for both beginner and intermediate students!
* Give yourself the gift of healing music to bless you and your loved ones in 2023
(You also don't need a drum ~ a box, pot, or book is just fine.)
************************************************************
WORKSHOP INCLUDES:
Playing techniques for frame drum (that can be applied to other types of hand drums!)
Trance rhythms for healing and entrainment in a 7 beat time cycle ( to honor the year 2023/2+2+3 =7)
How to improvise and create your own 7-beat rhythms
The joy of drumming and chanting
Drumming rituals for focus, clarity and self-healing
*All -Levels welcomed (beginners included)
*No drum needed, just a heartbeat!
************************************************************
DETAILS:
Date: Sunday, January 29, 2023
Time : 10:00am - 12:30pm
Price: Sliding Scale ($25-$50)
No experience or music knowledge needed ~ all ages and levels welcome!
(Link for workshop sent a few days before the event)
❖❖❖❖❖❖❖❖❖
Can't attend live?
No worries… a recording will be sent out to all who register
(with lifetime access to the replay).
I look forward to celebrating 2023 with you!
Love, Marla
************************************************************
PS. Have friends who like to drum?
Please share this event with them!
Let's get everyone drumming in 2023, it will help the planet be a more peaceful place.
PPS.
*if you do not know what a Frame Drum is.. please enjoy the video below.
************************************************************
ABOUT MARLA:
Marla Leigh is one of the few female professional frame drummers in the world today. She is a Grammy-nominated percussionist and flautist, and an internationally-recognized educator, performer and composer. She is Founder of The Frame Drum Academy online, with students learning together worldwide, and recently launched her debut music video and album, Rhythms of Tof Miriam. She also has her own line of signature series frame drums with Cooperman Company.
Passionate about exploring ancient cultures, both musically and spiritually, Marla integrates yoga and meditation in her daily life, as complements to the healing powers of her frame drum play and practice.
www.marlaleigh.com/framedrumacademy |
************************************************************