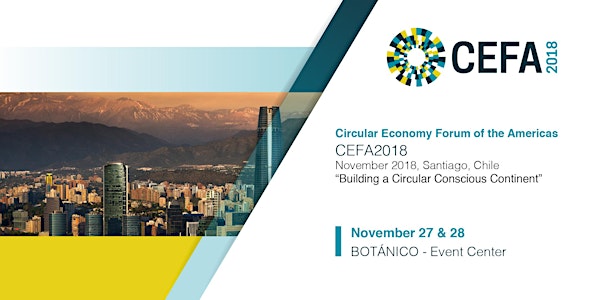 CEFA2018 Circular Economy Forum of the Americas - Foro de Economía Circular...
Event Information
Location
Botanico Centro De Eventos & University Adolfo Ibanez (UAI)
2700 Diagonal Las Torres
Penalolen, Región Metropolitana
Chile
Refund policy
Refunds up to 7 days before event
Description
The Circular Economy of the Americas Forum (CEFA) is the main annual meeting of people, companies, NGOs, academic institutions and governments of the Americas and the world inspired by the Circular Economy to discuss the needs, challenges and opportunities to promote and make possible the transition to Circular Economies (CE) in the American Continent.
This year's edition (CEFA2018) will take place in the beautiful country of Chile and will have as its main objective: HOW TO MAKE THE CIRCULAR ECONOMY AND SUSTAINABLE DEVELOPMENT A REALITY IN THE AMERICAS?

CEFA2018 seeks to:
Generate solutions and change paradigms in terms of how we produce and use our goods and services and how this is done through different sectors of society.

Provide citizens with the tools to initiate change, empower the entrepreneurial and productive sectors, academia, and citizenship in general to take initiatives that contribute to this new global dynamic.

Contribute with solutions to the global climate change problem and compliance with the Sustainable Development Goals (SDGs).
El Foro de Economía Circular de las Américas (CEFA por sus siglas en inglés) es la principal reunión anual de personas, empresas, ONGs, instituciones académicas y gobiernos del continente americano y el mundo inspiradas por la Economía Circular para discutir las necesidades, desafíos y oportunidades para promover y hacer posible la transición hacia Economías Circulares (EC) en el Continente Americano.
La edición de este ano (CEFA2018) se llevará a cabo en el lindo país de Chile y tendrá como objetivo principal: ¿COMO HACER REALIDAD LA ECONOMÍA CIRCULAR Y EL DESARROLLO SOSTENIBLE EN LAS AMERICAS?
CEFA2018 busca:
Generar soluciones y cambiar paradigmas en cuanto a cómo producimos y utilizamos nuestros bienes y servicios y como se hace esto a través de diferentes sectores de la sociedad.

Proporcionar a los ciudadanos las herramientas para iniciar el cambio, empoderar a los sectores emprendedores y productivos, la academia y ciudadanía en general para tomar iniciativas que contribuyan a esta nueva dinámica global.

Contribuir con soluciónes para la problemática del cambio climático global y al cumplimiento con los Objetivos de Desarrollo Sostenible (ODS).

Date and time
Location
Botanico Centro De Eventos & University Adolfo Ibanez (UAI)
2700 Diagonal Las Torres
Penalolen, Región Metropolitana
Chile
Refund policy
Refunds up to 7 days before event