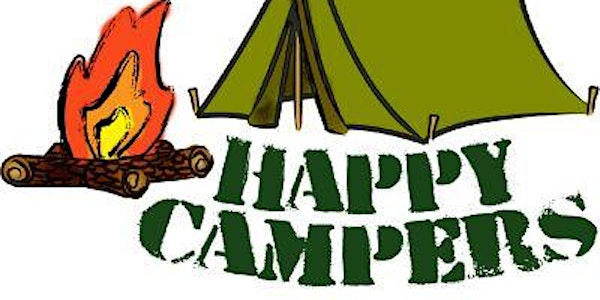 CEA's Return to Camp Fall '22 Conference
CEA's "Return to Camp" Fall 2022 Conference!
When and where
Location
1515 Commerce St 1515 Commerce Street Tacoma, WA 98402
Refund Policy
Contact the organizer to request a refund.
Eventbrite's fee is nonrefundable.
About this event
Greetings!
The Community Employment Alliance is thrilled to invite you to our first Hybird Conference! We want you all to "Return to Camp" so we can be reminded why we do this important work. We want to restore and connect you to your peers, resources, and opportunities. Please read below for the developing program for the Fall 2022 Conference. You have until 9/5/22 to purchase tickets.
Time Sensitive FYI's
1.) This conference is open to ALL! That means front line staff, Executive Director's and CEO's of service providers as well as community partners – there is something for everyone! (The only member only event is the Annual Meeting which is scheduled on October 11th from 2:15-4.)
2.) Accessibility is important to CEA. If you or a potential conference guest needs an accommodation, please email Courtney Williams by 9/1/2022 at: courtney@communityemploymentalliance.org
3.) We are asking for all conference attendees to be vaccinated. Proof of vaccination will need to be emailed to Jason Peterson at: jason@communityemploymentalliance.org upon registering for event. *Medical Exemptions are permitted*
4.) We have a block of 45 rooms available until 9/6- Book your rooms here: https://www.marriott.com/event-reservations/reservation-link.mi?id=1657579516231&key=GRP&app=resvlink
5.) Conference Location: COURTYARD MARRIOTT TACOMA DOWNTOWN 1515 Commerce Street, Tacoma, WA 98402
October 10th 2022
Note: October 10th is Indigenous People Day and the beginning of Sukkot- CEA respects both important occasions and purposely did not schedule anything on this day. The option to check in to the hotel remains available.
4:00- Hotel Check in Optional
Optional Dinner @6:30 at Stanford Steaks /1502 Pacific Ave, Tacoma, WA 98402
October 11th 2022
9:00-10:00- Check-In/Coffee and Pastries/Sponsor Exhibits
10:15-11:15- Welcome Keynote Emily Ladau! "Nothing About Us Without Us: Centering Disabled People in Disability Advocacy" *Hybrid Option*
This presentation will address ways to center people with disabilities in advocacy and empower them to share their own authentic stories and experiences, with a focus on language. Together, we will explore how the implicit and explicit biases we hold can disempower the disability community, and we will reframe our thinking and actions to ensure our work uplifts intersectional disability perspectives.
Emily Ladau is a passionate disability rights activist, writer, storyteller, and digital communications consultant. She is the author of Demystifying Disability: What to Know, What to Say, and How to be an Ally, published by Ten Speed Press, an imprint of Penguin Random House. Named one of the best books of 2021 by NPR and a 2021 Booklist Editors' Choice, Demystifying Disability is an approachable guide to being a thoughtful, informed ally to disabled people, with actionable steps for what to say and do (and what not to do) and how you can help make the world a more inclusive place.
Emily's career began at the age of 10, when she appeared on several episodes of Sesame Street to educate children about her life with a physical disability. A native of Long Island, New York, Emily graduated with a B.A. in English from Adelphi University in 2013 and now serves on their Board of Trustees. In 2017, she was named as one of Adelphi's 10 Under 10 Young Alumni. In 2018, she was awarded the Paul G. Hearne Emerging Leader Award from the American Association of People with Disabilities. In 2022, the Jewish Federations of North America and the Religious Action Center of Reform Judaism honored her with their Disability Advocate of the Year Award.
Emily provides communications and social media strategy consulting as well as editorial services for multiple disability-related organizations and initiatives. She is the Digital Content and Community Manager for the Disability & Philanthropy Forum, an emerging philanthropy-serving organization committed to expanding philanthropic commitment to disability inclusion. Previously, she served as the founding Editor in Chief of the Rooted in Rights Blog, a platform dedicated to amplifying authentic narratives on the disability experience through an intersectional lens.
Emily's writing has been published in outlets including The New York Times, SELF, Salon, Vice, and HuffPost and she has served as a source for outlets including PBS NewsHour, NPR, Vox, and Washington Post. She has spoken before numerous audiences about disability issues, from Microsoft and Comcast/NBCUniversal, and from the U.S. Department of Education to the United Nations. And, she co-hosts The Accessible Stall Podcast, a show that dives into disability issues. Central to all of Emily's work is harnessing the power of storytelling as a tool for people to become engaged in disability and social justice issues.
Follow Emily on Twitter, Instagram, Facebook, and LinkedIn. More about her work can be found on her website, EmilyLadau.com.
11:35-11:45- Break
11:45-12:45- *Hybrid option*
Breakout Session 1 Topic: "How we (Provail) completed 23 Job Foundation Reports in 2022 "
Speaker- Janet Hammermon, Program Manager, Provail
Takeaway: The value of implementing a pilot project and the need for flexibility in the workplace. We did not limit the number of Job Foundation students we would accept and surprisingly, 23 students chose to work with us. We found a way to make this work amidst the pandemic and staffing shortages. We can discuss the challenges and successes that we had along the way. We can discuss the back end of this pilot project and how it will help our transition team, the students and their families be more successful in the last year of transition.
Breakout Session 2 Topic: "Innovation with Accommodations and Natural Supports"
Speaker: Trisha Bustos, Vocational Services Manager, Skills Inc.
Takeaway: Role of a Social Enterprise in addressing disparities in disability employment that include innovative hiring and retention strategies. Let's help employers learn how innovate and create effective programs.
Breakout Session 3 Topic: The safety of the people we support is our number one priority, how can we work on including people with disabilities in the conversation?
Speaker: Aaron Dickson, Program Coordinator, Cascade Connections
Takeaway: Aaron wants the audience to reflect on the lack of inclusion of folks with disabilities in active shooter trainings, the reasons for this, and what can be done. He intends to directly address this topic, as well as incorporating more general information he has learned about emergency preparedness from a fire situation at the summer camp he used to work at.
1:00-2:00- Lunch Taco Bar
2:15-4:00- 2022 Annual Meeting *Hybrid Option/Closed to non-members*
4:00-5:00- CEA's Board of Directors presents- Governance and Community Planning *Hybrid Option*
7:00-9:00 (Subject to go longer)- CEA's Return to Camp After Party *Full Variety of Beverages will be provided- Alcoholic Beverages will be self-pay*
October 12th
8:30-9:00- Sponsor Exhibits
9:00-9:15 Welcome!
9:15 - 11:15 *Sponsor/SETWorks* Systems Improvements Workgroup in partnership with the Developmental Disabilities Administration, ACHS, and Wise Present: Dual Services a Roadmap to Supporting Clients, Providers, and the Community. *Hybrid Option*
11:15-11:35 Break
11:35-12:00 Executech Presents
12:00-1:15 Legislator/Employer Awards Luncheon *Hybrid Option*
Lunch will be: Gourmet Salad
1:15-2:45 CEA's Strategic Vision Planning with Cesilee Coulson *Hybrid Option*
2:45-3:00 Raffle Drawing!
3:00-3:30 That's a wrap!
Note: Emails of conference attendees will be shared with Sponsors of event. Please email Courtney Williams, courtney@communityemploymentalliance.org if you'd prefer to opt out.