CDPM-III: Master Certified Development Project Manager, Level 3 (S7)
Event Information
Refund policy
Refunds up to 1 day before event
Eventbrite's fee is nonrefundable.
Become a Certified Development Project Manager (CDPM®)
About this event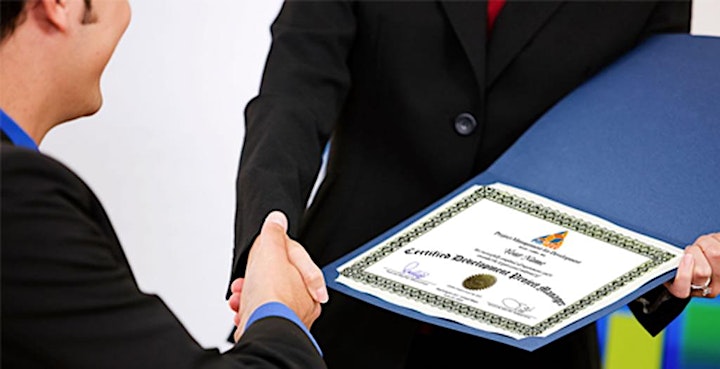 Master Certified Development Project Manager (CDPM)
The CDPM is a unique program in project management that allows development managers to become more accomplished, qualified, and efficient in their fields. The Certificate in Development Project Management (CDPM®) addresses the people skills and real-world practices required for successful project managers. Taught by experienced professionals, program participants obtain a solid analytical framework, communication techniques, strategic planning skills, and managerial insight to ensure projects are completed on schedule, on budget, and within scope.
A certificate is a valuable credential for professionals working in humanitarian and development projects. In particular, those who are seeking to increase their responsibilities, obtain a raise, or explore new job opportunities. This certificate is essential for project and program managers charged with leading a cross-functional or project team to success. It is appropriate for organization leaders, mid-level managers, and project managers who need to learn the critical leadership skills necessary to ensure the high performance of a project team.
About this Program
The CDPM-Level 3 certificate program is an advanced training program designed for professionals who want to take their project management skills and knowledge to a higher level. The program consists of five (5) courses, to earn the certificate, you must complete two mandatory courses and select and complete three elective courses that best meet your individual learning objectives, each course has a duration of three weeks. 
Program requirements
Complete two mandatory courses:
OPM - Organizational Project Management
MPM - Mastering Project Management
Complete the suggested elective courses*
EPM - Effective Project Management 
APM - Adaptive Project Management 
PMIS - Project Management Information Systems
* These courses are elective, and you can choose from other courses of similar value.
Dedicated Instructors
Experienced, skilled instructors will guide you through a structured, interactive learning experience that features readings, interactive learning activities, discussion, and hands-on exercises. The work experiences of PM4DEV instructors cover a wide range of project management disciplines, and the personalized guidance provided throughout the course is relevant, insightful, and timely.
Program participants
Your classmates will include other development professionals. Together you will share diverse insights that will deeply enrich your learning experience. Online PM4DEV courses allow you to meet, work with and learn from development professionals from all over the globe. The online discussion forums are quite active and offer a great opportunity to learn from the experience of others.
Online Convenience
All PM4DEV courses are completely online, they include weekly structured online discussions with your classmates and instructor. You can participate in the courses whenever your schedule allows, but you must meet due dates for weekly assignments and complete all assigned activities.
Course Certificates
Each course provides 35 hours of learning and instruction over a three-week period. After completion of the course, you will receive a Certification of Completion. Once you complete all three courses you will receive the Certification in Development Project Manager (CDPM-III) mailed to your home address at no extra cost.
Program Fee
The regular cost of the four courses is $750, the program has a special discount of $260 that you can apply during registration, by using the code 30CDPM your total fee will only be $490 for five courses. On the registration page, you can choose your preferred payment methods. We accept all major credit cards in a secure online payment system. We also accept payments via Western Union or Money Gram. For alternative payments methods please contact me at:
Ana Torrelio
Student Services
ana.torrelio@pm4dev.com
www.pm4dev.com
Atlanta, USA
Registration
Registration for this program is now open. Click on the Register button, add the special discount promo code 30CDPM and enter your payment method. Once you complete your registration, you will receive a confirmation email and a request to choose your course dates.
More about this program on this link CPDM 
Download the 2021 Course Schedule and plan your learning.  Click here.
Our instructors are experienced trainers and project managers who are PMP® certified. Our comprehensive courses in project management theory, fundamentals, principles, and practices are designed around industry best practices and based on the Project Management Institute's (PMI®) Project Management Body of Knowledge (PMBOK®). We are confident in our ability to provide comprehensive, practical courses that will enable you to further your project management education.
CDPM Program Terms and Conditions
For registrations made online with Eventbrite, a refund will not include the processing fees, these fees are charged by Eventbrite. As a reminder, the Eventbrite fee consists of the payment processing fee and the service fee combined. 
Location
Refund policy
Refunds up to 1 day before event
Eventbrite's fee is nonrefundable.
Organizer of CDPM-III: Master Certified Development Project Manager, Level 3 (S7)
Funded in 2005, PM4DEV's vision is that relief and development organizations adopt and value project management, as a key competence of their work. And they attribute the use of project management methodologies as a key success factor to reduce poverty and increase the social well-being of the communities they serve worldwide.
Our Project Management training program helps development professionals build the skills and knowledge required to complete their projects successfully by standardizing processes, reducing risks, and avoiding duplication of efforts.
Our expertise draws from years of experience working with development organizations around the world: from the grassroots community-based organizations to Multilateral Organizations and Foundations.
The professional consultants, trainers, and coaches have extensive international experience in project management, they will provide you with the best tools and methodologies to increase your project management skills and help you develop the best solutions to meet your challenges.