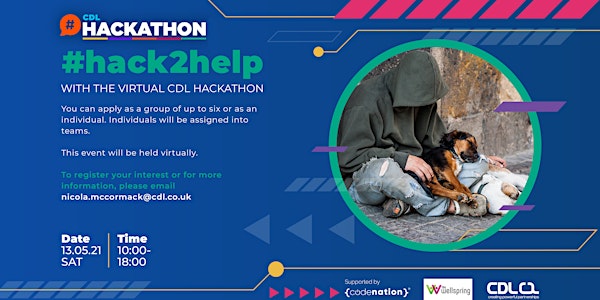 CDL's "Hack to Help" Virtual Hackathon
In partnership with Code Nation, CDL are hosting a virtual Hackathon on Saturday 15th May 2021.
About this event
Taking place remotely via Microsoft Teams, this event is an opportunity to work in multi-disciplinary teams - using technology and languages of your choice – to design an innovative solution to help support CDL's chosen charity, The Wellspring. This is an awesome opportunity to have some fun and work collaboratively to produce revolutionary new products, whilst also supporting a good cause.
The background
2020 was a challenging year for most and for The Wellspring, a resource centre for homeless and disadvantaged people, it has been no different. In addition to food, clothing and referrals into housing, The Wellspring also provides emotional support to those in need.
"Everyone at The Wellspring has worked hard throughout the pandemic to support our service users. However, we are experiencing a significantly higher demand on our services and face many challenges.
Over the last nine months, we have seen a huge rise in the number of people presenting with either poor or a deterioration in their mental health. Sadly, we expect to see this trend continue and we are planning to employ a dedicated Mental Health worker. However, this service will only be available once we can allow people inside our building.
One of the largest challenges our service users are coming up against is difficulty in accessing other services they need. Previously, this was done face-to-face, but with most services moving to telephone appointments only, it's been a real struggle.
We're also seeing a drop in practical donations, such as warm clothing and sleeping bags. These items are particularly important as we move into the colder months and they are in high demand as they often get wet, lost or even stole." – Alex Knight, Operations Manager at The Wellspring.
You can learn more about The Wellspring here. https://thewellspring.co.uk/
The brief
You will be tasked with delivering an App which benefits The Wellspring and their service users. You will have full autonomy in which area you would like to develop this for.
We will encourage you to use your creativity to engage the user, and to think logically about all aspects of the proposition – from a landing page that showcases the App, right through to downloading, installing and using. You'll need to consider more than just the technical development of this product.
Don't worry, we aren't expecting to see a finished product in such a short time. We'll be awarding prizes based on your ideas and approaches to the challenge and looking to see the journey you went on to design the product, the user journeys you considered and the potential for the concept you have created.
You will be provided more detailed instruction at the event and we will have a team of technical volunteers to help support you throughout the day.
The details
This event will run from 10am to 6pm GMT.
Participants can apply individually, or as a full team. We will contact each individual prior to the event to find out their background and skillset to ensure they are put in the right team. If you are applying as a team, please ensure one person books the tickets for the whole team to avoid any confusion.
Teams are to be a maximum of six people.
Winner's prizes and spot prizes will be judged and presented a week after this event.
Prizes include:
First place team - £100 Amazon voucher each
Second Place team - £50 Amazon voucher each
Rising Star Award - £30 Amazon voucher
We will have keynote speakers from The Wellspring, CDL and Code Nation throughout the day.
To help support The Wellspring, we are encouraging a minimum donation of £1 per person to take part. [Details to be added]
Closing date for registration is Friday, 7th May 2021.