Description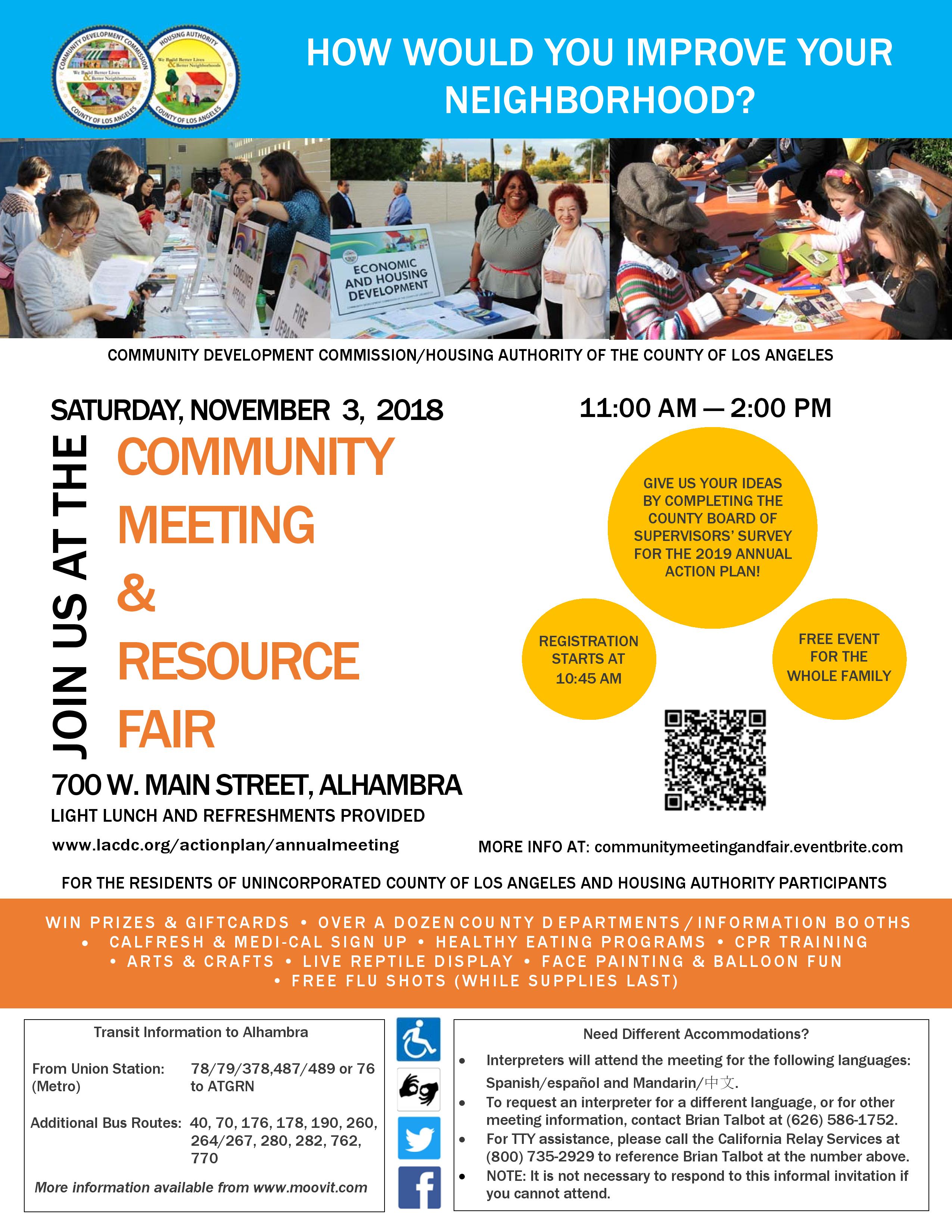 About the Event
The Community Meeting and Resource Fair for the Community Development Commission/Housing Authority of the County of Los Angeles (CDC/HACoLA) will be held on Saturday, November 3, 2018, from 11:00 AM to 2:00 PM, at the CDC/HACoLA in Alhambra. We are inviting residents from the unincorporated areas of the County of Los Angeles to attend our annual event.
Each year, we gather information from the public through the use of a Community Survey that asks how Federally-funded activities could improve your neighborhoods. Completing the survey is a part of the event that includes staff from over 15 County Departments and Community-Based Organizations, such as Department of Public Works and Housing Rights Center, who will speak with you one-on-one and answer any questions you may have about County services. The departments and agencies will have tables with program information and other resources available to residents.
Light lunch and drinks will be provided. There will also be games and activities for all ages, including face painting, thanks to the County's Department of Parks and Recreation, and a hands-only CPR training for adults, hosted by the Los Angeles County Fire Department. The Department of Public Social Services staff will also be available to assist you with CalFresh and Medi-Cal sign-ups. Free flu shots will be offered on a first come, first served basis.
Transit Information to Alhambra
From Union Station (Metro): 78/79/378, 487/489 or 76 to ATGRN
Additional Bus Routes: 40, 70, 176, 178, 190, 260, 264/267, 280, 282, 762, 770
More information available from www.moovit.com


Parking
Parking is available in the CDC/HACOLA parking structure at 700 W. Main Street or across the street at the 20 S. Olive Avenue Parking Lot (at Atlantic) next to the First Baptist Church of Alhambra.
Need Different Accommodations?
Interpreters will attend the meeting for the following languages: Spanish/español and Mandarin/中文. To request an interpreter for a different language, or for other meeting information, contact Brian Talbot at (626) 586-1752. For TTY assistance, please call the California Relay Services at (800) 735-2929 to reference Brian Talbot at the number above. NOTE: It is not necessary to respond to this informal invitation if you cannot attend.
Registration starts at 10:45 AM. We hope to see you there!
You do not need to show a ticket to attend this free event.