Description
Hello, San Antonio area travel professionals!

Join the November Chapter Meeting and welcome Richard Earls who will teach us all about TRUESites.
Meeting "Itinerary" -

5:30pm: I will be there setting up, please join me for networking prior to the official start of the meeting. I'd love to hear what you have been up to.
6:00pm: I will share the latest from CCRA to include upcoming FAMs, the Miami Travel Agent Show and who the September meeting presenter will be, etc.

6:30pm: Richard will take the floor and will share a bit about TRUESites, Travel Research Online and maybe we can convince him to briefly discuss Agent Base Connect (CRM).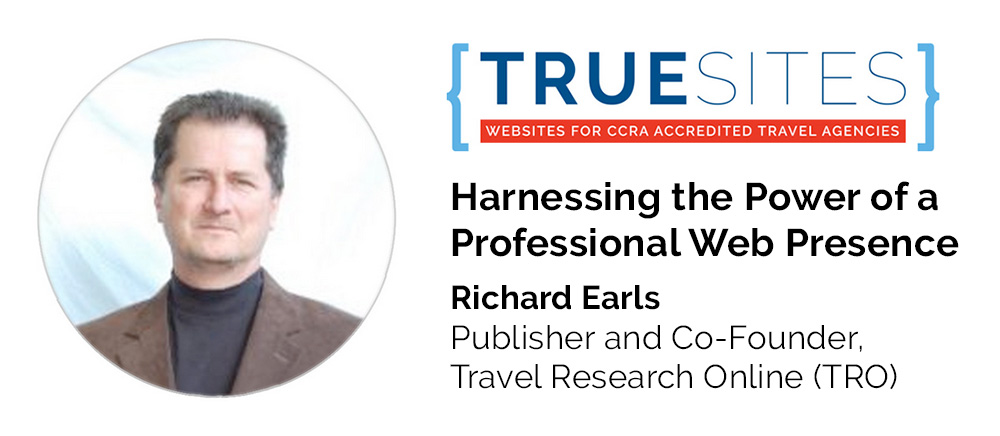 Richard Earls has spent the last 27 years in the travel industry as an agency owner, a technologist, a publisher and a writer. A serial entrepreneur, Richard has sold two of his start-up companies prior to his current projects, Travel Research Online, Travelhoppers and Voyager Websites.
Richard believes a new breed of travel agent is ready to emerge from the masses. The days of the casual travel agent are gone and only those who take the art and science of marketing and sales to heart will truly be in demand and succeed.
The publishing credits to Richard's resume are many, including Weissmann Travel Reports, STAR Service, Intelliguide, BTP24, Voyager Travel Guides and Travel Research Online. Articles about Richard have appeared in USA Today, Money Magazine, and Newsweek as well as numerous travel trade publications. His travel articles appear in both consumer and trade publications alike.
Richard is a frequent speaker at industry events and a contributor to other industry publications. He is an instructor in The Travel Institute's Professional Educators Program. He has authored travel agent certification programs for several tourism authorities, tour operators and cruise lines.

FACEBOOK CHAPTER PAGE:
Are you on Facebook but not part of our chapter page? Please go to https://www.facebook.com/groups/CCRA.SATX and request an add to our San Antonio CCRA members only page. This is a good place to see what is happening in our chapter and to ask questions or share stories that will be helpful to one another.
I am looking forward to seeing you all! If you have any questions, please feel free to reach out to me.
Remember to bring 2 business cards, a notepad and pen, your smile and a travel agent guest.

As a friendly reminder accredited travel agents from CCRA, CLIA, ASTA, NACTA, ARC and others are warmly welcomed. FYI - A non-CCRA member guest may attend our chapter meetings only once and must become a member before attending a second meeting.
Cheers,
Your CCRA San Antonio Chapter Director,
Micky Dixon
micky.dixon@ccra.com
(210) 497-3198

Do you know someone who is interested in joining CCRA or becoming a TRUE Code accredited agent? Then share this link with them: https://www.ccra.com/chapter/sanantonio

Date and Time
Location
The Lion and Rose British Restaurant & Pub
842 Northwest Loop 410
San Antonio, TX 78216